So you've gotten to the point where you've gone through stick clip after stick clip, never finding the perfect one to suit you. Don't worry, we've all been there. Whether you are just getting into the lovely sport of rock climbing, or you have been crowned an expert in this particular field, ensuring you have a reliable, strong, and long-lasting stick clip should be one of your absolute top priorities. In today's post, we'll go over the best stick clips for rock climbing.
Let's not wait any longer, it's time to narrow down the best stick clips you can possibly find on the market. No matter what you are searching for, we will pick an overall best stick clip, a best runner up, and lastly, a value pick for those climbers who happen to be on a budget.
If you find this valuable, be sure to check out our other climbing gear reviews here. Or find the best extension pole for your stick clip here.
Last update: 2023-09-30 / Images from Amazon Product Advertising API
Our Favorites for the Best Stick Clips for Climbing
The Kailas Clip-up Stick Clip is one of the highest rated stick clips on the market. Most importantly the Kailas Clip is really portable, functional and gives a great extension. It can easily fit into any bag you are carrying on your expedition without causing distress. As for the look to Kailas clip, it bears a shiny blue arm base and a red clip attached at the end. The name states it's extendable, and boy is that the truth, this clip is somehow compact yet is booming in quality when it extends. This product, of course, has many features that make it a popular choice for us and other rock climbers out there. On the bright side, the Kailas Stick Clip is , which in short means it's not made of cheap plastic. This stick clip is the top of its game due to the fact it's able to be used in basically any sport – the Kailas Stick Clip can be used for activities such as climbing, canyoning, rescue, and high altitude games. In short, the design of this very product makes it applicable to a multitude of different activities. As for the rock climbing community online, this product boasts a solid reputation with people saying "almost perfect" and "lightweight for backcountry climbs".
What Makes the Kailas Clip-up Stick Clip Unique:
This specialized stick clip has an extended length of 97.6 inches, which is just over 8 feet. As well as a contraction length of 22.6 inches. This length easily tops most of the other best stick clips on the market.
On top of that, it's packed with extendable features in five different sections, and is lightweight – only being 15 ounces, aka, completely optimized.
Why Choose This Stick for Climbing:
If all of that wasn't a good enough sign that this may just be the best stick clip out there, the Kailas Stick Clip was also the winner of the ISPO Award and the ASIA Outdoor Industry Award, which just adds even further credibility to the product. Not to mention, it's backed by a lot of people and customers in the industry.
This clip has a simple design that works well for 99% of people who have purchased it, so it surely will work for you.
No products found.
---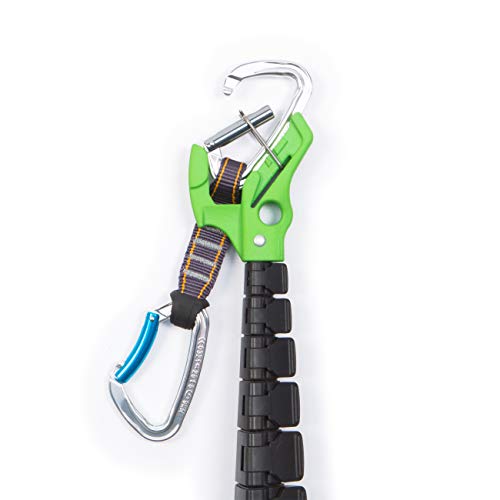 The Trango Beta Stick Evo Stick Clip is praised by its buyers and reviewers, and for great reason as you soon shall find out. It has a black base along with a green clip attached and goes very well with any climbing gear you obtain according to the product reviews. There are several features that this stick clip has that we are very interested in. This stick clip also happens to feature snap-lock clips that increase clamping force and enable for easy adjustment. Furthermore, the Trango Beta Stick is one of the top stick clips you'll ever see online. We say this because it's also packed with an integrated pole channel that prevents you from spinning while you are climbing up the rocks. This is an especially useful feature if you're going out on a windy day or being suspended in the air for long periods of time. With its length, it becomes able to extend to a massive 8 feet, allowing you to attach the clip onto your bolts. And when you're ready to clean up, it compresses to mere 21.5 inches. This product is most often used by a mix of intermediate and highly skilled rock climbers due to the smart design of the product. People have been known to call this clip the "best stick clip so far" and described this stick clip as  "super".
What Makes the Trango Beta Stick Unique:
The Trango Beta Stick Clip has a compact weight of just 430 grams, which you will learn is one of the heaviest stick clips in this article making this clip unique in the weight aspect.
It's designed to benefit you regardless of what the weather might happen to be on your expedition day due to its integrated pole channel and strong grip. These features ensure spinning on the rope will be almost non-existent and that you won't lose your grip when handling the stick clip.
Why Choose This Stick for Climbing:
This stick clip is a heavily improved model than the original Trango Stick Clip. Based on feedback from its buyers, the designers behind the clip enhanced the products function. They made the head more durable and the overall product stronger. By buying this stick clip, you know you're getting a heavily refined product.
It also contains an adjustable wire arm that accommodates wire gate and solid gate carabiners, this certifies a smooth and simplified setup.
On Sale
BETA Stick EVO Ultra Compact Climbing Accessories, Adults Unisex, Multicoloured (Multicoloured), One Size
DON'T FEAR THE FIRST BOLT - Your stick-clipping just went up a grade; The redesigned EVO is stronger, more versatile, and even more compact than the previous model.
REACH IT - 3 sizes: Compact (21.5 in. collapsed, 8 ft. extended), Standard (29 in. collapsed, 12 ft. extended), and Ultra (44 in. collapsed, 22 ft. extended)
CLIP IT - The EVO's redesigned head grips your carabiner and holds open the gate with an adjustable wire arm; Designed for both solid and wire gate carabiners
Last update: 2023-09-30 / Images from Amazon Product Advertising API
---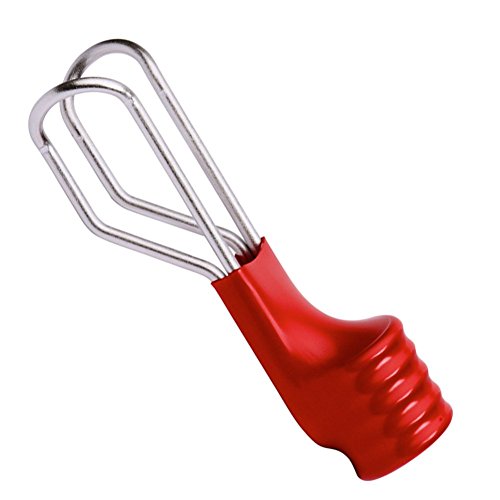 As for the Superclip, most retailers carry these in all sorts of colors. This product gets straight to the point and doesn't pose any gimmicks or any noticeable faults. While it has mixed reviews on several online sites, the Superclip is the clip for anyone brand new into rock climbing. This paired with any extendable high-quality pole makes for some of the best gear in the world. Simplicity is sometimes the best, as with the Superclip. When you happen to be up high in the sky only being held on by a rope and some clips, the Superclip definitely helps to add comfort and protection to climbers of all sorts. On several forums online, this clip has been said to be "simple, light, sturdy, and works well" with it being very hard to find a single person who didn't enjoy the clip.
What Makes the Superclip Unique:
While most of these stick clips are made of aluminum alloy, the Superclip, on the other hand, is made of stainless steel that is meant to last for a sizable amount of time.
Also, it's accompanied by a special design mechanic that's specifically designed to be able to hold any size carabiners.
Why Choose This Stick for Climbing:
Most rock climbing products oversell themselves and claim to be the best out there, while the Superclip is honest yet a very great product. Absolutely the best of all worlds.
Last update: 2023-09-30 / Images from Amazon Product Advertising API
---
Our Runner Ups for the Best Climbing Stick Clips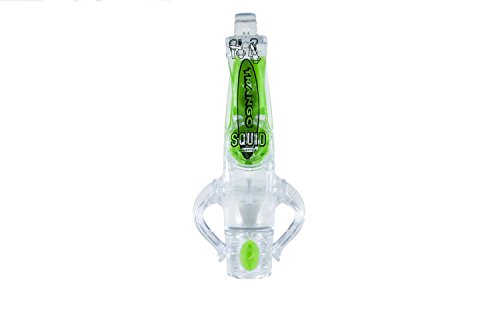 Commonly rated four out of five stars, the Trango Squid Stick is a versatile and universal stick clip that can benefit any experience leveled rock climber. Clip it, rope it, clean up are the three easy steps this product advertises. As with all of these products we are talking about today, we consider the safety and durability of the product over everything, with this stick clip being praised for its longevity and solid materials. On top of that, this high rated stick clip only weighs 70 grams, you really won't see many products being able to top this one. However, it was only able to make it into the runner ups section because of how original it is. It is so different than all of the other stick clips that we fear it may not be usable by people who have become accustomed to other stick clips.
What Makes the Trango Squid The UnClip Stick Unique:
The Trango UnClip is packed with unique fingers at the end of its pivot-arm which allow the climber to open the gate with ease.
Trango always seems to provide a spectacular line of products that aren't anywhere else on the market. By knowing that, The Squid is no exception, it contains a proprietary pivot arm that makes using it a snap. And it's clear materials makes it one of a kind in the visual department.
Why Choose This Stick for Climbing:
With a multitude of people giving it online ratings, this product boasts over 80% positive reviews as we've stated. Two reviews even go as far as saying "best clipstick on the market" and "The squid is hands-down the best option for stick clipping!".
TRANGO Squid The UnClip Stick
DON'T FEAR THE FIRST BOLT - One of the most versatile stick clips available, the Squid makes top-roping easier than ever, saving your skin on those tricky first bolts; Its function is threefold:
CLIP IT - Clip your quickdraws into out-of-reach bolts; The Squid's pivot arm and two fingers grip the carabiner and hold open the gate
ROPE IN - It all happens from the ground; Rope arms create a lasso loop to slip your cord into hanging draws
Last update: 2023-09-30 / Images from Amazon Product Advertising API
---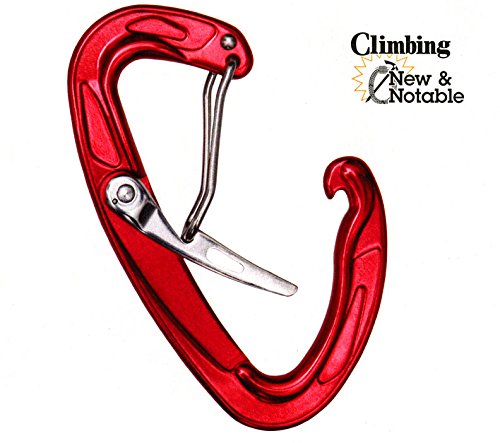 The Mad Rock Clip is described as being a specialized product that is like no other on this list. We feel that the product description best gives you an understanding of this product, therefore, the description for this product found on Back-County Gear states the following: "You're at your limit, pumped, panicked, and staring down the barrel of 20 feet of slack. Shaking, you go to clip a draw that's just within reach, but the rope gets stuck between the gate and biner nose, pooping out and setting the biner swinging. Luckily, this unpleasant scenario has a solution: the new Mad Rock Trigger Wire carabiner. Trigger Wire is an innovative addition to your rack, ideal for desperate clips…" This item weighs 37 grams, comes in the color red, and has a wire gate type. It's a must-have for intermediate climbers.
What Makes the Mad Rock Trigger Wire Unique:
Calling this clip special couldn't be more accurate as these clips are individually tested for safety. This will ensure every clip to contain a high level of quality that is guaranteed and unbeaten.
Don't underestimate the size of this clip, the power it packs is completely certified and strong. After many months of refining it's design, ultimately the creators of the Mad Rock Trigger Wire settled with a simplistic device that packs a punch.
Why Choose This Stick for Climbing:
It's ideal to use a stick clip that ensures your safety, which is the case with this one. Just be sure to use with an extended draw system or a cheater biner.
Last update: 2023-09-30 / Images from Amazon Product Advertising API
---
Our Value Pick for the Best Stick Clip for Climbing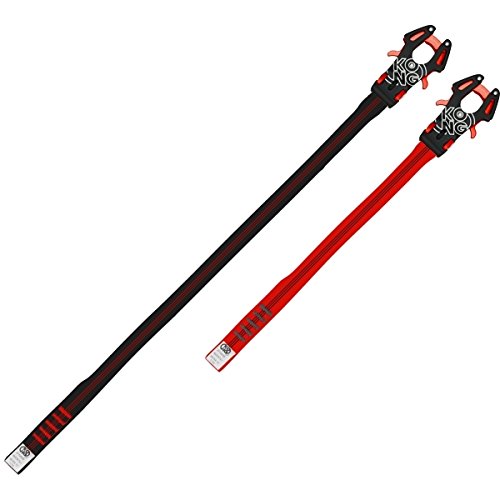 The KONG Prog is used to clip those bolts that are out of your reach or in need of a stick clip efficiently and effectively. Including good reviews by its buyers and on forums, this stick clip has many features that put it on the runner up list. To start off, its carabiner material is made of aluminum alloy, which is a common choice of materials you would know if you've used a variety of stick clips in the past. Moving on, its gate type is bent, which may or may not sway you from buying the clip. The KONG Prog's sling length is 30 centimeters and 45 centimeters with its claimed weight being a mere 4.6 ounces. This stick clip comes in a red color and a black color, so choose your fancy. The KONG Prog stick clip is definitely a great deal for any climber on a budget.
What Makes the KONG Prog Unique:
The KONG Prog's mechanisms are designed to automatically have the connector and gates close which makes for easy use. This product's intuitive design mechanics are unlike any others we've seen.
Its gates are designed to stay open until they come into contact with the bolt, automatically closing when ideal to you.
Why Choose This Stick for Climbing:
Interesting enough, the KONG Prog is entirely certified in most parts of the world as a high quality and safety passing product.
When compared to other products like the PANIC, the KONG Prog gains centimeters due to the insertion taking place at the bottom.
Kong Italy - PROG X-Large 45cm
Tubular webbing with an inner flexible bar that allows to obtain the required bent
A frog connector equipped with an ingenious system that keeps open the gates until it comes contact with the bolt.
Last update: 2023-09-30 / Images from Amazon Product Advertising API
---
Why You Really Should Use a Stick Clip When Climbing
Putting it simply, stick clipping makes anyone's climbing experience a million times safer. Just one fall can put you out of rock climbing for the rest of your years, so being the safest you humanly can be is very meaningful. However, for anyone who may not be aware of what it means to stick clip, stick clipping is attaching a very tall and sturdy stick that can be found in your surroundings (or a manmade one) with climbing tape to your clip and reaching up to attach it to your first bolt for climbing. Once attached, typically you yank on the stick to rip it off from the tape, leaving the clip attached so that you can safely climb. After the clip is precisely connected to the starting bolt, safely climb up and have fun. Now that you've traveled up to your first bolt you obviously attach your preference of materials to the second bolt and so on. Since it's been explained, we hope you can understand the sheer amount of safety it adds to your climbing experience.
First things first is deciding if you think having a stick clip will benefit you (spoiler alert, having one almost always benefits you). You'll come to learn that many rock climbers in the industry heavily recommend using a stick clip. But, they aren't just going to advertise any ordinary stick clip, professionals will recommend having the best stick clip. You may be asking yourself, "What is the best stick clip then?" Don't fret, finding the best stick clip will be easily determined for your specific skill set, equipment, and purpose.
After you have pondered about that, then you now need to begin pondering on what you're going to be using your very own stick clip for. Ensure to also think about your budget and how long you need the product to last. While finding a cheaper stick clip to use with an extended draw system, or as a cheater biner when hanging those draws. Depending on the cheaper price, it might seem like it's saving you a couple of bucks here and there, but typically the more affordable they are the shorter the longevity.
How to Choose the Best Climbing Stick Clip for You
Choosing the right stick clip for yourself may seem difficult at first considering the wide array of products out there on the market. But once you consider your skill level of rock climbing and how many months or even years you have been rocking climbing, you will be able to narrow down which product is the best for you.
If you are just starting off, you should most likely purchase multiple different brands of stick clips so that you can learn how each and everyone works. Then after you have experienced at least 3 different branded stick clips, you can determine which is the easiest and most reliable for you.
Depending on the branch of rock climbing you are participating in, whether it's ice climbing, canyoning, or solo climbing, the tools you are going to need are going to be different. You need to make sure the clip you pick works with your equipment, we can't stress this one enough. Check out videos online detailing the product you are interested in, by doing so, you'll be able to see the expertise in the stick clip and how to apply it to a bolt.
What Else to Consider When Buying Stick Clips
Be sure to consider these, as backups will always be something that is necessary in case of a very dire situation. We recommend having at least 2 backup stick clips per person on your expedition. As the saying goes, you'll be smart to be better safe than sorry.
When it comes to purchasing a stick clip, remember to read up on what materials it is made out of. If you're looking for a specific type of material such as aluminum alloy, ensure to check for that.
As we've previously stated, price is something that goes hand in hand with quality. You get what you're paying for after all. Price is one of the last things you need to consider because focusing on the length of the contracted and retracted stick, the materials, and longevity.
Reviews of rock climbing accessories are a necessity. Our community will be able to help you advise which products work best, so basing the best stick clip you find on reviews in absolutely an element to consider.
Summary of the Best Stick Clips for Climbing
Putting everything together, in this guide we reviewed the following:
Last update: 2023-09-30 / Images from Amazon Product Advertising API
Overall, we believe the best stick clip out of the six different ones discussed here today would be the Kailas Clip-up Stick Clip Extendable. If one word was necessary to describe this very clip, certainly it would be seamless. Designed by masters in the sports accessory industry, this clip will be sure to make your climbing experience just that much more enjoyable.
As for the best runner up, we have no other choice to pick the Mad Rock Trigger Wire. Its simple design helps your rope from not getting stuck between the biner nose along with the gate. Make sure to not forget that this trigger wire is individually tested which in theory should allow for every single clip to be perfect.
And of course, lastly, the title for the best value pick is handed to the KONG Prog. The reason we believe this to be the best value pick is the fact that this stick clip provides longevity packed with an overall price that simply cannot compete with most other brands.
With a lot of things in modern society, people's likes and dislikes vary extremely heavily. This article should be able to help guide you on your clip purchases and more importantly the future journey of your rock climbing adventures. If there's one huge takeaway from today, we hope it's that we've raised your awareness on the differences in each stick clip – what makes them unique, & the aspects that make others superior/inferior. But most importantly, just have fun, that's what we are all here for!
Did you find this helpful? You may also want to check out our other climbing gear reviews here.
> Best Extension Pole for Stick Clipping
> Best Quickdraws for Climbing