Every climber gets to the point on the wall where they want to keep climbing, but their hands are pretty much through. Worn down and raw, climbers often turn to climbing tape to help them with their climbing. Whether they need to secure a skin flap or give their ligaments some extra support, tape has been a centerpiece in the climber's toolkit for years now. Today, we are going to look at some of the best climbing tapes on the market, so that you too can utilize this excellent tool for success. Below are some of our most recommended climbing tapes, starting with our favorites for the best climbing tape.
After you read this post, if you still need other gear, check out our other comprehensive climbing gear guides here.
Last update: 2023-09-30 / Images from Amazon Product Advertising API
Our Favorites for the Best Tape for Climbing
Metolius climbing tape doesn't fail to deliver with one of the best climbing tapes on the market. This tape sports some of the highest levels of stickiness and durability of all the climbing tapes on this list. 100% cotton and with a little stretch, which makes it sturdier than the average athletic tapes. Additionally, it comes in a size that will typically require you to tear it to use, but this may be a bit tough just due to the sheer durability of the tape as many reviewers note. It will lock in any flappers and keep your blisters from ripping off and is ideal for the durability-testing conditions of crack climbing – all at a reasonable price.
What makes Metolius climbing tape unique:
The durability and strength of this tape is one of the best
It is also very sticky, even at its decently low price
Why you should choose this tape:
For a more hardcore and durable climbing tape that won't let you down
If you have had poor experiences with tape falling off and just underperforming in general, this is the tape for you
On Sale
Metolius Climbing Tape - White
100 cotton athletic tape
Retail packaging includes illustrated, step-by-step taping instructions
1.5" wide x 33' long (3.8 cm x 10 m)
Last update: 2023-09-30 / Images from Amazon Product Advertising API
---
Stiff, thin, and very sticky – the Leukotape P Sports Tape is one of the stronger contenders of this list. Initially designed for patellofemoral taping and classified as medical supply and equipment, this tape is not marketed to climbers specifically though many have found it great for climbing. One of the biggest strengths of this tape is the sheer stickiness of it. Many climbers have found it to be , this, of course, can be a good and a bad thing. It can be so sticky that taking it off can be a problem, for some, this is not a big deal because good grip and reliability are the most important, for others, this may be a deal-breaker. Adding to this, Leukotape is also one of the most expensive of our recommended climbing tapes. We also should note that some reviewers have had adverse skin reactions to this tape, ranging from mild irritation to burn-like reactions.
What makes Leukotape P Sports Tape unique:
This tape is the reportedly the stickies of all our other top climbing tapes
Rigid and robust, making it ideal for structural support for the pulleys and ligaments
Why you should choose this tape:
For a skin-like fit even under sweat, water, dirt, and blood
This tape is excellent for both structural support for the fingers as well as for skin protection
No products found.
---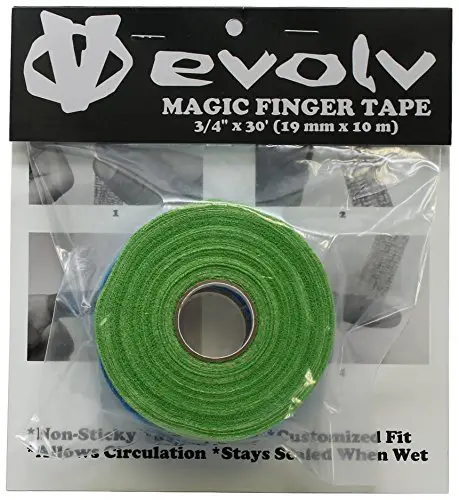 This latex rubber climbing tape stands out as a somewhat unique climbing tape among the other, more homogenous tapes. Evolv's Magic Finger Tape is sticky, very sticky. The interesting thing is – it is only very sticky to itself. So, this means that, when used properly, this tape can give you one of the best fits on the market – but you must use it right. It also won't rip off skin flaps or bring further damage to your skin when tearing it off. An additional downside many climbers seem to have with this tape is the fact that it sticks to itself so well that the tape roll can become a severe mess very quickly. The end of the tape will stick to the tape below it so that it can be impossible to find and separate the two layers. Contributing to this effect is the fact that this tape is quite thin. Many enjoy the thin, mesh-like structure for its easy tearability and minimal profile. It is also quite stretchy, which may be suitable for light skin protection, but does not lend itself well to structural support. There is no doubt that this tape is a high-performer, but at a higher price-point and with the issues of over-the-top stickiness, it may not be a front-runner for the best climbing tape.
What makes Evolv Magic Finger Tape unique:
Evolv's tape is exceptionally sticky and sticks almost exclusively to itself
The tape is also quite thin which can reduce the profile of your hand and not sacrifice the level of feeling
Why you should choose this tape:
If you need a very sticky tape and most other tapes have failed in that regard, this is one to try out, especially if it is for securing flappers or protecting raw spots
If you don't mind the learning curve for wrapping this tape or the stickiness issues, then the Evolv Magic Fingers Tape is a serious, standout tape
Last update: 2023-09-29 / Images from Amazon Product Advertising API
---
As a cotton-polyester blend, this fan-favorite has been around for quite a while. Boasting strong adhesive, some of the easiest tearing and splitting of most other climbing tapes, and decent durability. While this tape is a solid performer, in all honesty, it isn't the highest performing tape on the list, especially when put side-by-side with a tape like the Metolius or the Leukotape P Sports Tape. Still, this is a good middle ground option; additionally, application and removability are quite easy due to its more limited stickiness, which is a plus. We should note that it is available in the US through Trango, the distributor for America.
What makes Mueller Eurotape unique:
It has an ease of tearability which isn't that universal among other top climbing tapes
The tape is a decent jack-of-all-trades tape, at a somewhat competitive price
Why you should choose this tape:
If you aren't in that much of a need for a top-level tape, but still need a dedicated climbing tape
The Mueller Eurotape is excellent for casual climbers and even die-hard fans, as long as you don't need it for anything too rough and damaging, then you'll need to invest in some sticker tape
---
Our Runner Ups for the Best Climbing Tape for Climbing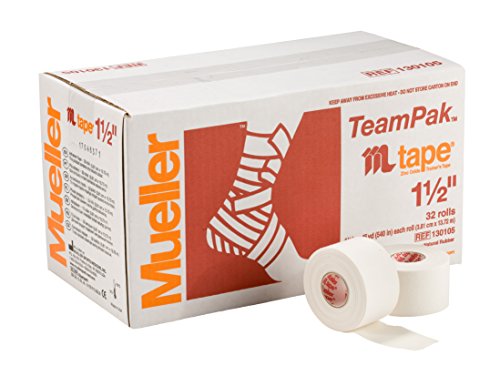 The little brother to the Eurotape, the MTape is a quality contender but doesn't have what it takes to rank as one of the best. While colorful and well-priced, this stretchier tape comes up short in the best climbing tape arena primarily due to a few factors: the lower level of stickiness and the annoying left-over adhesive. It is commonly regarded by users as less sticky than the Eurotape, which isn't the stickiest tape itself. To clear any confusion, this cotton athletic tape is also named Trango MTape for traditional US distribution, though you can find it under the Mueller name on Amazon.
What makes Mueller MTape unique:
The colorful options can make your crack gloves, and injury prevention wraps standout
It lacks the stickiness to remain reliable and steadfast under sweaty and slippery conditions
Why you should choose this tape:
If you need a tape to stand in for until you get your hands on some stickier tape, or as a decent top layer for crack gloves
For any stretchy uses such as protecting the skin, but avoid if you need the durability and stickiness necessary for crack gloves or for lots of hand-wrappage
Last update: 2023-09-29 / Images from Amazon Product Advertising API
---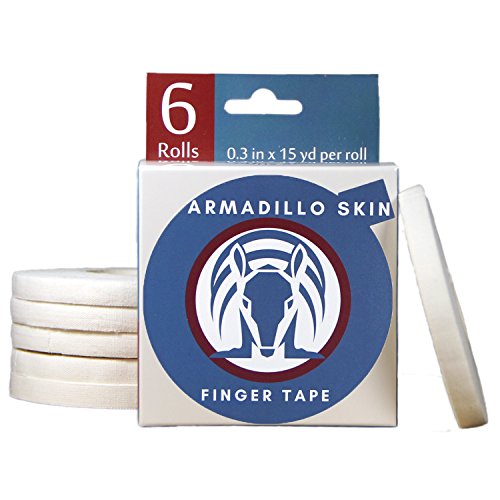 Designed specially for finger wrapping, the Armadillo Skin tape excels in its niche area of hand wrapping. It comes in at .3in in width, most other rolls measure around 1.5in in width, so this tape is quite thin. The thinness is ideal for structural wrapping for the finger, and it can also be used for general skin protection and flappers on the fingers. Reviewers appreciate the stickiness and durability of this tape; many do stand by its effective application for structural support. The only reason it is in the Runner Ups section is because of its narrow application and use. Unlike other tapes on this list, it is incredibly inefficient to try to use this tape on your palms for anything from skin protection to wrapping a crack glove. Therefore, you will have to buy additional rolls of tape for uses which require wider straps. Additionally, the value you're your dollar is quite high, which is always a plus. Overall, this is a solid tape for finger support but does lack the general application that is necessary for a excellent climbing tape.
What makes Armadillo Skin Finger Tape unique:
The colorful options can make your crack gloves, and injury prevention wraps standout
It lacks the stickiness to remain reliable and steadfast under sweaty and slippery conditions
Why you should choose this tape:
If you need structural support for your fingers and find it annoying to have to tear other tapes constantly, the Armadillo Skin Finger Tape is easy and effective
If you don't crack climb and never have needed to wrap your palms for anything when climbing, this tape may then cover all your climbing tape needs
Armadillo Skin Finger Tape, Strong Cotton Athletic Tape for Grappling, Brazilian Jiu Jitsu (BJJ), Judo, Rock Climbing and MMA 0.3 in x 45 feet, 6 or 8 Rolls per Pack … (Pack of 6)
Protect your fingers with this high stick, latex free, finger tape
Specifically cut for easy wrapping around fingers. This tape will help reduce finger soreness by the ligaments in place around your knuckles.
45 feet (15 yards of tape) 0.3" in width. Best used for Jiu Jitsu, Judo, MMA, Climbing, Crossfit, and any activity where your fingers could be compromised.
Last update: 2023-09-29 / Images from Amazon Product Advertising API
---
Our Value Picks for the Best Climbing Tape for Climbing
While climbing tape isn't the most expensive thing in the world, the Johnson & Johnson sports tape is both widely available and affordable, making it the best value pick on this list. While being quite affordable, this tape is also . Though it lacks the stickiness of specialty climbing tapes, it is in the middle of the pack for about everything else. Overall, for the price, this is a great buy. If you don't mind spending some extra time and tape wrapping your hands or fingers, Johnson & Johnson will give you around the same feel like some of the other tapes on this list.
What makes Johnson & Johnson Sports Tape unique:
The low price per foot is the most significant outlier in for this tape
Besides the price, this sports tape doesn't have many standout features; it is a decent, middle-of-the-pack climbing tape
Why you should choose this tape:
If you are on a budget and need something affordable, yet reliable
If you climb a ton and find yourself running through roll after roll, this tape can save you time and headaches as instead of searching online to find a specialty tape; you can just walk into any convenience store and buy a roll of J&J
No products found.
---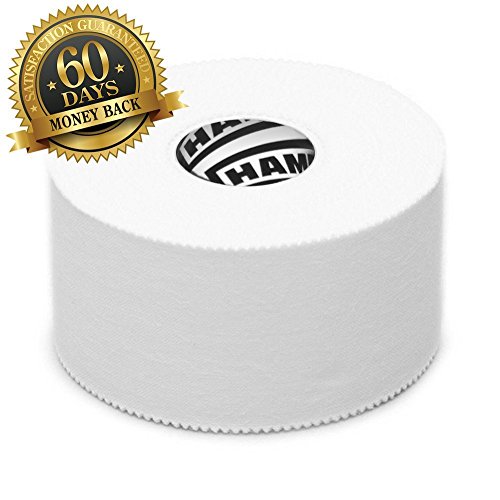 Another general market-focused athletic tape, this tape by Hampton Adams comes in at 45 feet per roll, unlike the typical 33 feet of other tapes like Metolius, all at around the same price. This tape is actually pretty solid, with little to no left-over residue, ease of tearability, and decent stickiness. Some reviewers have complained about its lack of stickiness while sweating, but overall, this tape doesn't really have many glaring weaknesses – just that it is somewhat decent at everything and doesn't excel in any one area. This tape may also be a little too thick for the fingers as it could add some extra bulk, but some reviewers do contest that.
What makes White Athletic Sports Tape unique:
The volume for your dollar is standout among other tapes
Besides the price, this sports tape doesn't have many standout features; like the J&J tape, it is a decent, middle-of-the-pack climbing tape
Why you should choose this tape:
If you are on a budget but still want something strong and durable
Like with J&J, if you find yourself running through a ton of tape weekly through frequent climbing, this tape will save you time and money by not having to reorder every time you run out of tape
On Sale
Last update: 2023-09-29 / Images from Amazon Product Advertising API
---
Why You Should Invest in Quality Climbing Tape
Climbing can be tough on your hands, that's where our recommended climbing tape comes in – climbing tape, as mentioned earlier, can be used for a multitude of purposes. Such purposes range from blister-protection to general hand protection to ligament support. Regardless of your goals, tape can be beneficial to a long and fruitful climbing career. By offloading some of the damage that would otherwise go straight to your hands, tape helps you climb longer and stay healthier. So, by picking up a few rolls of climbing tape, you are unlocking many of the opportunities tape has for you to leverage.
If you think you can get away with some general sports tape every time you need climbing tape for something, you will find it lacking and being an everyday annoyance rather than assisting you. For example, trying to wrap your sweaty fingers in general sports tape to continue climbing will often result in constant tape slippage. But by investing in quality tape, you will be able to leverage the benefits of climbing tape fully.
When using tape for climbing, you can utilize the many methods of taping which can extend your tape's lifespan and improve its effectiveness. An example of this is the H taping method used for pulley sprains. There are many wrap patterns and methods you can utilize for various purposes, so make sure to look up and research how you plan on wrapping your tape after buying a roll.
How to Choose the Best Climbing Tape for You
Tape has many uses in climbing, from tape gloves for crack climbing to structural support on a weak finger for injury prevention. One of the biggest consumers of tape is crack climbing. The gloves many make while crack climbing uses a ton of tape, and if you've ever crack climbed you've likely used tape gloves.  If you crack climb then you need something durable and sticky; ideally, you'll have a tape that is strong enough to be reused as a tape glove the next time or two you climb. A tape that may work well for crack climbing is TAPE because of its durability and stickiness, though be warned, the price can add up if you find yourself running through rolls of it quickly. That's why some climbers have found success in a cheaper tape on the bottom and the TAPE tape on top for the added durability and structure.
Another use for tape when climbing is for more general skin protection. If you are at the end of your day of climbing and find your skin to be raw and worn down, you may want to add some tape on top to prevent a tear. There are obvious downsides to this strategy, such as using tape as a crutch which slows down your skin's natural toughening. More importantly, instead of resting and playing it safe, you are using tape which could still not prevent a tear, and you would have to sit out for a while till it heals. If you still want to use tape to add that extra layer of protection on your hands, durability is always important, and even more crucial in crack climbing, and stickiness is vital. Something like the Metolius climbing tape may be a good bet for this.
If you have a skin tear and need to tape it up, you may find there are a variety of ways to doing it. Some climbers have found that supergluing it and then maybe using tape on top of the glue is a great way to prevent further tears. Just make sure not to bleed all over the holds, no one wants that. Most tapes ideal for skin protection will work great here as well.
Outside of the skin protection arena, tape can be useful for structural support. Your fingers, while probably way more durable and jacked than a regular person's fingers, are still quite fragile. Some climbers find that using tape to "reinforce" their pulleys and tendons in their fingers can help prevent injury and pain. Now, there is a bit of controversy on whether this strategy actually works. The one thing we do know, however, is that rest and recovery does work. Still, you may find yourself wanting the extra protection and keep on climbing. You could also try to stabilize the joint, which would put the finger out of commission, but may provide better protection. For both of these methods, stickiness, while important, will not be as vital here because that finger shouldn't be making as much contact with the holds as others do. So, most tape varieties, but especially Armadillo Skin Finger Tape or the Mueller Eurotape will do the trick.
An additional trick you can try out when struggling with tape that won't stick is to use a pre-tape spray like the Mueller Tuffner Pre-Tape Spray. This can help the otherwise slippery tape stick to your skin, even ¬when sweaty. Additionally, utilizing something like Crazy Glue for flappers and torn callouses underneath your tape can help to keep your hands in climbing condition for longer.
Summary of the Best Climbing Tapes
We've gone over a lot today. Here's a helpful table to consolidate every climbing tapes we went over:
Last update: 2023-09-30 / Images from Amazon Product Advertising API
There are a ton of tapes on the market, we covered everything from Trango Eurotape to Evolv's Sticky Fingers to Johnson & Johnson, and along the way, we realized how pronounced some of these seemingly minor differences are. That's why it is so important for you to pick out the right tape to rely on when you are on the wall. But, in the end, regardless of the tape, what matters is that you continue to climb. So, don't fear just taking the rest of the day off if your hands get a little ripped up because coming back in the next day is more important than getting a few more climbs in.
Need the best climbing shoes? Check out our comprehensive guide to the best beginner shoe here.
Or if you're looking for more general gear reviews, go here.