By now you've probably acquired all the necessary gear. You spent days finding the perfect climbing shoes, harness, and rope. But now it's time to go out to the crag, and you need something to hold all your gear. That JanSport pack from the '90s isn't going to cut it. You need a dedicated climbing pack. In this post, we'll detail the best climbing backpacks to check out.
We climb in a time where companies strive to create the best design. Innovative design leads to higher performance and functionality. They have to compete in the innovation front or risk becoming irrelevant. While there exist many excellent climbing backpacks, we consulted the online climbing community (Mountain Project and Reddit) and various online reviews to deliver you a comprehensive list of the best climbing backpacks.
After you read this post, be sure to also check out our other climbing gear reviews here.
Our Top Favorite
Our Top Runner Up
Our Top Value Pick
Climbing Backpacks
Black Diamond Pipe Dream 45
Our Top Favorite
Our Top Runner Up
Climbing Backpacks
Black Diamond Pipe Dream 45
Our Top Value Pick
Last update: 2023-09-29 / Images from Amazon Product Advertising API
Our Favorites for the Best Climbing Backpacks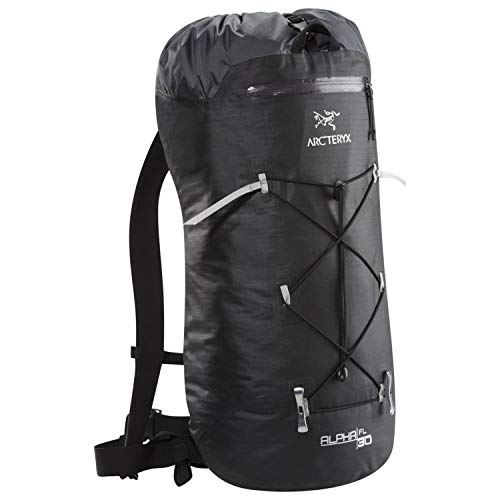 While this could undoubtedly be voted the best alpine climbing backpack, it remains quite functional for other climbing disciplines such as trad and sport.  It comes in 30 and 45-liter capacities to fulfill whatever unique needs you may have.  It is a light, minimalist bag that is durable and waterproof.
Arc'teryx has perfected craftsmanship with this pack.  Nylon fabric provides a light and durable material that can withstand the elements and won't weigh you down.  The polyurethane coating keeps water out, leaving your gear happy and dry.
Padded shoulders straps deliver comfort that is unencumbered due to light material.  Also, the waist strap is easy to manipulate, and thus a benefit when keeping it away from your harness.
Additional features include:
External rope strap affixed to the top of the pack allows you more room in the pack if you need it and quick access to your rope
Bungee cord system holds crampons and ice axes for your wintry objectives
Roll-top closure system helps keep moisture out
What makes the Arc'teryx Alpha Fl unique:
Lightweight and moves fast through the mountains
Comfortable and durable
Why you should choose this climbing backpack:
You want something that moves efficiently
Versatility
Arc'teryx Alpha FL 30 Backpack (Black, Regular)
ALPHA FL 30 BACKPACK - Ultralight and fast, highly weather resistant, alpine strong, and a sterling example of refined, use specific Arc'teryx design, the Alpha FL 30 is for built for climbers.
ADVANCED COMPOSITE CONSTRUCTION - Laminated, highly waterproof and light weight. Taped seams, permits custom attachments.
ALPHA - Lightweight, minimalist climbing and alpinism products that protect from alpine environments.
Last update: 2023-09-29 / Images from Amazon Product Advertising API
---
The next pack at the top of our list is a certified burly beast.  The Creek is renowned for its unparalleled durability and ease of access.  Available in 35 and 50-liter models, this gem can withstand the rigors and requirements of most climbers, making it one of the best climbing backpacks on the market.
Black Diamond took the from their haul bag and applied it to this crag pack.  As a result, this pack can withstand whatever you throw at it and will last a good chunk of a climber's lifetime.  A byproduct of its reinforced material is that it maintains its structure.  This allows for greater packability.
The construction of the pack allows it to stay upright.  With top loading and side panel entries, you can access the backpack with ease.  Organization is as easy done as said with such a rigid pack.  You can seamlessly stow and unload your gear, so you have more time to spend climbing.
The only criticism we found (and it's somewhat prevalent amongst users) is the lack of load lifter straps on the shoulders.  This complaint is valid since it's a naturally heavy pack.  Not being able to cinch it down closer to the body makes it more difficult and less comfortable to transport.  However, it should be noted that the lack of load lifter straps is only with regards to the 35-liter version.  The  comes with load lifter straps at your disposal.
Additional features include:
Thermaformed back panel to mold to the contour of your body
Stowable rain cover protects the top load zipper and doubles as a helmet holder
Top panel drawcord securely cinches down your gear
Separate internal zipper pocket secures valuables and is easy to access
Padded shoulder straps and hip belt
What makes the Black Diamond Creek unique:
Haul bag design makes for a burly, durable rock climbing backpack
Top loading and side zippers give you an easy access crag pack
Why you should choose this climbing backpack:
It is as durable as they come and will stand the test of time
It provides the space and features you need to consider it the best trad climbing backpack and the best sport climbing backpack
No products found.
---
Our Runner Ups for the Best Climbing Backpacks
Like we mentioned at the start, there are multiple fantastic options when it comes to climbing backpacks.  The following packs barely missed the cut for us to deem them the best, but they are nonetheless worthy of your time and consideration.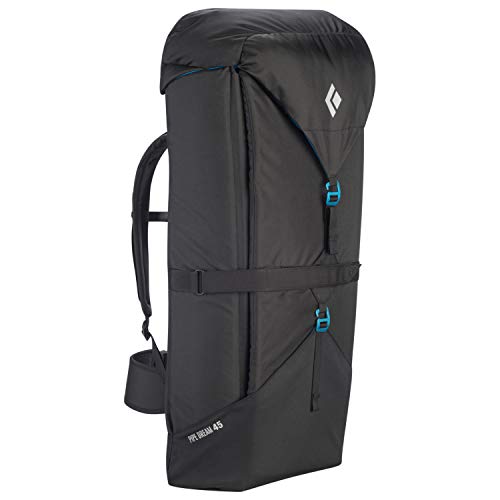 This bag is an actual pipe dream.  It fulfills your crag necessities by being able to fit all your gear conveniently, it's comfortable, and it completely folds out as a crash pad to provide additional protection or relaxed lounging.
The pack's three-point closure system allows a climber to carry large loads comfortably.  Its burrito-style layout makes it super simple to organize and find your gear- you merely lay it out on the ground and stuff it all together.  This feature comes in handy when you're in a hurry, or you're too tired from climbing to be bothered with the tedious task of playing gear Tetris.
It's impressive that such a simple pack can also be so comfortable.  Padded shoulder straps and waist belt provide plenty of relief from the load on your back.
The most significant feature of the Pipe Dream is its ability to fold out as a comfortable spot to lounge, put your shoes on, use as added protection, or just as a tarp to keep your rope out of the dirt.  There exists no other pack that provides such unique design and functionality.  Black Diamond hit the nail on the head with this one.
Additional features include:
Zippered top pocket
Fully removable lid
Two internal gear loops for organization
Padding throughout offers great durability
What makes the Black Diamond Pipe Dream 45 unique:
It folds out into a crash pad
Three-point closure system allows for easy loading and unloading
Why you should choose this climbing backpack:
You enjoy relaxing at the crag
Durability and functionality
Last update: 2023-09-29 / Images from Amazon Product Advertising API
---
Available in 32L and 45L, this bad boy covers all the bases.  It is spacious, organized, durable, and comfortable.  If you're in the market for a crag pack, look no further.  This is one of the best climbing backpacks out there.
The Cragsmith is incredibly user-friendly and accessible.  It features top access and a back panel- making it quick to load and unload.  The top zipper allows the user to quickly find whatever they have stashed in that area of the pack.  More uniquely, the back panel allows you to view the entire contents of the backpack with just the pull of a zipper.  The benefit of this feature cannot be emphasized enough.  The ease of use makes all too much sense.  Also, it allows you to keep your straps and back panel out of the dirt.  Nobody wants to get their back dirty when it is easily avoidable.  Additionally, keeping your straps and back panel out of the dirt will help prolong the life of the backpack.
Next, The Cragsmith is designed with a durable, eco-friendly, water repellent fabric.  The durable water repellent fabric keeps your pack and gear dry by repelling light rain and snow.  The nylon weave is coated with polyurethane and treated with a water repellent finish.  By staying dry, your pack will last longer.  Not only is the nylon material water repellent and durable, but it is also comprised of fifty percent recycled content.  Recycling nylon is a bit of an innovative process that has not been perfected quite yet.  You have to tip your hat to the fine folks at Patagonia for providing an environmentally conscious product that simultaneously maintains quality.
Regarding build, this climbing backpack is reinforced with soft foam.  This provides structure to the pack, while also protecting the contents inside.  While many climbing backpacks will feel like a wet noodle when they are empty, The Cragsmith will keep its shape even when there is nothing in it.  This maintaining of structure makes it easier for the user to repack the bag.
You can have peace of mind on a hot day when approaching the crag with this pack, as it is complete with an air-flow mesh on the back panel and shoulder straps.  These panels encourage breathability, so you can better avoid a sweat-drenched shirt.
Additional features include:
Zippered stash pocket for valuables or snacks
An easy-access hydration sleeve
Exterior stretch pockets for guidebooks or water bottles
Exterior daisy chain to clip items to the pack
A compression strap to secure a bustling pack or even hold a rope
Whether you want the more compact 32-liter version or the expansive 45 liters, The Cragsmith will hold whatever gear you stuff in it.  Importantly, it will keep your equipment organized, because no one wants to deal with a mess.  If you're looking for a quality sport climbing, trad climbing, or gym climbing pack, then you should seriously consider investing in The Cragsmith for your next adventure.
What makes the Patagonia Cragsmith unique:
50% recycled nylon is eco-friendly
A zippered back panel allows you to locate your gear quickly and promotes organization
Why you should choose this climbing backpack:
Durability and functionality
Breathability and comfortability
Last update: 2023-09-29 / Images from Amazon Product Advertising API
---
Our Value Picks for the Best Climbing Backpacks

When you've spent all your money acquiring the necessary gear to tackle your climbing objectives, but you still need a backpack to haul everything, you may feel like you're out of luck.  That's not the case.  There are a few fantastic options for the best budget climbing backpacks.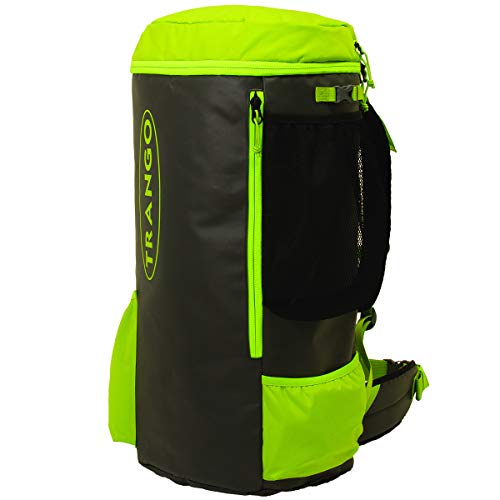 You get a lot of bang for your buck with this pack.  It will get your gear to and from the crag with comfortable ease, will last you years, and won't break the bank.  All of those aspects make the Trango a favorite amongst climbers on a budget.
At 48 liters of capacity, you can easily stuff all your gear in this minimalist design pack.  The pack features top loading and side access entry points to locate your gear quickly.  It also benefits from standing upright and maintaining its shape- features we find hugely beneficial when packing and unpacking.
For such a minimalist design pack, it sure is complete with number features, including:
An exterior mesh pocket to dry out your shoes
A small tarp to keep your gear out of the dirt
Easy access the side panel guidebook and top panel storage zipper- allowing you to grab what you need without taking off the pack
Load-locking shoulder straps
25 mini waist liners to organize your trash and keep it away from your gear
Exterior straps to carry anything extra
What makes the Trango Crag Pack unique:
Accessibility without taking it off
Titan Wrap fabric keeps the pack standing upright for easy loading and unloading
Why you should choose this climbing backpack:
Affordability
Easy to use and will fulfill your sport climbing and trad climbing backpack needs
Last update: 2023-09-29 / Images from Amazon Product Advertising API
---
This climbing backpack provides as much or as little space as your gear dictates and comes at an affordable, attractive price.  This product is of such high quality and multi-function, it is remarkable that it registers as the most affordable climbing backpack on our list.
The Roll Down Pack rolls up and down to change sizes depending on how much you put in it.  So, whether you're hanging out at the crag all day, or just going to the gym for a quick bouldering session, this backpack has you covered.  The pack expands to 2000 cubic inches at its max, and rolls down to 1362 cubic inches at its minimum.  In case you need any more space, there are two external daisy chains.
The comfort level is high with this pack. Ergonomically designed shoulder straps keep the pack away from your lats, which helps avoid discomfort.  Adjustable sternum straps help the user dial in their fit preference.  Next, the back panel is padded to keep the contents of the pack from poking your back.
Additional features include:
Yellow-lined interior to enhance visibility when looking for something inside the pack
A minimalist appearance to make it functionality outdoors, as well as in an urban setting
Large internal zip pocket for valuables
What makes the Organic Climbing Roll Down Pack unique:
It expands or rolls down depending on how much gear you have
It can be used to bike to work or to get you to the crag
Why you should choose this climbing backpack:
Affordability
Trendy appearance that is functional
No products found.
---
How to Choose the Best Climbing Backpack for You

Before you go researching which pack is the best on the market, it's important to know what you should be looking for.  Here are a few things to consider in terms of choosing the best climbing backpack for you:
What will you be using it for?  If you plan to use your climbing backpack for sport or trad climbing, then you should consider a crag pack.  Maybe you plan on getting into alpinism and need something light that will also hold all your gear.  You could consider an alpine pack that doubles as your crag pack.  The key here is determining what volume you will need.  A backpack between 40 and 60L should be able to carry all your gear, whether you're using it for the alpine or the crag.  Perhaps you want something that you can use for long multi-pitch days.  In this case, you should look at a smaller pack in the 18 to 38L range.  Determining how you're going to be using your pack is a great starting point, and you can narrow it down from there.
Next, you should find a pack that fits your body.  Most climbing backpacks will conform to the contours of your back, but that won't be entirely effective if you do not choose the proper size.  To find a backpack that fits your torso, you should be fitted by an expert.  You can get this done at any outdoor retailer that sells backpacks.
Finding a backpack that fits properly is going to increase the comfort level.  If you plan on using your climbing for alpinism or on long approaches to the crag, then being comfortable is going to make hauling your gear a lot more tolerable.  Foam padding in shoulder straps and waist belts is relatively standard across the board.  There is absolutely no reason to spend a bunch of money on a climbing backpack that is not comfortable.
Key Differentiators for Climbing Backpacks
Saying you're looking for a climbing backpack is a bit of a general statement.  Do you need a small pack you can climb with or a backpack to haul your rope, draws, shoes, and other gear?
Multipitch packs will be smaller and won't fit your rope.  They will oftentimes be made out of extra durable nylon to withstand the abuse of rubbing up against the rock.
Crag and alpine backs will be larger to accommodate all of your gear.  They will often be equipped with more features such as a rope tarp, internal organizers, and multiple entry points into the bag.
What to Consider with Weight, Durability, and Capacity

No one wants to carry a super heavy backpack.  This will tire you out before you even get to the climbing.  Choosing a pack that is light enough for your workload, durable to last you, and can haul all of your stuff is vital.
If you plan on short jaunts to the roadside crag, then you're not going to place a premium on weight.  If your goal is alpine ascents, then you need to be fast and light.  If you plan on all day climbs with a pack on your back, then you will most definitely want something light.
Your bag is going to take a beating.  Between scraping against rocks, sitting in the sun, and getting dirt all over it, your pack's durability will be tested.  You should consider how durable you need your pack to be before purchasing it.  No one wants something that is only going to last a couple of years because then you'll end up searching for a replacement and spending more money.  A less durable bag may suit you just fine if you plan on using it sparingly.  A durability rating is commonplace amongst climbing backpack reviews, and you can tailor your search accordingly.
Finally, choose a bag that suits your individual needs.  There is a vast range of capacity based on liters (L).  If you have a ton of gear and don't want anything on the exterior straps of your pack, then get something on the higher end of the spectrum.  If you plan to solely follow someone up multi-pitch routes, then choose a backpack that accommodates the bare essentials like a water sleeve and extra layers.  Don't pick a bag that limits your space, and don't pick a bag that your gear is swimming in.
Crag vs. Alpine vs. Haul Climbing Bags

Crag climbing backpacks are designed to haul your sport and trad climbing gear to and from the crag.  They are large enough to accommodate your rope, a full rack, a helmet, water, a guidebook, and other small essentials.  They often feature internal and/or external straps to fit more gear and to better organize said gear.  Additional features often lead to increased weight.  Because of this, crag packs are usually not ideal for extra-long approaches and full-day hiking excursions.
Alpine climbing backpacks are lightweight.  They allow you to travel more effectively through the mountains so you can better obtain your objectives.  While they are still large enough to carry your gear, they are built with fewer features than a crag pack, allowing you to move quickly and without compromise.
While we didn't mention any haul bags in our review, they are an important aspect of climbing, but for a much more specific aspect of the climbing community.  Haul bags are for big wall climbing.  Essentially, haul bags allow you to stuff a ton of gear in a pack and haul it up a rock face by a rope.  Durability and capacity are the main components of a haul bag.  They need to hold a lot of extra gear and be able to withstand constant abrasion from the rock and elements.  Because you're just stuffing gear in there, there are no unnecessary features.
Summary of the Best Climbing Backpacks
To wrap up, in this post, we covered the following climbing packs:
Our Top Favorite
Our Top Runner Up
Our Top Value Pick
Climbing Backpacks
Black Diamond Pipe Dream 45
Our Top Favorite
Our Top Runner Up
Climbing Backpacks
Black Diamond Pipe Dream 45
Our Top Value Pick
Last update: 2023-09-29 / Images from Amazon Product Advertising API
Choosing a climbing backpack is a lot like choose a pair of shoes for your everyday life.  They exist in a variety of sizes and styles to suit a multitude of purposes.  Determining what purpose you will use a climbing backpack for is your best way to start your search.  If you do enough research and take care of your gear, we're confident you can find a climbing backpack that both suits your needs and lasts a lifetime.  Follow this best climbing backpacks guide, and you should be well on your way.
Did you find this helpful? check out our other climbing gear reviews here.