So, you are shopping around for an extension pole for stick clipping? You've come to the right place to figure out which one to buy. Through research and reviews, we have found and organized some of the best extension poles into a few categories – our favorites, runner ups, and value – so that you can more easily find the best one for you.
If you want to read a bit more about how we picked out and placed each pole, check out our sections below the list for more details. They should help to reveal our train of thought when approaching each product.
Now, onto our favorites!
If you still need a stick clip, see our article on the best stick clips here.
Our Top Runner Up
Our Top Value Pick
Extension Pole for Stick Clipping
Ettore REA-C-H 5-ft to 16-ft Telescoping Threaded Extension Pole
Last update: 2023-11-29 / Images from Amazon Product Advertising API
Our Favorites for the Best Extension Pole for Stick Clipping for Climbing
Starting off our list with an extension pole already outfitted with a built-in clip, the KAILAS Clip-up is a popular solution to the crag climber's problem of lacking a long enough reach. In its normal contracted state, it is just short of two feet long, but can extend just past eight feet when fully extended – not the longest, by any means, but still respectable. As mentioned before, the stick comes with a pre-attached clip – it's not the Superclip, by any means, but it gets the job done. But even if you wanted to, you cannot de-attach the clip from the pole, so, you are stuck with it. The pole itself is , and at only .7 lbs, is quite lightweight. The overall design is telescopic and is most effective at keeping locked in. The primary drawback, however, is the length, because, at only eight feet, you are going to be quite limited in reach. Still, one can see that the included clip makes up for this downside. Overall, the KAILAS Clip-up comes in at a competitive price with a strong performance.
What makes the KAILAS Clip-up Stick Clip unique:
Typically, extension poles are offered plain, and by themselves, or with a less relevant tool on the end for another application, so a clip already attached stands out from the rest
Custom-designed for outdoor climbing application, the Clip-up does well in specializing
Why Choose this Extension Pole for Stick Clipping:
Having the clip included is both convenient and a small price-saver, as now you don't have to go out and research and buy a clip in addition to the pole
The lightweight aluminum alloy construction pairs well with the shorter reach to make a very light and somewhat versatile tool
No products found.
---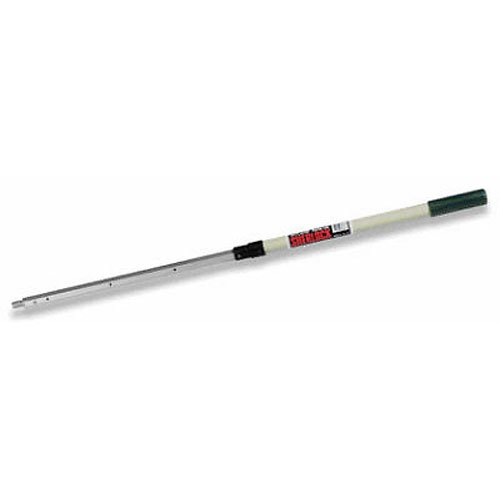 On to the first option that comes without a clip, the Sherlock Extension Pole is designed for painting wall and ceilings.  Built out of fiberglass for a lightweight and durable design, this model reaches up to twelve feet in length, perfect for reaching high first bolts. But the durability doesn't end there, the pole has two layers, with the outer being made of the fiberglass as mentioned earlier, and the inner being a robust anodized aluminum which adds some needed structure and stability. The inner core is also a hexagonal shape, and locks in six-inch increments, offering you all the desired steadiness you might need. It does, however, weigh quite a bit more than other options due to this construction method. At three pounds, it weighs quite a bit more than some of the alternatives, making handling slightly more difficult. Additionally, for all the options, the minimum length is always half the maximum length, so it is not as portable as the more collapsible options; the tradeoff then becomes portability for structure and stability. It doesn't come with a clip included, obviously, but the threaded tip should work with most clip options you look at. Finally, priced in the low thirties, this pole can be paired with a quality clip for around the same cost as the more expensive Trango Beta Stick Evo – just to give you some context for the pricing. Not satisfied with the length? Luckily, Wooster has their extension poles available in lengths ranging from four feet to sixteen feet, so you can always be sure to find the right size for you.
What makes the 6ft. – 12ft. Sherlock Extension Pole unique:
Many other options come in a limited range of lengths, but the Sherlock Extension Pole comes in a variety of options, making choosing your preferred length easy and simple
The dual-layer design adds in a significant amount of stability often not seen in traditional painting poles
Why Choose this Extension Pole for Stick Clipping:
If you find yourself not often traveling or simply don't mind the length of the collapsed form of the pole, then the major weakness of this item it somewhat voided
Being able to attach different clips on as you see fit is a strong one cannot ignore because being stuck with a clip you are not satisfied with can ruin the pole to a certain extent
On Sale
Wooster Brush SR056 Sherlock Extension Pole, 6-12 feet
Hexagonal aluminum inner pole prevents twisting and outer pole is rugged fiberglass
Easily adjusts in 6 Inch increments with a touch of the thumb and then locks securely in place
Universal threaded tip works with all popular tools
Last update: 2023-11-29 / Images from Amazon Product Advertising API
---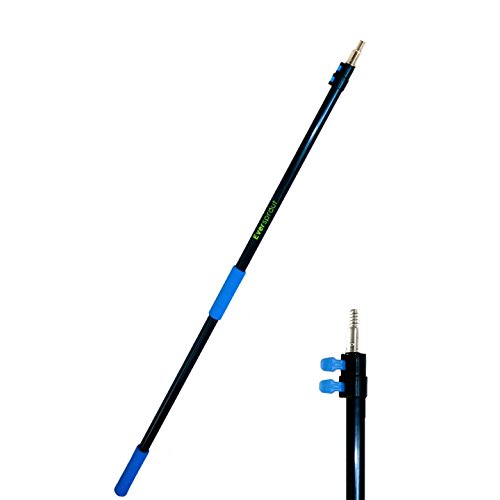 Looking for something with a bit more reach? This extension pole strikes a right balance between the shorter options on our list and the twenty-four-foot pole we will take a look at later. At eighteen feet, you are still getting all the reach you might possibly need, without going overboard. The pole is a three-section system that offers a bit more rigidity than the more numerously segmented options. Additionally, the pole is relatively lightweight, at only 2.1 pounds at such a long reach, it's quite competitive, this is due to the aluminum construction, which also offers further durability over other materials. This extension pole is also provided in as twelve- and twenty-four-foot options. Though we should note that there is definitely some bend in the pole at full extension according to a few reviewers, so keep that in mind when shopping.
What makes the EVERSPROUT 6.5-to-18 Foot Telescopic Extension Pole unique:
This extension pole is one of the few that has a far, but not wholly overkill reach
The three-piece construction of aluminum provides a decent amount of rigidity for the full length and an even better amount of durability
Why Choose this Extension Pole for Stick Clipping:
As mentioned before, it is a good option for a longer reach, while still avoiding altogether unnecessarily long lengths
If you prefer a different length, there are options for shorter and longer extension pole options – offering you the extra versatility to pick and choose
EVERSPROUT 6.5-to-18 Foot Telescopic Extension Pole (25 Ft Reach) | Lightweight Sturdy Aluminum | Easy Flip-Tab Lock Mechanism | Twist-On Metal Tip works for Squeegee, Duster, Paint Roller (pole only)
SAVE TIME, SKIP THE LADDER - REACH UP TO 25+ FEET WHEN STANDING - Adjust the Smart, 3-stage Extension Pole to any custom length from 6.5 feet to 18 feet (79"-212.5"). Reach up to 25+ feet when standing. Fits Standard US Threaded Tools (3/4" ACME Threaded Pole Tip). NOTE: Does NOT Work with Click-On or Custom Threading.
MULTIPURPOSE WITH OVER 10X POTENTIAL USES – Use with Twist-On Household Tools (attachments sold separately). Simply twist-on the Eversprout tool of your choice: Paint Roller, Squeegee, Cobweb Duster, Ceiling Fan Duster, Feather Duster, Mop, Broom, Fruit Picker, Light Bulb Changer, Utility Hook, and others! Works with all Eversprout Attachments, 3/4" Acme Thread Tools, USA Standard Thread Tools, and Universal Thread Tools. NOTE: Does NOT Work with Click-On or Custom Threading.
THE EVERSPROUT ADVANTAGE – 1 YEAR WARRANTY, MIND-BLOWING USA CUSTOMER SERVICE, 1 TREE PLANTED WITH EVERY ORDER – When's the last time you had a shopping experience that 'Wowed' you? Probably not in a while. Here at Eversprout we match Amazing, Hand-Inspected & Packaged Products with incredible USA customer service.
Last update: 2023-11-29 / Images from Amazon Product Advertising API
---
Our Runner Ups for the Best Extension Pole for Stick Clipping for Climbing

Similar to the KAILAS Clip-up, the Beta Stick Evo by Trango is a clip and stick system in one; however, they differ so widely that most of the similarities end there. Starting at the clip, the Beta Stick Evo varies significantly in its design, the head of the Beta Stick has been completely redesigned and is quite versatile in its application. Unlike the Clip-up, the head, and the rest of the body is almost entirely plastic. Now, this isn't that big of a problem on its own, but with the standard version of the Beta Stick, the full extension may lack some rigidity and stability. Additionally, it is going to be a lot easier to break than its aluminum alloy counterpart. Trango's product also extends through a snap clip lock system which contrasts with the internal twist and lock system of the KAILAS Clip-up. The fact that Trango offers a twelve-foot option is excellent, and the telescoping ability of this option works quite well. All that being said, even its compact eight-foot option costs twenty some dollars more than the Kailas Clip-up, which makes it hard to justify picking the Beta stick option. Still, despite the significant price jump, you are getting a reliable product, without any glaring weaknesses in the design or quality.
What makes the Trango Beta Stick Evo unique:
Like the KAILAS product, but unlike many other extension poles for stick clipping, the Beta Stick Evo comes with a clip built into the pole for maximum convenience and ease of use
The snap locks on the outside of the plastic pole are great for keeping it locked and in place, they are also easy to manage, unlike the less obvious inner mechanisms some poles use
Why Choose this Extension Pole for Stick Clipping:
Even if it is quite a bit more expensive than the KAILAS, you would still most likely be saving money buying an extension pole with the clip included, as most clips cost at least thirty dollars on their own
The included clip works quite smoothly with many carabiners, making its function to secure bolts that much smoother
Trango Beta Stick EVO | Climbing Tool, Sitck Clip | Standard
DON'T FEAR THE FIRST BOLT - Your stick-clipping just went up a grade; The redesigned EVO is stronger, more versatile, and even more compact than the previous model.
REACH IT - 3 sizes: Compact (21.5 in. collapsed, 8 ft. extended), Standard (29 in. collapsed, 12 ft. extended), and Ultra (44 in. collapsed, 22 ft. extended)
CLIP IT - The EVO's redesigned head grips your carabiner and holds open the gate with an adjustable wire arm; Designed for both solid and wire gate carabiners
Last update: 2023-11-29 / Images from Amazon Product Advertising API
---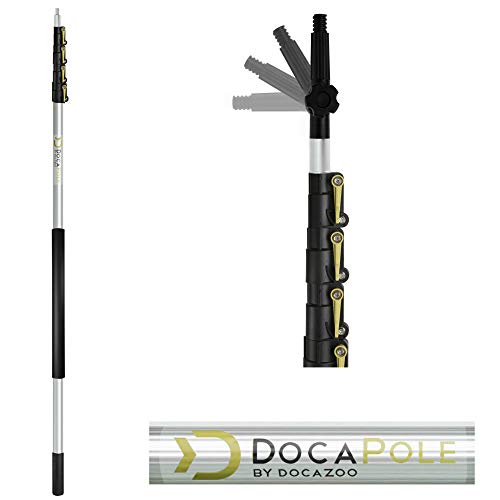 If you are looking for something that can reach extreme heights – the DocaPole certainly fulfills that. With a maximum reach of twenty-four feet, you can be sure that all the clips on your route can be reached without a worry. While somewhat impractical at maximum height, it still provides a significant amount of versatility found somewhat lacking in the shorter options. Surprisingly, this twenty-four-foot extension pole collapses down to a minimum of only six feet, slightly in contrast to other, shorter, options that collapse down to a similar length. With tons of reviews, even approaching 1000, on Amazon, you can be sure that it is a reliable and quality product, and the reviews tend to support that. Even better, it costs as much as many twelve-foot options, putting it in a category close to Value Picks for its great price per foot ration. However, the major drawback to this product is still the unreasonable length, not designed for climbing; the extra ten some feet you won't use can add excess unnecessary weight. Still, some might appreciate the far reach and will get plenty of utility from it.
What makes the DocaPole 6-24 Foot Extension Pole unique:
The extremely long reach helps this product stand out from the legions of eight- and twelve-foot poles out there
The popularity of this item does well to verify it, and the company's, integrity and quality, giving you no reason to doubt its lack of quality from a shortage of reviews
Why Choose this Extension Pole for Stick Clipping:
If you find yourself wishing you had an even longer extension pole to reach all the bolts on the wall – this certainly is the extension pole for you
The price/per foot for this option is actually quite reasonable, giving you a solid amount of value for your buck
DOCAZOO DocaPole 30 ft Reach, 6 to 24 ft Telescoping Extension Pole | Multi-Purpose for Hanging Light Bulb Changer, Paint Roller, Duster, Window/Gutter Cleaning
The Only Telescoping Extension Pole You'll Ever Need: Extends from 6 feet to 24 feet, this retractable, extendable pole performs all the hard to reach task safely from the ground
New Dual-Tip Equipment: Straight metal tip will stand up to any task, while attachable multi-angle tip provides 180 degrees making gutters, ceiling fans, painting, and aerial photography a breeze
Easy To Store and Transport: Easily put in the house's broom closet or hang on a shop wall. Fits in a car or truck bed, just use the quick-release thumb lever to shorten it to desired length
Last update: 2023-11-29 / Images from Amazon Product Advertising API
---
Our Value Picks for the Best Extension Pole for Stick Clipping for Climbing

This heavy-duty extension pole has the respectable max extension range of sixteen feet, all while being able to compact down to a mere five feet – better than the average of six feet or more. The anodized aluminum prevents corrosion and provides a considerable amount of rigidity for the user, even if it is a little heavier than average. Fluted for strength and grip, this pole also doesn't need the handles some others add on. All the reviews confirm how durable and reliable it is, even at such a low price. However, there are reports of the weakness of the plastic head on the end of the pole where the attachment can clip in, because, for some reason, they made it out of plastic and so, it is much easier to break than the rest of the pole. Unlike some other poles, Ettore's extension pole s quite light, having the weight of an average twelve-foot pole while actually being sixteen feet long. Overall, this is a reliable option and is even better at such a low price for the height. Through Lowe's, you can find this priced lower than other distributors – at a bit less than thirty dollars, which puts it up there with some of the cheaper options.
What makes Ettore REA-C-H 5-ft to 16-ft Telescoping Threaded Extension Pole unique:
The combination of the fluted design, the anodized aluminum, and the general quality of design, this pole should last you for quite some time
In addition to the price, which is a prominent standout feature, the compact nature of this pole is quite unique – while extending to sixteen feet, it has the minimum length of five feet
Why Choose this Extension Pole for Stick Clipping:
There seems to be a general consensus that this pole is one of the better options for a low priced, yet quality of options – and even if its main weak point gives out, it will be replaced for free
As mentioned in the above section, an additional foot of the room is saved when this pole, in contrast to its competition, compacts down – saving you some room and a hassle when you travel or carry it to the wall
On Sale
Ettore 44016 REA-C-H Extension Pole, 16-Feet, Silver, Blue
Lightweight 4-section REA-C-H extension pole made out of aluminum tubing for durability
Easily extends to desired length with quick open/close tapered clamp design; no need for ladders
Fluted for strength and better gripping when wet; hang hole for convenient storage
Last update: 2023-11-29 / Images from Amazon Product Advertising API
---

Made of fiberglass and stainless steel, this extension pole starts at a minimum of six feet and can extend out to twelve feet, doubling in size. This pattern of doubling in size extends to their other products – a four-foot, eight-foot, and sixteen-foot pole. The locking mechanism is a simple twist and lock, which secures the two halves of the pole in place, making for a relatively rigid and robust design. However, because of the inclusion of stainless steel, the strength you get is made up for by the heavier weight, at 2.6 pounds, the twelve-foot pole is a bit heavier than most competitors'. It is priced at around half to a third of most other extension poles, which is a definite plus. Additionally, on Amazon, there are more locking options, including a push-button and hex lock system, though these are not available in all lengths. Of course, there have been some complaints about quality – as one might expect from such a cheap pole, and they are primarily around the loose rivet which holds the top on.
What makes the Premier Paint Roller 6ft – 12ft Heavy Duty Extension Pole unique:
The low price is the most standout thing about the Premier Paint Roller, for even if the quality is low, you can buy multiple at a cheaper price point than it would cost for just one of the other options
The option for different locking mechanisms really offers the buyer with a good amount of variety and choices to pick from
Why Choose this Extension Pole for Stick Clipping:
If you are hesitant to pick up an extension pole for stick clipping, or won't be using it all that frequently, this is an excellent way to test the waters before dropping fifty bucks on something a bit higher quality
Even at the low price, many reviewers say the quality is alright, so you are not directly sacrificing money for quality with this extension pole
Last update: 2023-11-29 / Images from Amazon Product Advertising API
---
Why You Should Invest in Quality Extension Pole for Stick Clipping
Stick clipping arose from the need for a way to safely clip a high bolt, and typically a high first bolt, without risking a dangerous fall. Over time, companies have put out their own solutions for this problem, ranging from standalone clips to clip and pole combinations. They range in complexity, from the unique design of the Trango Squid to the straightforward setup of the Superclip. Regardless of the design, all these clips need a pole to function, and unfortunately, finding a quality extension pole for stick clipping is not as straightforward as it would seem.
Additionally, a strong argument could be made that stick clipping offers you the ability to climb out of your grade – giving you an excellent opportunity to push your limits and try harder more exciting walls. Plus, it can also relieve a lot of the headache of retrieving gear by being able to reach it with your stick clip easily.
How to Choose the Best Extension Pole for Stick Clipping for You
There are a few things that separate extension poles in their effectiveness, including the rigidity (the more rigid, the better), extension distance, weight, extension style, and other features. These factors are essential to consider when sorting through and choosing the best extension pole for you. Though your specific use of the extension pole may differ from others, there will not be a ton of variation in how climbers use their extension poles other than how often and for the differing heights of bolts – a quality extension pole is a quality extension pole.
For example, some climbers may find that the total length of their telescoping pole doesn't matter all that much as they don't often use it on extremely out of reach bolts, so trying to look for a 16+ foot extension pole may seem like overkill, but length is still a valuable factor, especially in a telescoping extension pole, because you can always know that it will reach to any bolt on the crag. Along the same line of thinking, you may not need an extremely rigid extension pole because of how infrequently you rely on it for very out of reach spots. In general, just know that while most extension poles will be equally useful to you, the slight differentiation will matter when considering which to invest in, though less than other climbing products.
Summary of the Best Extension Pole for Stick Clipping for Climbing
To sum up, here are the best extension pole for stick clipping for climbing we looked at today:
Our Top Runner Up
Our Top Value Pick
Extension Pole for Stick Clipping
Ettore REA-C-H 5-ft to 16-ft Telescoping Threaded Extension Pole
Last update: 2023-11-29 / Images from Amazon Product Advertising API
From painter's poles to extension poles built for climbing with the clip coming pre-attached, there is some variety among what would otherwise be a pretty straightforward and straightforward array of products. And while most climbers would prefer the same extension pole for stick clipping, generally, we did seek to provide some variety that may speak to certain types of climbers.
Overall, we hope you found an extension pole that works perfect for you! If you found this helpful, be sure to check out our other climbing gear reviews.
Still need a stick clip? Check out our article on the best stick clips here.