Picking a single best non-locking carabiner is a lot like picking the prettiest flower: everyone you ask will have a different answer. We'll do our best, though, to point you in the right direction. In this post, we will detail the best climbing carabiners to add to your rack.
A word of caution, though: Always buy carabiners from reputable, climbing certified brands like Petzl and Black Diamond, and be wary of eBay or Amazon deals that seem too good to be true! Your life is more important than scoring a sweet deal on knock-off gear.
On to the business. Here are our picks for the best climbing carabiners.
If you find this valuable, be sure to check out our other climbing gear reviews here.
Our Top Favorite
Our Top Runner Up
Our Top Value Pick
Climbing Carabiner
Black Diamond Oz Carabiner
Black Diamond Hoodwire Carabiner
Last update: 2023-11-29 / Images from Amazon Product Advertising API
Our Favorites for the Best Climbing Carabiners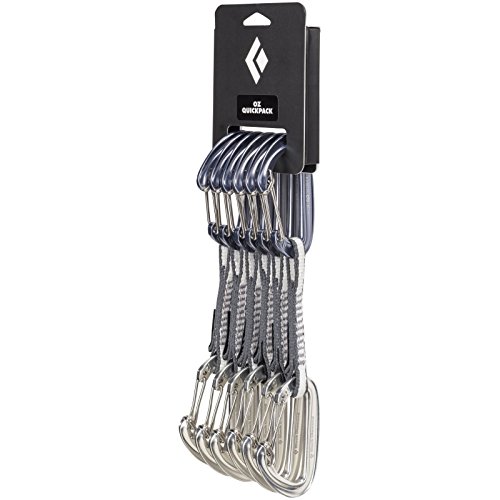 Lightweight, medium size, relatively affordable, and easy to use, these Black Diamond carabiners are a fantastic general use carabiner, and perfect for a beginning climber. Their proprietary HoodWire technology gives these carabiners a snag-free nose. A notched-nose design has a tendency to snag on bolts or slings especially when cleaning. The HoodWire technology mitigates this problem, keeping the nose smooth and snag free.
The Black Diamond Oz's medium size hits a sweet spot in how they handle. Sure, small or big handed climbers may prefer a different sized 'biner, but these reduce the likelihood of your partner cruxing out trying to clip with your rack.
These carabiners, as opposed to a cheaper, heavier, and snag-prone option such as the BD Neutrino, are more likely to remain on your rack as you upgrade other gear. As OutdoorGearLab states, these carabiners are the "lightest product that still retains as much functionality as possible." A few extra dollars up front will save you money in the long run, and their versatility guarantees they'll find a spot on any rack.
What Makes the Black Diamond Oz Carabiner Unique
Lightweight
Snag-free nose
Medium size
Reasonable price compared to other carabiners
Why Choose the Black Diamond Oz Carabiner
You want a great all-purpose carabiner
You want a versatile carabiner that remains useful as you advance as a climber
Looking for a balanced combination of durability, ease of use, and medium size
Black Diamond Equipment Oz Quickpack 12 cm
Excellent protection without hindering activity
Purpose designed and built
Cutting-edge climbing equipment is designed and built for the send across the full spectrum of climbing pursuits
Last update: 2023-11-29 / Images from Amazon Product Advertising API
---
If outright performance justifies any expense, these Wild Country Helium carabiners should be on your rack, and are our other top pick for best climbing carabiner. Full size and with a snag-free hood, these lightweight carabiners handle like a breeze. Their nose design, similar to the BD Oz's, ensures that cleaning that overhung sport route in Rifle or clipping a crux pin in Eldorado Canyon will go smoothly. Though their larger size may give small handed folk a bit of trouble, these carabiners have enough space in their opening that space-consuming tasks such as anchor building are much easier.
These carabiners are , and balance weight with functionality better than any other carabiner on the market. As one MountainProject user put it, these carabiners are "strong as hell, well made, EASY to clip with gloves, light, gorgeous." Their only downside is the cost: as one of the most expensive non-specialty carabiners on the market, outfitting a dozen quickdraws with them can get pricey fast. Thus, these carabiners are a solid option for an intermediate climber dissatisfied with their current carabiners, or those who are looking for the best option to outfit that shiny new trad rack.
What Makes the Wild Country Helium Carabiner Unique
Full size
Very lightweight, and very strong
Snag-free Hood Design
Why Choose the Wild Country Helium Carabiner
You want a top performing carabiner, and don't mind paying for it
You're looking for an incredibly easy handling carabiner
No products found.
---
Our Runner Ups for the Best Climbing Carabiners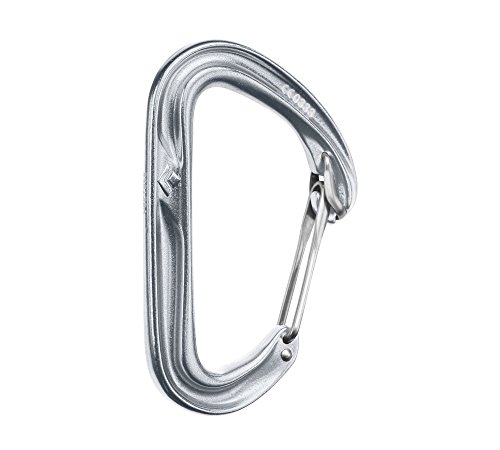 Very similar to the BD Oz, just larger and heavier, these carabiners sacrifice weight for a touch more durability, and thus are a runner up for our best climbing carabiners. For a climber concerned with excessive wear on a lightweight carabiner, these are a good choice. Their snag-free nose design, the same as on the BD Oz, allows for easy handling. These are a good carabiner for high wear locations, such as on an anchor, or on that crux draw of your sport project. Though they might make your new trad rack feel like it's made of lead, they do lend a greater peace of mind than their lightweight counterparts. That being said, most carabiners will outlive their owners, even the lightweight ones.
What Makes the Black Diamond Hoodwire Carabiner Unique
Durable design
Snag-free technology
Why Choose the Black Diamond Hoodwire Carabiner
Durability is your priority, but you still want a snag-free, smooth handling carabiner
You like snag-free, mid size carabiners
Last update: 2023-11-29 / Images from Amazon Product Advertising API
---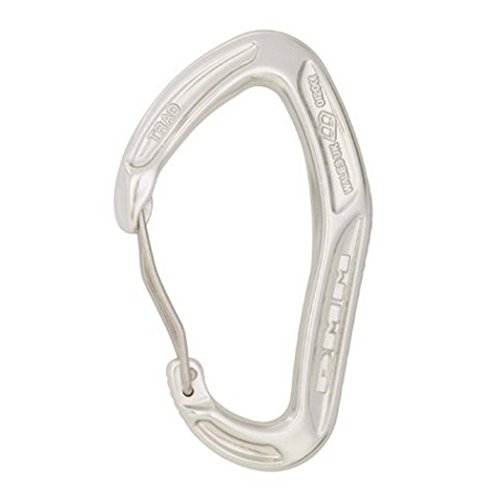 These expensive carabiners are an excellent addition to any rack, and are versatile, strong, and well designed. This puts them solidly in our runner up category for best climbing carabiner. They are heavier than the Wild Country Helium carabiners, but their keyless nose and full size opening allow them to handle smoothly in any scenario. Some users prefer the "feel" of these carabiners over any others, and DMM always manages to manufacture good looking, excellently designed gear, though for a price. As one Mountain Project user concludes, these carabiners have a "very deep basket, perfect size, and the nose is very clean. Yes they are pricey but your paying for excellent design and manufacturing." Though we wouldn't recommend buying these over the Wild Country Heliums without handling them first, they do make a good alternative and some climbers will prefer these carabiners.
What Makes the DMM Alpha Trad Carabiners Unique
Best quality machining on the market
Full size
Snag-free design
Why Choose the DMM Alpha Trad Carabiner
You want a snag-free, full size carabiner
You prefer the feel of these 'biners to the Wild County Heliums
You like the top quality production of DMM gear
Last update: 2023-11-29 / Images from Amazon Product Advertising API
---
Our Value Picks for the Best Climbing Carabiners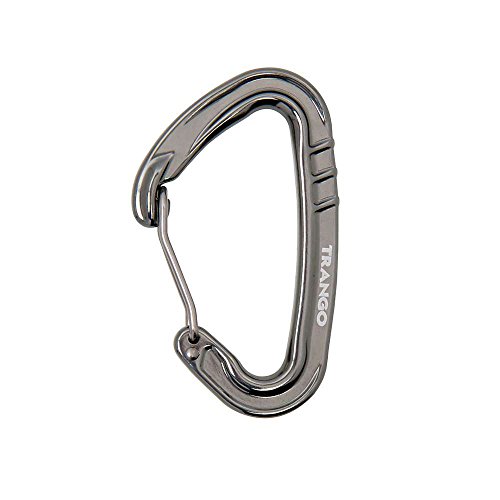 Extremely lightweight and very affordable, the Trango Phase is our top pick for budget climbing carabiner. As one Mountain Project user puts it, "Trango Phase are great and cheap." For an intermediate climber looking for carabiners for their alpine draws or new cams, these will keep your rack lightweight without breaking the bank. As with all cheap carabiners, these have hooked noses, making them snag-prone when clipping bolts or the rope. Plus, their smaller size makes them less versatile than a full size biner, like the Wild Country Helium, and large handed climbers will likely prefer something different. Some climbers complain that these carabiners feel like toys, due to their small size and light weight, but rest assured: these are fully rated and extremely unlikely to fail in any scenario when properly used.
What Makes the Trango Phase Carabiner Unique
Extremely light weight
Very cheap
Medium size
Great racking carabiner for cams
Why Choose the Trango Phase Carabiner
Light weight is your priority, and you don't have a big budget
You don't mind dealing with a notched nose carabiner
You prefer a smaller carabiner
Last update: 2023-11-29 / Images from Amazon Product Advertising API
---
These full size, lightweight carabiners are actually a touch lighter than the Wild Country Helium Carabiners while remaining just as strong and easy to handle, making them our pick for best budget carabiner. As one Mountain Project user says, "It's as though they have their own little gravitational field. Essentially making the rope feel like it gets sucked into the carabiner." Plus, they're half as expensive. So why are they not our favorite carabiner? One reason: their extremely hooked nose make them more prone to getting stuck while clipping or unclipping than almost any other carabiner. Plus, some users report problems with inconsistent gate tension, but Camp redesigned the Photons a few years ago and addressed this issue. For an intermediate climber familiar with clipping and unclipping bolts, this should be no problem, but expect to fight a bit more to unclip that draw under the roof than with a Wild Country Helium carabiner. Camp fixed this issue with their new keylock biner, the Dyon, but the price doubled!
For climbers that want the handling of a full size carabiner, but also are on a budget, the Camp Photon carabiners a great choice. Their large basket allows plenty of space for complicated anchor building, and they clip like a dream when on the rope end of a draw.
What Makes the Camp Photon Unique
Lightest Weight full size carabiner on the market
One of, if not the best handling carabiner on the market
Snag-prone nose is a big drawback
Why Choose the Camp Photon Carabiner
You prefer a smooth handling, full size carabiner, and don't mind the snag-prone nose
You don't have the budget for a more expensive full size option, like the Wild Country Helium
You want a balance of light weight, easy handling, and fantastic price
CAMP Photon Wire Carabiner - Orange
The Photon Wire is full size for easy clipping and features a thin spine that makes grabbing them off gear loops a breeze
The lightest full-size carabiners in the world!
Variety of colors coordinate with the most popular cam colors
Last update: 2023-11-29 / Images from Amazon Product Advertising API
---
How to Choose the Best Carabiner for You
If you are still overwhelmed by the multitude of carabiners on the market, or don't know where to start, follow this guide to choose the best carabiner for you. This set of questions will lead you towards the best climbing carabiner for you.
What is My Budget?
First, decide on a budget. Sure, there are some fantastic carabiners out there for $15 a piece (Wild Country Helium, for one), but if you can only afford six quickdraws with expensive biners, your rack won't get you up most rock climbs. So, decide: can I spend $15 on a carabiner, or would I rather have a slightly inferior, but much more affordable carabiner that allows me to have enough gear to get up a climb?
Our Best Expensive Picks for Climbing Carabiners
Our Best Budget Picks for Climbing Carabiners
What Size Carabiner Do I Want?
You've set a price point. Now ask yourself, "What size carabiner do I want?" Most will aim for a midsize or full size carabiner, like the BD Oz or Wild Country Helium. Small handed folk, though, might prefer something smaller, like the Trango Phase.
Our Picks for Best Small/Medium Size Carabiner
Our Picks for Best Full Size Carabiner
What Will I Use This Carabiner For?
When considering your ideal climbing carabiner, is weight more important, or size and handling? Do you plan on doing long routes in the alpine, or are you equipping your first set of sport draws? For a light, workhorse carabiner, check out the BD Oz. Looking to spend more time in the alpine, or looking for a lightweight carabiner to outfit that new rack of ultralight cams? Try the Wild Country Helium, Trango Phase, or Camp Photon. Looking for more durability? The BD Hoodwire is a good choice.
Our Top Handling Climbing Carabiners
Our Top Light Weight Climbing Carabiners
Our Most Durable Climbing Carabiners
Do Carabiner Shapes Matter for Climbing
Of course! Most carabiners you see climbers use today are offset D-shaped carabiners, with a pinched bend at the bottom of the gate, and a wider, more gentle bend extending from the top of the bend to the spine. This shape gives a high strength to weight ratio. Plus, the pinched point allows for a quickdraw or cam sling to nestle nicely and not move, and the rounded end keeps a sharp bend off of the rope, making this shape ideal for most situations. And, the geometry allows for a wider gate opening, and thus easier clipping.
Oval carabiners, almost entirely out of use, are often used to rack nuts or hexes, and as extra carabiners, as they are often cheap and readily available. They are, however, weaker than other shapes, and though they hold a lot of gear, are generally inferior to offset D shaped carabiners.
D-shaped carabiners address the strength issue of oval carabiners, but at the expense of interior space. They tend to be incredibly strong, and are often found as fixed lowering biners at anchors, but don't really have a place on a beginning climber's rack.
Pear shaped carabiners, made of round stock, are almost entirely locking carabiners and used for connecting belay devices to a harness. We will cover locking carabiners in a different post.
Carabiner Nose Shape
Recently, keylock carabiners have exploded onto the market, and for good reason. Originally, carabiner gates slotted into a notch on the nose of the carabiner when closed, with a tooth pointing inwards, towards the spine of the carabiner. Though this kept the gates in line with the spine and properly attached when closed, essential for maintaining carabiner strength, it also allows the nose of the carabiner to snag on, well, everything. Try cleaning an overhung sport route with notched carabiners on the bolts, and you'll see why keylocks have become the preferred nose type by many climbers. Keylocks solve this issue by keeping the nose of the carabiner, or the part that faces the spine, smooth. Instead, notches or keys are placed perpendicular to the spine of the carabiner. For a hassle free climbing experience, keylocks are the way to go. The only drawback is that they tend to be more expensive than non keylock biners.
Does Carabiner Gate Type Matter?
Gate Type
There are two nonlocking carabiner gate types: wire gate and solid gate carabiners. Wiregates are in fact just as strong as solid gate carabiners, despite their appearance. Though they look a bit flimsy and might give you the impression that your life is reliant on a bent paper clip, their light weight makes them a bit more popular with climbers. Plus, they are much more resistant to gate flutter, a phenomenon where the gates open and close slightly as a rope is pulled through, and thus vibrates, the carabiner.
Gate Shape
There are two options here: bent gate carabiners and straight gate carabiners. Bent gate carabiners make clipping the rope a breeze, and are often found on the rope end of quickdraws (yes, quickdraws are directional!) However, their ease of clipping also makes them a bit likelier to unclip from the rope when used improperly, like when back clipped. Though you probably won't die from clipping a bent gate, for overall best carabiner, straight gate biners take the cake.
Does Carabiner Material Matter for Climbing
Aluminum carabiners reign king. Though steel carabiners are prized for durability, they are far too heavy for normal use. Steel carabiners are nice for toprope draws, especially at areas like Indian Creek, where sand from the rock can quickly eat away at an aluminum carabiner. However, with diligent inspection of your gear, it is unlikely that any of your carabiners wear to the point of being dangerous.
The Edelrid Bulletproof carabiner has a steel insert on an otherwise aluminum carabiner where the rope runs through. This adds the advantage of a steel carabiner without sacrificing much weight. Though these carabiners are expensive and unnecessary for most beginning climbers, some people prefer these on high wear quickdraws, especially those on the first bolt or the anchor.
What to Consider with Carabiner Weight, Size, and Strength
Carabiner weight directly relates to durability: as manufacturers engineer lighter carabiners,  they remove material in noncritical areas, and thus a lightweight carabiner is more prone to wear than a heavier carabiner. Anyone that's lugged an entire trad rack to a faraway alpine route knows the benefit of lightweight gear. And, often, lightweight climbing gear is sufficient for a normal climber's use. However, there are situations where the added durability of a heavier carabiner is preferable. Project draws left on a sport route for an extended period of time, or dedicated toprope anchor carabiners, for example, are best equipped with heavier and more wear resistant carabiners.
With full size, lightweight carabiners on the market, such as the Wild Country Helium or Camp Photon, the optimal carabiner size mainly boils down to personal preference. While some alpine climbers might prefer a tiny, ultralight carabiner such as the Camp Nano 22, most climbers will find a tiny carabiner far too difficult to clip to be useful, especially with gloves. For a beginning climber, a midsize carabiner such as the BD Oz or Trango Phase is a good starting point. The medium size allows it to be comfortable for a wide range of hand sizes, and both are functional carabiners in a majority of situations. Larger carabiners, such as the Camp Photon, often handle better for people with bigger hands, and some climbers will prefer a full size carabiner for its combination of handling and ability to clip a lot of gear. Handle a bunch of carabiners, preferably while climbing an actual route, pay attention to their size, and see what works best for you.
All climbing carabiners are rated strongly enough to prevent failure in real-world climbing scenarios. Your spine and the rope both break at forces far less than a rated carabiner can handle. Barring advanced, specialized uses, all carabiners rated for climbing are sufficiently strong for both beginning and intermediate climbers.
A note, though: a nose hooked carabiner, where the nose of the carabiner hooks on a bolt or sling and prevents the gate from closing properly, will fail at far, far weaker forces than a carabiner is rated. Most carabiner failures occur with this improper use. Double check to make sure your gates are closed after clipping a carabiner!
Summary of the Best Climbing Carabiners
Here's a table of what climbing carabiners we evaluated:
Our Top Favorite
Our Top Runner Up
Our Top Value Pick
Climbing Carabiner
Black Diamond Oz Carabiner
Black Diamond Hoodwire Carabiner
Last update: 2023-11-29 / Images from Amazon Product Advertising API
Our overall pick for best climbing carabiner is the Black Diamond Oz, for its ease of use, general size and strength, and relative affordability. With its proprietary HoodWire technology, this carabiner handles easily, and its medium size make it versatile while still being lightweight.
The Wild Country Helium is a more expensive, but feature rich full size carabiner, and the best choice for the financially fortunate climber. It's full size make it handle great and fit lots of gear, and its lightweight, snag-free design keep it from ever being an annoyance.
Our budget pick for best climbing carabiner is split between the Trango Phase and the Camp Photon. Though both have hooked noses and are prone to hooking on bolts or the rope, they are both affordable, lightweight, and versatile options for a new climber. For a larger handed climber, the Camp Photon is likely preferable. The Trango Phase is by far the most affordable carabiner on this list, and is a great option for beginning or intermediate climbers.
Again, carabiner preference is often highly personal. Use this list to get started, and you surely won't be disappointed with any of these options. As you keep climbing, though, make a mental note of which carabiners you like. Do they tend to be full size and keylock, or small and light? Refer back to this list after more climbing experience, and your choice for favorite carabiner will become clear. In the meantime, get out climbing!
Did you find this helpful? You may also want to check out our other climbing gear reviews here.