As climbers, we know that there is a cornucopia of shoes to choose from. There are so many shoes to choose from it can get very overwhelming. And to make it worse, or better given the choices available, the shoes vary widely catering to every possible need and preference.  They are made in different shapes, stiffness, material, fits, and methods of closure. Enough choices to make anyone dizzy! This sea of options means that there is a shoe out there for every foot type, no matter how unique. It's just a matter of casting out and seeing what you catch. Eventually, you'll find the ones that are just right. In this post, we'll detail the best intermediate climbing shoes for you.
Having graduated from beginner shoes, you're looking for something to up your game and help you crush a few more complex problems that you couldn't send with your comfy, but outclassed beginner shoes. You want to get a pair that are aggressive, but not so aggressive that it feels like a vice is locked on your feet. Fortunately for you, we have scoured the internet of all things, reading expert reviews, trolling climbing forums, and have compiled a list of the best intermediate climbing shoes on the market today.
Want to just get back to climbing? Get our top intermediate climbing shoe pick here.
Our Top Favorite
Our Top Runner Up
Our Top Value Pick
Intermediate Climbing Shoes
Our Top Favorite
Intermediate Climbing Shoes
Our Top Runner Up
Intermediate Climbing Shoes
Our Top Value Pick
Intermediate Climbing Shoes
Last update: 2023-11-30 / Images from Amazon Product Advertising API
Our Favorites for the Best Intermediate Climbing Shoes
Unlike beginner climbing shoes which are variations on the same design, intermediate climbing shoes vary greatly. This is because they are tailored to function in specific ways for different needs. Furthermore, while comfort is still desirable, often there is a conscious tradeoff in favor of technique. This requires that the shoe fits your foot almost as well as a second skin. This precise fit and the fact that feet are not all the same inherently dictates that a shoe one person loves, does not work for someone else. For our favorite intermediate climbing shoes, we picked the shoes that are a favorite of many climbers as well as distinguished by expert reviews. This does not mean that they will necessarily be yours.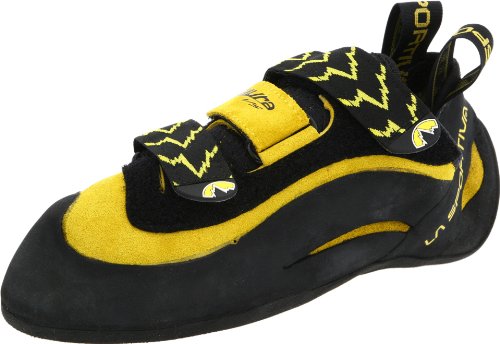 The classic intermediate climbing shoe, the Miura boasts the pedigree of a reputable climbing manufacturer as well as being the top pick for intermediate climbing shoes for the last decade. While it was designed for overhanging sport routes, bouldering, gym climbing, and technical face climbing depending on how they are sized they are equally excellent for trad and crack climbing. Many notable climbers have even used them for big wall free ascents.  Winning numerous awards and consistently topping the ranks, it is little surprise that they make the top of our list.
The Miuras feature a 4mm Vibram XS Edge rubber that when new is incredibly hard. This hardness means that it can edge on a razor, but you cant feel what you're standing on. With time the rubber softens to a more sensitive toe, but by that time you will have learned to be precise with your placements. Supporting the Vibram rand, a 1.1 mm LaspoFlex rubber midsole (only on the forefoot) ties the high tensioned Slingshot rand into the Powerhinge. This design enables the shoe to stretch in the back half instead of the front when edging on small features. However, unlike the Miura VS, the Miura lace-ups o not have the P3 sole, which means that without the support you will have to work a little harder on tougher moves.
The toe box on this shoe is highly asymmetrical, allowing for precise footwork and placing the force onto the big toe. In combination with a reasonably aggressive downturn, the shoe is excellent in pockets and on overhangs.
A simple leather upper means that the shoe will stretch during use, molding to your feet. Moreover, an eight-panel Dentex liner channels the direction of the stretch, allowing the shoe to stretch as much as it needs to but not so far as to make them loose. It should be noted, however, that the Miuras are not recommended for people with wide feet. This is due to their narrow sole and inability to stretch sideways.
With an easy slip-on design and speed lace-up system, the Miuras are a cinch to wear and adjust on the fly. It must be noted that while the shoes themselves are incredibly durable, the laces are not quite at the same level, and will need replacing.
While the Miuras were initially designed for hard sport routes and bouldering, they have since been expanded to encompass as many styles of climbing as climbers have seen fit to try them on. As a rule of thumb, the sizing of the shoe determines its utility for a particular style. With more technical climbing such as bouldering or hard sport routes, it is recommended to size down two sizes from your street shoes. This will give you the power and precision needed, but with a certain degree of pain. For longer trad routes, it is recommended to size down a half to a full size from your street shoes. This will allow you to wear the Miuras for the necessarily extended time without causing too much discomfort. That being said, the Miuras are an excellent shoe for any style of climbing but excel for climbers with specific goals in mind.
As with most gear, what you pay is what you get. When it comes to the Miuras, that comes out to excellent value. While they are not cheap, they are definitely worth the price for a pair, or even two! As with many other shoes on the market, they can often be found at steep discounts or bought second hand.
What makes La Sportiva Miura Unique:
The Miura employs Vibram XS Edge rubber sole with a highly tensioned Slingshot Rand which transfers power to the toes for you to smear, hook and edge precisely.
The quick lace-up closure system allows you to slip them on and adjust them quickly.
The Dentex liner is made up of eight sections that direct the stretch of the shoe while keeping your feet dry.
Why You Should Choose this Shoe:
Dominating the climbing market for the past decade, this shoe has an excellent reputation in the climbing community and professional climbers alike.
The thick hard rubber rand makes this shoe the best edging shoe on the market.
A versatile shoe, it takes to any style of climbing you can think of.
While not the cheapest shoe, they are durable and relatively inexpensive to re-sole. Excellent value for money.
Last update: 2023-11-30 / Images from Amazon Product Advertising API
---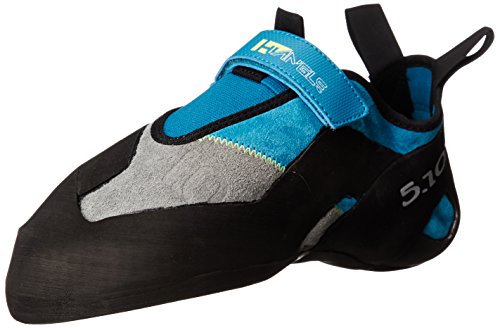 While 5.10 can boast a fair number of devotees for their many excellent shoes, the Hiangle is not one that comes to mind. It does not often receive the adoration of the experts and is often overshadowed by its many siblings such as the Anasazi. However, this climbing shoe is recommended by a large portion of the climbing community, and for this reason, it deserves a spot on this list.
The five-ten Hiangle is the perfect shoe for someone transitioning from beginner to intermediate shoes. While beginner shoes are for the most part flat-soled, and intermediate shoes are relatively aggressive, the Hiangle is somewhere in the Goldilocks zone, not too flat and not too aggressive. This slight downturn gives the shoe the ability to be technical while still being incredibly comfortable. In the same vein, the shoe has a much more rounded toe box compared to similar intermediate climbing shoes which tend to favor asymmetry focusing power on the big toe. While this makes the Hiangle perform poorly when toeing pockets, they are excellent when edging, smearing, and have no problem sticking to overhung footholds.
The ability of the Hiangle to stick so well comes from the Stealth C4 rubber outsole. This super grippy rubber is tried and tested excelling in many different types of rock. An extended rand encompasses the majority of the toe box and heel for excellent toe and heel hooking while providing protection. The outsole is stiffened with a thermoplastic midsole that offers excellent support for edging but somewhat reduces the sensitivity of the shoe. The overall result is a versatile and durable sole that excels for bouldering and steep overhangs but is capable of much more.
The unlined leather upper is designed like a slip-on climbing shoe with a synthetic stretchy fabric that allows you to put on and remove the shoe easily. However, it alsofeatures a single velcro strap enabling you to tighten the shoe, preventing it from coming off on heel hooks. While the upside is convenience and comfort, the downside is an inability to adjust the shoe precisely. Moreover, as the leather upper stretches over time, this lack of adjustability becomes more problematic.
These shoes are an excellent choice for climbers starting to transition from beginner routes to more difficult ones. That being said, they are a favorite with many experienced and professional climbers who find them an excellent choice for difficult boulder problems as well as overhung sport routes.
These are not the most inexpensive shoes on the market, but the price was recently reduced by fifteen dollars. While this isn't a considerable amount compared to their overall cost, they are worth the price whether you're learning to crush new though routes or a seasoned vet of the rock, ascending your favorite crag for the hundredth time.
What makes 5.10 Hiangle Unique:
The Stealth C4 rubber outsole is a tried and true material that has been proven to work on all kinds of rock.
The thermoplastic midsole stiffens the shoe providing excellent support for edging without fatiguing your foot.
Why You Should Choose this Shoe:
A rounded toe box and a less aggressive downturn than is typical in intermediate climbing shoes, make this an excellent shoe for transitioning from beginner shoes to intermediate.
The unlined leather upper allows your feet to breath while enabling you to slip them on like other climbing slippers. A single velcro strap prevents the shoe from pulling off when heel hooking.
A rounded toe box provides a large sticky pad of rubber for unparalleled smearing and superb edging without crushing your toes.
Excelling in bouldering and overhung sport routes, the Hiangle is a versatile go-to shoe for many climbing styles, balancing performance and comfort.
Last update: 2023-11-30 / Images from Amazon Product Advertising API
---
Our Runner Ups for the Best Intermediate Climbing Shoes 
Although these shoes didn't quite make the cut into the top of the list, they are still favored by many climbers in addition to experts. They are high-performance shoes and may suit individual climbers better than our favorites.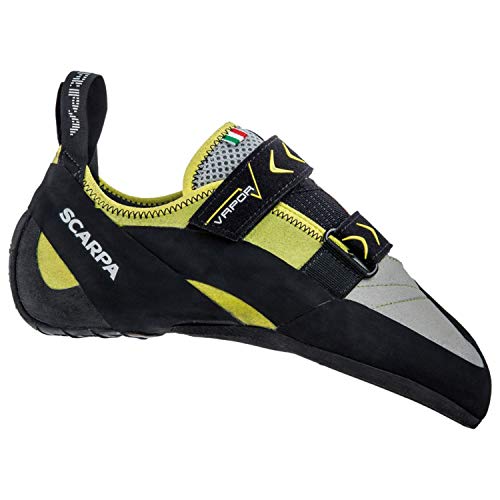 At first glance, the Scarpa Vapor V doesn't scream intermediate climbing shoe. With its slight downturn and relatively rounded toe box, the shoe appears to be a small step up from flat-soled, comfort-driven designs for beginner climbers. However, as many experienced climbers will attest, the Vapor V while is suitable for beginner climbers who want something a bit more advanced, these shoes perform well for both intermediate and advanced climbers.
Similar to the five-ten Hiangle, the Scarpa Vapor V has a relatively gentle downturn and a wider toe box than is the norm for intermediate climbing shoes. Unlike the Hiangle, the Vapor V are slightly more asymmetrical, with a more pronounced toe. This difference makes the shoes slightly better for toeing into pockets, but the wide and comfortable toebox means that they are not the best.
The Vapor V features a two-thirds sole made of Vibram XS Edge rubber that provides a durable and grippy surface on the front and back of the shoe while leaving the middle exposed. This design affords support in the areas that have the most contact with the rock while giving the shoe flexibility. When new, the soles provide a thick and robust surface that lacks sensitivity, making it difficult to find footing by feel alone. However, with time and wear the shoes become more sensitive and pliable, allowing you to place feet with confidence. A full-length Talyn insole insert from heel to toe provides stability to the shoe while spreading forces across the whole foot. This design helps prevent foot fatigue when edging and toe jamming. The Vapor V stands out with their proprietary Bi-tension active randing. This unique design provides support by employing a tensioned rubber wrap that runs from the toes down both sides of the foot while leaving the center bare to maximize sensitivity. Additionally, the shoe a partial rubber wrapping of the toebox, and a thick rubber pad on the heel enable secure heel and toe hooking without increasing the profile of the shoe. This narrow profile makes the Vapor V standout when it comes to finding secure footholds, even in finger-width cracks.
With an upper comprised of both leather and synthetic materials, the Vapor V maintains breathability and comfort provided by leather while minimizing stretch. This allows the shoe to mold to your foot for maximum security without becoming too loose over time. The upper is made up of seven separate panels allowing for the upper to mold closely for a custom fit. A mesh-gusseted tongue provides protection when foot jamming without trapping heat to leave you with sweaty, slippery feet.
The Scarpa Vapor V feature opposing dual velcro closures allowing for quick and easy adjustment of the shoe while providing security when heel hooking. While the Vapor V is comfortable enough to be worn all day when properly fitted, these easy access closures allow you to climb with confidence while quickly switching shoes when necessary. In addition to the velcro closure, the Vapor V features two loops on the back of the shoe to facilitate wearability while providing a convenient place to clip your shoes to your harness or bag.
With their slight downturn and wide comfortable toe box, the Scarpa Vapor V is an ideal shoe for climbers looking for an all-day shoe where foot placement and technique is more important than sensitivity. Excelling in vertical climbs and caves, they require breaking in before they are ready to handle off-vertical climbs or climbs that require sensitivity. Due to their construction, these shoes make for excellent crack climbing shoes, providing comfort and durability day after day. After some use, these shoes are capable of tackling almost any style of climbing, making them an excellent pair of all-rounders.
While these shoes are an acceptable choice as a beginner shoe, the price tag attached may make this shoe more shoe than is necessary. However, for an intermediate or advanced climber, the Vapor V makes a fine addition to a climbers arsenal.
What makes Scarpa Vapor V Unique:
A two-thirds Vibram XS Edge sole provides a grippy, durable surface on the front and back of the shoe while leaving the middle bare to increase flexibility and sensitivity.
The Talyn insole spreads forces around the foot, reducing pressure in any one area.
The proprietary Bi-Tension active rand provides support to the toes while maximizing sensitivity n the middle of the foot.
The opposing dual velcro closures allow for increased wearability and quick adjustment.
The combination of leather and synthetic material allows the shoe to mold for a custom fit while preventing the shoe from overstretching.
Why You Should Choose this Shoe:
The slight downturn and wide toe box make this a comfortable shoe suitable for beginners as well as intermediate and advanced climbers.
Excelling in steep vertical faces and caves, this shoe is comfortable enough to be worn all day.
When properly sized and worn-in, the Scarpa Vapor V makes for excellent all-rounders, tackling almost any climbing style with ease.
Last update: 2023-11-30 / Images from Amazon Product Advertising API
---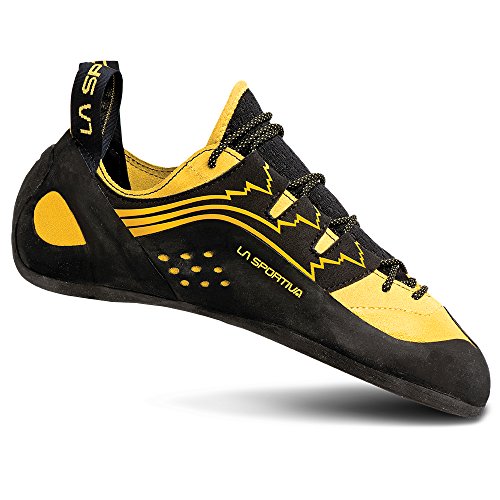 Another shoe with a modest downturn and a moderate asymmetry, the La Sportiva Katana Laces are just one more viable pick when it comes to an all-rounder intermediate climbing shoe. Like the other shoes on this list, the Katana Laces focus on providing a comfortable experience in a shoe that can be taken everywhere and be worn all day.
Like the Scarpa Vapor V, the Katana Laces feature Vibram XS Edge soles. The Katana Laces, unlike the Vapor V, features a continuous sole that provides an even amount of rubber the full length of the sole. This gives the sole durability and stickiness for which the Vibram rubber is known. In conjunction with the P3 technology also found in La Sportiva Miura VS and other specialized edging shoes, the Katana laces edge just as well but are capable of performing well on a wide variety of rock and climbing styles. The P3 midsole provides enhanced edging performance by allowing all of the force of the body to be transferred through the shoe to the toe, providing stability without fatigue. Besides, the stiff midsole ensures that the shoe maintains its slight downturn throughout its life.
Featuring an innovative construction technique where an upper comprised mainly of unlined leather and the rubber rand sandwich a microfiber lining, the shoe boasts the breathability and precision of an unlined shoe with the structural advantages of a lined shoe. This combination allows the shoe to mold precisely to your foot without overstretching, providing maximum comfort and performance without becoming too loose.
The Katana Laces feature a, you guessed it, lace closure system. This traditional closure method allows you to secure the shoes to your feet with a precision not possible with other closure styles. In conjunction with a tongue made of a soft and breathable material, the shoe can be adjusted to precisely fit your feet throughout its lifetime.
When it comes to climbing shoes, the Katana laces are a Jack of all trades and a master of none. Designed to be all-rounders, they are capable of edging, crack climbing, and can toe into pockets that flatter shoes just can't. While they don't compete when it comes to shoes designed for specific purposes, the Katana is an ideal shoe for a climber that wants one shoe that can do it all. This versatility means that you won't have to buy several different shoes to fill your needs, saving you money in the long run. Given their hefty price tag, that comes out as value for money after purchase.
What makes La Sportiva Katana Laces Unique:
The 4 mm Vibram XS Edge rubber sole provides security when edging while being durable to ensure longevity.
The P3 sole focuses power through the foot to the big toe providing security when edging and maintaining the downturned shape of the shoe.
An upper made with an innovative construction of microfiber liner sandwiched between a leather upper, and the rubber rand combines the breathability and fit of leather with the durability and structural security of synthetic materials.
The lace closure system allows for precise and secure adjustability of the fit.
Why You Should Choose this Shoe:
The slight downturn and moderate asymmetry make this a comfortable shoe suitable for all-day climbs.
An excellent shoe for long climbs featuring a combination of elements such as cracks and edging.
A jack of all trades, this shoe performs well in all aspects of climbing, while mastering none.
While not the most affordable shoes, the Katana Laces are a versatile shoe that functions well for climbers who do not want a closet full of climbing-specific shoes that don't see much use.
Last update: 2023-11-30 / Images from Amazon Product Advertising API
---
Our Value Picks for the Best Intermediate Climbing Shoes 
For those climbers who always want a bargain, the shoes on our list can be found at discounts. Our value picks reflect those shes that provide excellent performance with a price tag to match straight out of the store.
A relative new omer to the climbing scene, this Korean climbing company has steadily been gaining fans. Starting with a few models, their shoes now encompass every style of shoe for every style of climbing. Known for their attention to detail, quality shoes, and the relative affordability of their products, the Butora Acro is no exception.
Designed to take on bouldering, steep sport climbs, and techy gym routes the Acro excels on terrain that is vertical and steep. With its slight downturn, stiff sole, and unique toe design the shoe takes on and overcomes almost everything you throw its way.
Butora's proprietary Neo Fuse rubber is their response to Vibram XS Edge and Five Ten Stealth rubber enabling them to successfully compete with the best their competitors can produce. The Neo Fuse rubber sole provides a stiff platform that with sharp corners and stiff midsole allows the shoes to edge on a dime while remaining sensitive enough to feel nubs and crystals on the rock face. The addition of a high tensioned heel rand brings all the power to bear on the toe where it can be best used. One of the most unique features of the Butora Acro is the "ballet slipper" design of the shoe. Unlike the majority of aggressive climbing shoes that feature an asymmetric shape with the point converging on the big toe, on the Acro, the point tends towards the middle of the toe box. While this construction is unusual and somewhat limits the amount of shoe available for edging when reaching for far away footholds when used to this feature, it can be preferable for certain types of climbing. A downside to this design is the wider foot makes it difficult to toe into small pockets. However, the aggressively downturned toe means that when you can toe in, you will not come off.
Another unusual aspect of this climbing shoe is the amount of rubber that encompasses it. With a thick rand, a toebox that nearly enveloped in rubber and well-fitted rubber heel, this shoe is a genius when it comes to toe and heel hooking. The inclusion of many holes it the rubber enveloping the top of the shoe help regulate moisture and prevents excessive sweating.
The Acro is designed much like an aggressive slipper, and the German split leather upper and synthetic mesh combination take this idea and run with it. Designed to slip on an off quickly, the leather upper is soft and pliable while the nylon mesh prevents the shoe from stretching out of shape and adds structural durability. The addition of Butora's signature triple fork hook and loop strap gives the Acro the comfort and wearability of a slipper with the added security of a traditional closure.
Instead of the standard male and female versions typical of climbing shoes, the Acro come in either wide or narrow feet. When sized correctly, these shoes provide the performance you need without sacrificing comfort.
With their aggressive downturned toe and other unique features, the Butora Acro is clearly a shoe with a purpose. While it excels in bouldering, steep sport routes, and techy gym routes, the shoe is too aggressive to be comfortable for anything less than steep dynamic routes. However, given their performance, durability, and their highly competitive price point, the Butora Acro is a formidable weapon to be included in the arsenal of bouldering and sport route junkies. After all, for every problem, there is a solution. In this case, the answer is Butora Acro.
What makes Butora Acro Unique:
The new kid on the block, Butora has produced highly competitive shoes for every type of climbing.
Their proprietary Neo Fuse rubber is directly competitive with Vibram XS Edge and five-ten Stealth rubber.
The aggressively downturned toe makes this shoe excellent at holding onto footholds on steep and techy terrain.
A 'ballet slipper' shaped toe box moves the focal point of power to the center of the toe box instead of the inside edge.
The highly enclosed toe box and heel make this shoe a virtuoso in toe and heel hooking.
A tensioned heel rand transfers power to the whole foot when heel hooking, preventing fatigue of the Achilles tendon.
The slipper-like design, combined with Butora's signature triple fork hook and loop strap gives the Acro the comfort and wearability of a slipper with the added security of a traditional closure.
Why You Should Choose this Shoe:
Their unique design makes these shoes purpose-driven machines, crushing bouldering routes, steep sport climbs, and techy gym problems.
Attention to detail and robust construction provide durability and confidence that can be relied on time and time again.
Highly competitive when it comes to cost, these shoes are highly specific tools that give excellent value for money.
Last update: 2023-11-30 / Images from Amazon Product Advertising API
---
How to Choose the Best Climbing Shoe for You When You're an Intermediate Climber
With so many intermediate climbing shoes to choose from, it is difficult to know what to look for. With our recommendations, the search for the right shoe for you is much easier. That being said, how do you choose the best intermediate climbing shoe for you?
Price: the first thing to keep in mind is price. Now that you have skills and techniques to call upon, you will be able to perform much better with a decent pair of climbing shoes. As an intermediate climber, you want to have a pair of climbing shoes that match your style. And you might need more than one pair to target the style of climbing you prefer specifically. It's important not to skimp on this essential piece of gear. While you may want to buy a cheap pair of everyday wear-and-tear, invest in a technical pair to boost your performance when you need to push yourself.
Durability: your shoes will suffer a lot of abuse. Between technical footwork, smearing, and everything else they have to take, a shoe with a sturdy rubber sole and durable upper will last much longer than a thinner soled shoe. This is especially important on the toe, which does most of the work and sustains constant abrasion. However, for precise footwork, a thinner sole allows for more sensitivity, so it's essential to find a balance.
Fit: of paramount importance, a good fit doesn't mean your feet have to be in constant pain. In an intermediate shoe, it is much more important to have a shoe that fits your foot like a second skin. This will give you the confidence to push harder and prevent injury to your feet. The shoes should be tight to the feet, without extra room. Remember that leather shoes will stretch.
Comfort: hand in hand with and directly related to the fit, the comfort of the shoe should be a strong consideration. However, sometimes a little pain is a reasonable tradeoff for improved performance. Focusing on technique is much easier if you're not constantly in pain and waiting till you can remove your shoes.
Armed with these rules, the next step is to head to a brick and mortar store to try on the shoes for yourself. Even if you are planning on buying them online, nothing beats the hands-on—or in this case feet on—experience of slipping the shoes on and giving them a test run. Additionally, many retailers frequently have steep discounts on gear in-store and offer their expertise in selecting the right shoe.
Key Differentiators for Intermediate Climbing Shoes vs. Beginner and Advanced Shoes
There are a few key differences that stand out between intermediate climbing shoes, beginner, and advanced options.
First, advanced shoes tend to have a much more aggressive shape, meaning they have a noticeable downturn (like a banana), that facilitates precise movement and placement of the shoe. Beginner climbing shoes, on the other hand, are primarily flat-soled and stiff, providing comfort and support, facilitating the development of skill and climbing muscles. Intermediate climbing shoes find a happy medium between these two styles, with a reasonable focus on performance, without giving up too much comfort.
Secondly, advanced climbing shoes have a pronounced toe that enables precise placement of the toes in addition to focusing power onto a single point. Entry-level shoes, on the whole, are slightly asymmetrical with a rounded toe box that follows the natural shape of the foot and accommodates the toes providing maximum comfort. Intermediate climbing shoes are more asymmetrical than beginner shoes approximating advanced climbing shoes, but not to the same degree.
Thirdly, the soles of advanced shoes are often thinner designed to allow maximum sensitivity and flexibility, whereas beginner shoes rely on thick, stiff soles to provide support, durability, and in no short measure, protection. Intermediate climbing shoes vary in their designs, with some providing a lot of support while others focus on flexibility. On the whole, they are thinner than beginner shoes.
Finally, advanced climbing shoes often come with specific features that are specific to a particular type of climbing. Intermediate shoes follow this climbing specific design. However, all-around shoes are available that provide more performance than a beginner shoe.
Keep in mind that some advanced climbing shoes are tools intended for a specific job. While they are useful and sometimes necessary, often a simpler, more comfortable shoe will work the same or better. It is for this reason that many advanced climbers have an arsenal of shoes to choose from, although once again, it is their simple shoes that bear the brunt of the work.
Other Important Things to Consider When Buying Climbing Shoes
While climbing shoes seem to be somewhat similar in construction and materials, there are vital differences one should be aware of when buying climbing shoes.
Upper Material
Leather: the most traditional material, it has the most stretch and will often increase a full size or more. Leather uppers can be lined or unlined while some are partially lined with lining help minimize stretch. Some dyed leather will occasionally leach dye onto sweaty feet, staining skin. In general, leather shoes should be bought in a smaller size. After what can be a painful breaking-in period, the inherent stretch allows the shoe to mold to your feet, ultimately providing superior comfort.
Synthetic: resistant to stretch, synthetic uppers ordinarily remain the same size as when they are first worn, although some models may stretch a small amount. These materials tend to be less breathable than leather and often feature moisture control to compensate. Less durable than leather and more susceptible to abrasion.
Leather/Synthetic: generally made of leather with synthetic reinforcements, they stretch slightly while remaining breathable. More durable than synthetics.
While it may seem that a non-stretchy material is the better choice, we recommend leather as the tradeoff between inconvenience in the breaking-in period and the ultimate fit achieved is justified.
Closure System
Laces: this system allows for a more precise and secure fit of the shoe. On laced shoes, the laces lie in closer proximity to the toe box enabling a better fit in some models compared to velcro closures. The tradeoff lies in the amount of time required to put on and take off the shoes.
Velcro: also called a hook and loop closure, velcro allows for easy adjustability and wearability. Models such as the Scarpa Vapor V feature an opposed closure system, utilizing tension to ensure a tight fit. On other models, the velcro closures close from the same side. The tradeoff lies in the inability to precisely adjust the fit of the shoe, especially near the toe box.
Slip-on: much like slippers, these shoes rely on stretchy fabric to slip the foot in. While easy to slip on and off, they may become loose after some time. Not as secure as other closures, these shoes are best for the gym.
The tradeoff between the adjustability of a lace-up and the convenience of velcro is a personal preference. While a velcro closure is more convenient, a comfortable shoe that can be worn indefinitely makes this a moot point. Therefore we recommend the precision provided by lace-ups. Slip-on shoes are best left as gym shoes or for specific projects. In some cases, slipper shoes such as the Butora Acrohave employ the use fo a velcro closure to give the shoe additional security.
Rubber
Thickness: the thicker the rubber, the more durable the shoe, the tradeoff being reduced sensitivity.
Grip: this trait determines the shoes' ability to adhere to a surface.
Hardness: Harder rubber imparts more resistance to abrasion and increased protection while it lacks the stickiness of a softer rubber.
In general, the more durable a shoe, the harder the material and therefore the less sticky. It is important to judge for yourself what balance you find suits you best. Each shoe manufacturer utilizes preferred brands of rubber, employing different rubber with each shoe's intended purpose.
Indoor VS Outdoor
In general, any shoe should work for both indoor and outdoor climbing. However, if you know you will be spending the majority of your time either indoors or outdoors, a few differences should be taken into account.
When climbing indoors, the shoe should be more comfort-oriented as it is comparatively more straightforward and less frightening compared to climbing outdoors. Moreover, you will progress to more complex climbs involving more technique quicker, requiring a softer shoe.
Outdoors it is a good idea to select a more performance-oriented shoe that will give you the confidence to ascend without fear. A shoe with higher abrasion resistance will considerably increase the longevity of your shoes.
Summary of the Best Intermediate Climbing Shoes
Our Top Favorite
Our Top Runner Up
Our Top Value Pick
Intermediate Climbing Shoes
Our Top Favorite
Intermediate Climbing Shoes
Our Top Runner Up
Intermediate Climbing Shoes
Our Top Value Pick
Intermediate Climbing Shoes
Last update: 2023-11-30 / Images from Amazon Product Advertising API
While it is difficult to say with one-hundred percent certainty that any climbing shoe is the best, there are clear favorites in the climbing community. These shoes are on the whole all-rounders that are decent in many aspects of climbing without excelling in one particular area. When it comes to the best intermediate climbing shoes, the opinion of the climbing masses holds the La Sportiva Miura Laces above all others.
When it comes to any level of climbing above the beginner level, the opinions of what makes a good shoe vary as much as the feet that wear them. These are further diversified by the function the shoe performs, with some excelling at specific tasks while others like the Hiangle are varied in their attributes. We recommend that our list be used as a guide to finding the all-rounder that best suits you, after which you may choose to invest in style-specific climbing shoes. In this way, you will find the best intermediate climbing shoes for you.
Need more shoe ideas? Check out our post on the best beginner climbing shoes too.
Looking for climbing gear storage ideas? Then make sure to read our guide on how to store your climbing gear here.