While many climbers insist that there is no need to use chalk, there are equally as many or more who swear that it is vital to peak performance. In this post, we'll cover the best climbing chalk to meet your needs.
The attributed benefits of using chalk are its ability to keep hands dry, protect skin from abrasion, and to increase grip strength. These benefits are the reason that the same chalk found at the crag is also used in the gym. Even among climbers who agree that chalk is necessary, opinions about chalk are as varied as the climbers that use it, and the variety of brands and the different types of chalk available don't make the decision any easier. This confusion begs the question; what is the best climbing chalk? Having faced this dilemma ourselves, we have scoured the climbing forums on the internet of all things and aggregated the opinions of both seasoned climbers and experts to find the best climbing chalk, so you don't have to.
After you read this post, if you still need other gear, check out our other comprehensive climbing gear guides here.
First off, what is "chalk"?
The chalk used in rock climbing, weightlifting and gymnastics isn't the sidewalk chalk we remember from our childhoods. Unlike sidewalk chalk, which is composed of Calcium Carbonate (CaCO3), climbing chalk is composed of Magnesium Carbonate (MgCO3). The difference in the efficacy of these compounds for use in climbing stems from the way each compound reacts with water, or more practically sweat. Calcium Carbonate is soluble in water, forming a paste when mixed with water, making it useless for climbing since the priority of climbing chalk is keeping the hands dry. Magnesium Carbonate is insoluble in water, meaning that it stays dry on your hands and instead wicks moisture away from your hands, leaving them dry. This performance chalk is produced as loose chalk, chalk balls, chalk blocks, and liquid chalk.
Our Top Favorite
Our Top Runner Up
Our Top Value Pick
Last update: 2023-05-30 / Images from Amazon Product Advertising API
Our Favorites for the Best Climbing Chalks
When researching the climbing community such as Mountain Project, Reddit (r/climbing) and its associated subreddits or out on the crag talking to other climbers, you rarely find consensus on what the best chalk is. This is because the preference for chalk is based on every climbers' individual needs. A large part of the comments are not based on why particular chalk is effective but why other chalks are not as or not effective. So by process of elimination, based on the least negative comments, our top picks are Black Diamond White Gold and Frank Endo Chalk.
BD Gold is widely available and our preferred go-to chalk if we feel the need to chalk up to get past a particularity hard crux. It is composed of pure magnesium carbonate with no additives and is available as a fine powder for people who like to coat their hands fully or as a chunkier mixture. Available in 50, 100, 200 and 300g bags, it is great chalk that will last for a long time without having to replace it constantly. In our experience, we have found BD White Gold to be the best chalk for bouldering and at the gym. As a loose chalk that will get everywhere and coat everything, it is a great option to use with a chalk sock. As to price, for its functionality and longevity, it is amongst the cheapest, offering great value for performance.
What Makes Black Diamond White Gold Unique:
A basic chalk with no additives, it stays on hands for a long time providing impressive friction.
Described by climbers as having a texture that isn't too fine or too coarse that inspires confidence when climbing.
Why you should Choose This Chalk:
Black Diamond White Gold provides an effective combination of performance and value.
This basic chalk comes in 300g bags with a mix of fine powder and small chunks that performs well in dry deserts as well as humid climates.
Last update: 2023-05-30 / Images from Amazon Product Advertising API
---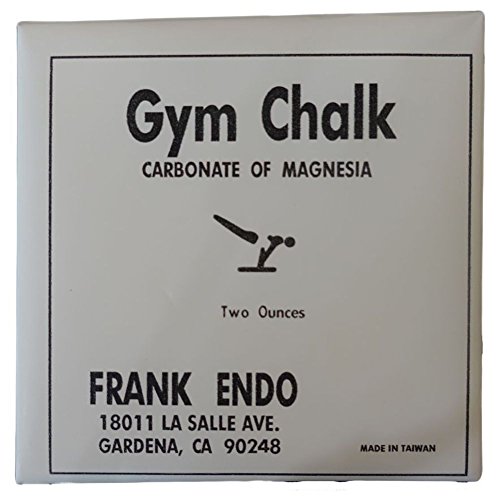 Originally a chalk used primarily in gymnastics, Endo chalk was one of the first chalk to be marketed towards climbers and remains a favorite with old-school climbers and boulderers alike. When you buy this chalk, it comes wrapped in 2oz blocks that can be messy when unwrapped. To crush these blocks, the easiest way is to shove it into your chalk bag, cinch it up and smash it on the ground until it breaks down into the desired consistency. Endo Chalk can be bought from Amazon in packages of 4 or 8 2oz Bricks and the Frank Endo Company in packages of 8 and up. You can also buy bulk chalk blocks that were cracked during processing at a steep discount in 24lb crates. For true dirtbags who don't want to spend a penny more than they have to, loose chalk can be bought in bulk in 44lb crates at the absolute lowest price for chalk that we've seen. You'll never have to purchase chalk again! Perhaps it's the no-frills attitude of the chalk or the nostalgia associated with it that gives it such staying power, but whatever the reason, this chalk is still a favorite in the climbing community and a great choice.
What Makes Frank Endo Chalk Unique:
Originally a gymnastics chalk, the Frank Endo Chalk block is the original chalk used by climbers and is still used by climbers today.
Can be bought from Frank Endo in bulk making it one of, if not the cheapest chalk you can buy.
Why you should Choose This Chalk:
With staying power and a committed following of lifelong climbers, this chalk has the credibility to ensure it place as a viable pick.
The block chalk allows you to use the chalk at your desired texture.
Frank Endo Endo Block Chalk - 1 Pound
100% Magnesium Carbonate - no additives
3 oz each, sold in 1,2, 4 and 8 packs
Block Gymnastic Chalk worlds finest imported chalk, preferred by gym schools throughout the United States
Last update: 2023-05-30 / Images from Amazon Product Advertising API
---
Our Runner Ups for the Best Climbing Chalks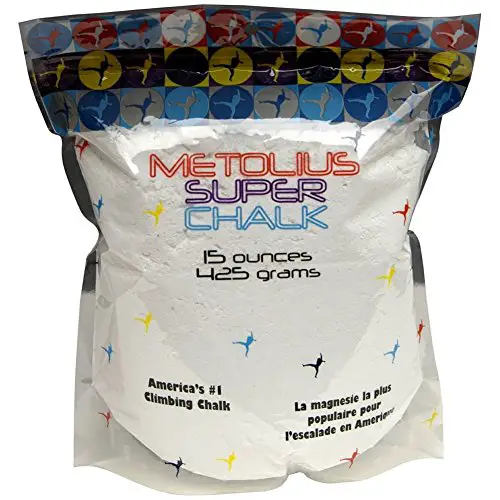 Metolius claims to be the first company to design and create chalk specific to climbing. By adding a proprietary compound which they say is "food-grade" they claim to improve the drying ability of the chalk. While this product is great for people who sweat profusely from their hands or when climbing in humid environments, having hands that are too dry can be equally as bad as too wet. Excessively dry fingers prevent your fingers from properly gripping the rock. Some climbers also claim to have experienced extreme drying, chapping and cracking of the skin after prolonged use of this chalk. Proponents of using chalk with additives suggest using a moisturizer after climbing to prevent dry skin. For those who don't want the drying agent, Metolius sells an additive-free chalk block. For people with naturally dry skin, different chalk would be better suited. That being said, this is awesome chalk at a great price, it's often much cheaper than similar products like Friction Labs Unicorn Dust.
What Makes Metolius Super Chalk Unique:
A unique food-grade anti-perspirant additive gives those with sweaty hands much needed moisture absorbing relief.
Metolius Super Chalk is available as a chalk block (without the additive), loose chalk, chalk sock, and liquid chalk.
Why you should Choose This Chalk:
If you need the extra moisture wicking capabilities, this chalk is for you.
A widely used chalk, it is the cheapest when bought in standard amounts.
METOLIUS 15 oz. Super Chalk One Color One Size
Specifically formulated for rock climbing
A safe drying agent is added to the highest-quality magnesium carbonate for maximum sweat absorption
Packaged in re-sealable, zippered plastic bags. 5 lb. (2267 g) comes in a bulk bag
Last update: 2023-05-30 / Images from Amazon Product Advertising API
---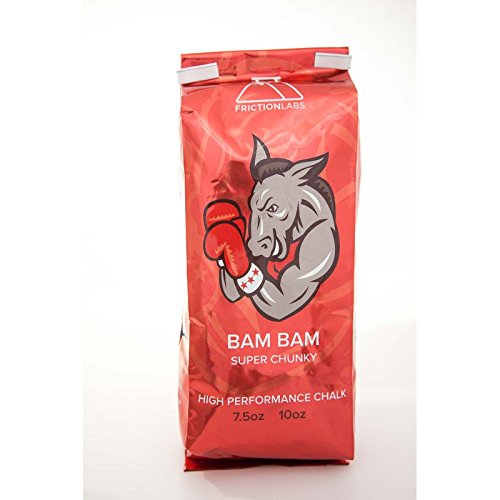 Everyone in the world of climbing and many people outside of it know of Friction Lab chalk. From their catchy hashtag #chalk matters to their flashy packaging and the numerous pro athletes that tout their stuff it's clear they have their marketing down. But is it any different than other brands and is it worth the much larger price tag? On their website Friction Labs claims that their chalk undergoes stringent processes to remove most fillers and impurities. This, they claim leads to increased performance, a safer product, and healthier skin.
Additionally, they state that their proprietary method for refining their chalk leads to improved grip because of specially formulated textures. As to whether these claims are valid or just ingenious marketing, there are a lot of climbers who are skeptical and find that cheaper chalks work just as well with many claiming that the placebo effect is the only real difference. Friction Labs sells their chalk in three different texture; fine (Unicorn Dust), chunky (Gorilla Grip), and super chunky (Bam Bam). Friction Labs Chalk is much more expensive than others, typically three times the price of Melotius Super Chalk. The worthwhileness of this chalk is best left to the consumer. Their use of re-sealable coffee bag-like packaging does help contain the mess created by loose chalk and makes filling chalk bags a snap. That being said, Friction Labs chalk does have a large following of devotees that swear by it securing it a place as runner up on our list.
What Makes Friction Labs Chalk Unique:
Friction Labs Chalk is available in convenient reseal-able coffee-bag style packaging and comes in three different textures—Fine, Chunky, and Super Chunky—catering to every taste.
Purported to undergo the most stringent purification process of any chalk available.
Why you should Choose This Chalk:
Excellent consistency from package to package, giving you the security of knowing exactly what you're getting.
If you're willing to pay the price, the certainty of using the "best" chalk available may give you the extra boost to crush that problem and flash your next ascent.
Friction Labs unisex adult Super Chunky Texture - Bam Bam Sports Chalk, Chalk White, 10 oz US
GAME CHANGING GRIP: Don't limit yourself because of bad grip. Overcome grip problems caused by sweat, rain, humidity, and oils or sunscreen. Our high purity Magnesium Carbonate makes a single application last longer, giving you the grip you need to stay in the zone.
SKIN FRIENDLY GRIP: Made in Colorado, USA with the highest purity pharmaceutical-grade ingredients. Non-toxic, silica-free chalk that is safe for all skin types. Healthy Skin = Better Performance.
PEAK PERFORMANCE: A bit of moisture can be the difference between success and failure. Our high purity chalk lasts longer so you can keep pushing to that next hold instead of stopping to chalk up. Perfect for indoor & outdoor use.
Last update: 2023-05-30 / Images from Amazon Product Advertising API
---
Our Value Picks for the Best Climbing Chalks
If you're looking to save as money and still get a great product Frank Endo chalk is far-and-away the chalk for you. When bought in the standard block, it is one of the cheapest, and if purchased in the 44lb bulk package, it is the most affordable available by far. And you won't have to buy chalk ever again! You can be the guy at the crag that hands out chalk by the handful and still have enough to last you a long while. If you're looking for a little more engineering in your chalk, then Metolius Super chalk is not much more expensive and has the added benefit of the additional drying agents.
Another viable pick for a reasonably priced chalk is GSC gym chalk. This no-frills chalk comes in 2oz blocks like Endo block chalk and is a favorite with gym rats, gymnasts, weightlifters, pitchers, and rock climbers.  With a similar price to Frank Endo chalk and Metolius Super Chalk, it will last a long time without breaking the bank.
What's The Difference Between Loose Chalk, Chalk Balls, Chalk Blocks, and Liquid Chalk?
Loose Chalk
Loose chalk is the most common type of chalk used by climbers. It comes in a variety of textures ranging from extremely fine powder to chalk rock or pebbly chalk. This type of chalk is placed into chalk bags or pouches, which are then carried on the climber's waist for easy reach while climbing. Some brands add additional drying agents to help with excessive moisture.
The texture of the chalk results in both advantages and disadvantages, with the very fine chalk coating the hands very evenly but also creating chalk clouds when removing your hands from the bag resulting in wastage and making a mess, while chunkier chalk does not coat your hands as well but has the advantage of not creating large chalk clouds. Some brands sell a mixture of fine and chunky chalk to take advantage of both.
It's important to note that some gyms do not permit the use of loose chalk because it is so easily airborne and can cause respiratory problems if breathed in excessively, which is especially true in indoor gyms.
Chalk Balls
Chalk balls are porous mesh balls filled with loose chalk that allow small amounts of chalk to pass through when they are kneaded. Although they are hard when they are full, they become softer and easier to use as you use them.
Chalk socks are the same concept as chalk balls but have a drawstring allowing for them to be reusable. A simple DIY chalk sock or chalk ball is to take some pantyhose cut off a foot and fill it with loose chalk.
The advantages to using a chalk ball or a chalk sock are that the mesh ball contains the loose chalk preventing excessive chalk from spilling out and preventing excess chalk dust as well as conserving chalk and making it last longer. When loose chalk is added that is not of a smooth consistency, it can be challenging to transfer enough chalk to your hands. Having to crush these "pebbles" can be annoying, especially when ascending.
Another disadvantage is the difficulty in covering any part of the hand other than the palm and the fingers while climbing making it a poor choice for certain types of climbing such as crack climbing or more challenging routes.
Chalk Blocks
Chalk blocks are compressed blocks of Magnesium Carbonate that are then broken up by the customer at their discretion. They are usually sold in 1 lb. bricks and can be bought in bulk.
The advantage in using this type of chalk is that you can create the desired texture yourself, and it is a lot less messy when in block form. It is also generally cheaper to buy and can be bought from a variety of vendors. The disadvantage is that you do have to break it up, which can be time consuming and messy.
The easiest way of breaking up a chalk block is to shove it inside your chalk bag, cinch it up and smash it against something hard until it reaches the right consistency.
Larger chunks can be used to mark out routes on the rock. Just remember to clean your marks after you're done climbing to maintain the rock in its natural state.
Liquid Chalk
Liquid chalk is simply loose chalk mixed with isopropyl alcohol. It is applied to the hand like a lotion or cream, and once the alcohol dries, it leaves a thin coating of chalk behind. A simple DIY is to add regular rubbing alcohol to your favorite chalk in a 1:1 ratio and keep it in a squirt bottle.
The advantage gained by using liquid chalk is the minimal amount of waste, full coverage of the hands, and it leaves a minimal amount of chalk marks behind. For this reason, it is great to use as bouldering chalk as one application is usually enough to last for the entire route. For longer routes, it can be used as a base coat followed by using loose chalk as needed on the route.
Liquid chalk is also great for use by individuals who sweat a lot from their palms or when climbing in humid environments.
A disadvantage to using liquid chalk is the alcohol can dry out and irritate the skin after repeated use.            
Colored Chalk
In an effort to combat what is being called white chalk graffiti or climber graffiti produced when climbers use white chalk to mark routes or from climbing the routes themselves, some enterprising companies have started producing colored chalk that can be matched to the rock on which the climber is climbing.
It is required to use colored chalk in some national parks, or you may face a fine.
Colored chalk can be bought from Climbing Addicts and PurChalk. As specialty chalk, the price is higher but not prohibitively so.
How to Choose the Best Climbing Chalk for You
Like many things in life, choosing chalk is not always a one size fits all situation. There are a few things to take into account, and you may find you end up using different chalks for different situations. When choosing the best chalk for yourself, there are a few basic questions that you want to ask yourself.
Do my hands sweat a lot?
If you have hyperhidrosis or sweaty hands, you may not find that unadulterated chalk works for you. You may need to look at chalks like Metolius Super Chalk that contain additives to help keep your hands dry.
What type of climbing are you doing?
Depending on the type of climbing you are doing, the length of the route, and the technical difficulty of the climb you may wish to use different chalk. If you're bouldering or on a short route, you probably won't have to chalk up more than once so using liquid chalk or chalk sock before you ascend is probably enough. If you're sport climbing, then you'll need to bring your chalk with you so loose chalk or a chalk sock would work best. If the climb is especially technical involving hand jambs and finger pockets, you may need to bring loose chalk as you need full coverage of your hand.
Where are you climbing?
When climbing indoors, it's a good idea to use a chalk sock or liquid chalk to minimize aerosolized chalk as well as spills from your chalk bag.
Chunky or fine?
The texture of the chalk is entirely up to you. Some people like to have chunky chalk so they can mark routes on the rock with larger chunks or break them up with their fingers for stress relief and sensation. Others prefer to have fine chalk to evenly and efficiently coat their hands.
What is the environment like?
Taking into account environmental factors is something that gets overlooked by many new climbers. In more arid dry environments like Joshua Tree, no chalk or pure chalk may be all that's necessary. However, in a more humid climate such as in South East Asia, you may want to have chalk with a drying agent otherwise you may find yourself re-chalking every few feet up the rock. The same idea is taken into account in days following rain in which a lot of moisture may be present.
While all of these questions can help you get started to finding the right chalk for you, the only way you are going to find it is by trying different chalk out for yourself. Next time you're in the gym or out on the crag, ask your fellow climbers if you can put your hands in their sack or squeeze their balls to get a feel for their white stuff. Climbers, on the whole, are an easy going group and happy to pass on their knowledge.
What to Consider if You Have Sensitive Skin or Sweaty Hands
If your hands feel excessively raw after a climbing session (and not form pushing your limit!) or if you have overly sweaty palms that ordinary climbing chalk doesn't seem to help, there are plenty of options to help.
First, let's address sensitive skin. Climbing creates a lot of wear and tear on fingertips and palms that lead to blisters, callouses, and abrasions. Not to mention that the drying effect of chalk that helps you stick to the rock also dries out your skin leading to splitting and cracking.  There are a few simple rules for skin care that you should follow as a climber and even more so if you have sensitive skin.
Wash your hands: after climbing, wash your hands with a bar of gentle soap and water to rid them of dirt and chalk and restore some moisture to the skin.
Use moisturizer and a salve: use a salve to hydrate the parts of your skin that get the most contact with the rock, such as the fingertips. This will prevent cracking and expedite healing. Using a moisturizer will help soothe your hands, especially if you have sensitive skin. Moisturizing before (let it soak in before using chalk) and after climbing is reported as being the most effective method.
Maintain your hands: by being methodical and careful, we can drastically cut down on flappers and tears on our hands. Use nail clippers or scissors to cut off flappers and a nail file or sanding block to file down large callouses and skin protrusions.
Use sports tape: if you develop a flapper or raw spot on your skin, use sports tape to protect it from further contact with the rock.
Don't use liquid chalk!: liquid chalk is a blend of loose chalk and isopropyl alcohol. The evaporation of the alcohol with dramatically increase the dryness of your skin, which could be especially bad for sensitive skin.
In addition to practicing this basic skin care, there are a few chalk brands that are viable options for sensitive skin. These chalks benefit from the addition of essential oils and other natural additives.
Primo Chalk: this chalk as its name implies is primo stuff! In addition to being pure magnesium carbonate, it contains a blend of fine Epsom salt, eucalyptus, clove, rosemary, cinnamon, and lemon essential oils. These additional ingredients are used to help keep your hands clean of bacteria, fungi, viruses, and maintain skin health.
Joshua Tree Herbal Chalk: as the name of the chalk indicates, it contains herbal extracts. It comes in four different varieties—Ice Herbal Chalk, Fire Herbal Chalk, Flower Power Herbal Chalk, and Plain White Chalk. Both the Ice and the Fire Herbal Chalk contain menthol extracts that soothe your skin while also providing aromatic stimulation.
Be it a hot, humid day or you have very sweaty hands, and for those whose regular climbing chalk does not do the trick, chalk with additives such as Metolius Super Chalk gives that sorely needed extra moisture absorption. If your hands are still slick and you just can't grip that hold, here are a few tricks to help.
Use liquid chalk: the most obvious first step, this combination of isopropyl alcohol and chalk has the benefit of drying your skin by way of evaporation as well as creating a base layer of chalk. Apply it to your hands like a lotion, wait for it to dry and then use your chalk as usual.
Soak your hands in sage tea: by soaking your hands regularly, the tannins present may help shrink the pores in your hands, reducing perspiration.
Use Gold Bond: apply Gold Bond powder to your hands to absorb sweat then chalk up as usual. On an exceptionally moist day, excessive powder can lead to a paste. This is a quick and dirty and most importantly, cheap method.
Use Tite Grip: an antiperspirant hand cream used by golfers, pole-dancers and other athletes, it dries your hands for 4-6 hrs. Apply it 30 minutes before climbing then chalk up as usual.
Use Antihydral: the most expensive and drastic method, this cream from Germany literally prevents sweating of the skin by plugging the pores. The result is surprisingly dry hands and robust callouses. Be sure to properly research before going this route.
Summary of the Best Climbing Chalk
Wrapping everything up, here are the climbing chalk we went over today:
Our Top Favorite
Our Top Runner Up
Our Top Value Pick
Last update: 2023-05-30 / Images from Amazon Product Advertising API
All-in-all, after combing through countless forums, reading through many testimonials given by experts and from hours of experience on the rock and in the gym, we find that Black Diamond White Gold is the best climbing chalk out there, not only because it gets the job done, but also because of the quality received for money spent. Frank Endo Chalk is also a viable pick because of its simplicity, nostalgia, and most importantly, its staying power in a sport where marketing and opinions are incessantly varied. This in itself gives it the bona fides to be considered the best climbing chalk.
The sheer amount of information about just one single aspect of climbing shows how far climbing has come from its days where a few guys just went out and messed around on some rocks. From the use of generic gymnastic chalk to the ever-evolving performance chalk, the growing choices make things more confusing and make something that should be simple, anything but. With the information provided here, and our recommendations, you can decide for yourself what chalk to use and more importantly if you need to use any, to begin with. Most important of all, get out there and climb!
Need the best climbing shoes? Check out our comprehensive guide to the best beginner shoe here.
Or if you're looking for more general gear reviews, go here.