When climbing outdoors, tons of new variables are added into the equation – from wet holds to changing weather patterns, to sharp rock, and more. With all these additional factors to potentially hinder your climbing, the overbearing heat of the sun burning into your exposed skin is not a pleasant thing to tack on top of everything. To avoid the pain that is bound to spring up from unprotected skin under the harsh rays of the sun, not to mention skin cancer, it is a smart move to protect your exposed skin when climbing outdoors. This is why we created a list of some of the best climbing sun protection out there, from hats to shirts, to sunscreen.
Before loading up on tons of clothing and sunscreen, abide by the simple rule of avoiding climbing or hiking during midday when the sun is the highest in the sky, by doing this, you can easily avoid the worst of the sun's rays.
Now, on to our favorites!
After you're done with this post, check out our other comprehensive climbing gear guides here.
Our Top Favorite
Our Top Runner Up
Climbing Sun Protection
Outdoor Research Echo Hoody
Outdoor Research Sombriolet Sun Hat
Our Top Favorite
Climbing Sun Protection
Outdoor Research Echo Hoody
Our Top Runner Up
Climbing Sun Protection
Outdoor Research Sombriolet Sun Hat
Last update: 2023-11-30 / Images from Amazon Product Advertising API
Our Favorites for the Best Climbing Sun Protection for Climbing
A shirt can prove invaluable in the heat of midday sun when on the rock wall, though it may seem tempting to go with a tank-top or even shirtless, the burns you will experience the next day will say otherwise. So, check out a few of these upper body options to keeping burn free.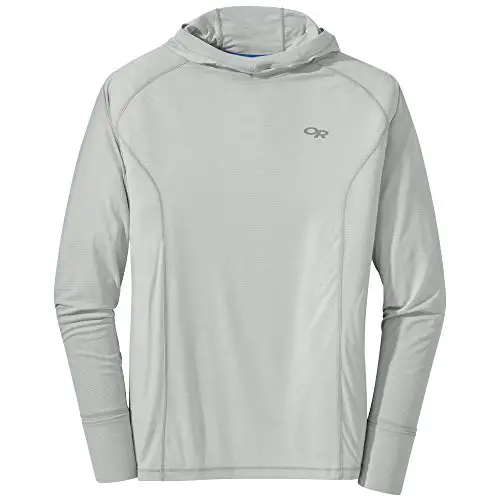 The best way to prevent burns is to wear clothes that cover your exposed skin, wearing a lightweight, the long-sleeve t-shirt is the best way to practice this. By covering up your shoulders and arms, one of the highest sun exposure spots on the body, you can stop both overheating and damaging sun rays in their tracks. The OR Echo Hoody is essentially a long sleeve shirt with a low-profile hood for optional use; the material is made out of a sweat-wicking polyester, which features a trademarked Airvent design. WithActiveFresh odor control, this hoody will also help you avoid the stench that arises from hours of sweaty climbing. The Echo Hoody is also ultra-light, saving you weight and keeping you cool. There are some complaints about the fold-over mitt cuffs which can be used to keep the hands warm in the cold, or even to protect them from the sun; instead, users tend to prefer if the hoody just had a regular cuff design. Still, as usual, Outdoor Research delivers a high-quality product with solid reviews and satisfied users. Coming in six colors and with the occasional sale, this hoody acts as a solid buy for anyone considering a lightweight long-sleeve option.
What makes the Outdoor Research Echo Hoody unique:
The low-profile hood makes wearing helmets and hats a breeze, offering you double protection on the rock wall
The ultra-breathable design keeps you nice and cool, even as a hoody design
Why you should choose this sun protection:
For the lightweight, breathable design which keeps climbing enjoyable, even in hot weather
If you want to switch from t-shirts and burnt forearms to an option which protects the arms and offers a decent amount of neck protection
Last update: 2023-11-30 / Images from Amazon Product Advertising API
---
Columbia Kettle Ridge Long-Sleeve Shirt
Long sleeves remain the way to go for climbers who need the extra protection on their arms, and if you are looking specifically for a long sleeve, not a hoody, the Kettle Ridge by Columbia can be a great option. Featuring Omni-Shade UPF 50 and Omni-Wick fabric, this shirt will keep you protected from the rays and free from sweat. For further convenience, antimicrobial treatment helps to keep you smelling odor-free. The shirt does tend to run large according to many users, so be conscious of that when buying. In general, this is a great option and a solid buy at a reasonable price.
What makes the Columbia Kettle Ridge Long-Sleeve Shirt unique:
The fabric is excellent for keeping cool and sweat-free, making it stand out from other regular shirts
The loose and comfortable fit ensures it doesn't stick to your body and absorb sweat like other shirts may do
Why you should choose this sun protection:
If you want a shirt that fits loosely and comfortably, this option is an excellent investment
The versatility of this shirt gives you tons of value for your money, as it can be worn in layers and for a variety of purposes
Besides your arms and shoulders, your face and neck are the next most exposed areas when climbing. Hats are the best tools to keep these areas burn free and cool. We only look at a few options, but there are so many different varieties you can search from!
No products found.
---
For one of the most premium sunscreens available, EtlaMD has you covered. When trying to stay protected from the sun, sunscreen is almost always essential to covering sports clothing cannot. That's why you need to make sure the sunscreen you invest in is high quality. EltaMD's sunscreen is a top choice for its no-drip, water-resistant formula – this is especially important when you are on the wall, and your hands are too busy on holds to rub the sunscreen from your eyes. Additionally, the sunscreen feels light and is oil-free, ensuring that you won't feel gross after it is applied. This sunscreen stays water-resistant for up to 80 minutes and does so without any harmful ingredients. The bottom line: it's not only great for your skin, but it is great for holding its ground in sweaty conditions and remaining effective for long stretches of time. However, with this quality, this sunscreen is more expensive than most other sunscreens.
What makes the EltaMD UV Sport Sunscreen 50 unique:
The skin-friendly makeup of this product helps it to stand out from many of the cheaper, oily products
While oil-free and great for your skin, it also is performance-focused, and one of the best formulas under sport conditions
Why you should choose this sun protection:
If you have sensitive skin, this is definitely the sunscreen for you
It holds and remains effective even under sweaty and wet conditions
On Sale
EltaMD UV Sport Body Sunscreen, SPF 50 Sport Sunscreen Lotion, Sweat Resistant and Water Resistant up to 80 Minutes, Formulated with Zinc Oxide, Oil Free, Full Body Sunscreen, 3 oz Tube
EltaMD UV Sport Face and Body Sunscreen is formulated for active lifestyles and is the perfect sport sunscreen lotion for enjoying all your favorite outdoor activities while protecting your skin from the sun
This SPF 50 body sunscreen lotion is water resistant and sweat resistant for up to 80 minutes, so it won't rinse off in the water or when you sweat
EltaMD sport sunscreen lotion can be applied on wet or dry skin and is built for all types of physical activity, whether you enjoy swimming, hiking, golfing, running, walking or any other type of outdoor physical activity
Last update: 2023-11-30 / Images from Amazon Product Advertising API
---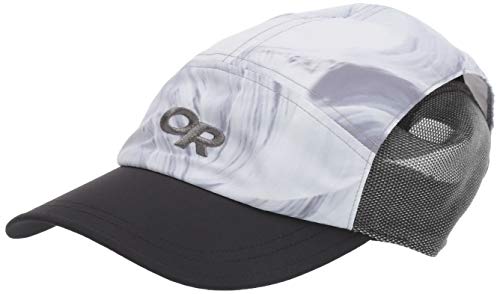 One of the more popular hats recommended for climbers, the OR Swift Cap is a top seller for a reason. OR consistently puts out solid outdoor clothing items that many climbers vouch for, so this list will contain many of their top recommended climbing sun protection items. The Swift Cap is built for keeping cool while under the harsh rays of the sun, with mesh sides and a quick-drying, wicking, breathable fabric design. Plus, at UPF 50+, this hat is guaranteed to keep your face free of sunburns. Lightweight and perfect for long hikes and climbs, the Swift Cap earns a top spot on our list.
What makes the Outdoor Research Swift Cap unique:
The mesh sides make it stand out for its breathability, yet stylish look and comfortable feel
Unlike many other hats, the Swift Cap is very lightweight and breathable
Why you should choose this sun protection:
The Swift Cap balances the need for a cool, protective, and functional design with the versatility of a hat that looks good enough to be worn in other casual settings
The inclusion of breathable mesh sides and a wicking fabric make it perfect for hard climbs
Outdoor Research Printed Swift Cap - Ultimate Training Breathable Sun Hat
SUN PROTECTION: Our most popular training hat offers UPF 50+ protection on the crown of your head along with a shaped visor to shield your eyes and face. Weighing in at only 2.5 ounces, this lightweight cap will keep you cool and protected.
COOLING MESH VENTS: The side mesh ventilation provides the ultimate cooling hat, especially for athletes training and working out in warmer weather. The headband liner wicks away sweat and keeps it out of your eyes.
VERSATILE TRAINER: This stylish, water-resistant, breathable cap is the perfect companion for a gym workout, hiking your favorite trail, running, tennis, golf, or chilling on the beach. Both lightweight and packable, use it for adventure and travel.
Last update: 2023-11-30 / Images from Amazon Product Advertising API
---
If hats aren't really your thing, or maybe you are just looking for something a bit more versatile, Buff' sCoolNet is an interesting take on headware. It is a stretchy sleeve that can be worn in up to twelve different ways – from a headband to a mask, to a beanie, to a balaclava. The CoolNet is also great for repelling insects, with an Insect Shield® to help avoid insect-borne diseases – which is always a nice addition in headwear. The 100% recycled REPREVE® microfiber is excellent for climbing with its and moisture-wicking design. There is also cooling technology and odor control built-in to theCoolNet, which truly rounds off the list of great features. While quite a bit more expensive than the standard bandana, the product's strengths make up for the higher price.
What makes the Buff CoolNet UV+ Insect Shield Multifunctional Headwear unique:
The CoolNet is the most versatile piece of sun protection on our list
The inclusion of so many different properties and features in the seemingly simple design makes this product stand out for its high quality
Why you should choose this sun protection:
If you are an avid hiker, this headwear can also be invaluable for keeping the rays and bugs off you on the trail, while also proving useful on the walls
As mentioned many times before, for the versatility – if you find yourself wishing you had a headband instead of a neckerchief – all it takes is some quick manipulation
No products found.
---
Our Runner Ups for the Best Climbing Sun Protection for Climbing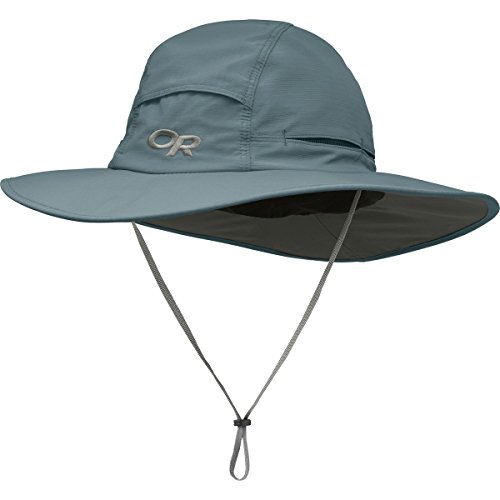 Like the idea of wearing a hat to keep the sun off your face, but wish you had more coverage? The ORSombriolet Sun Hat is recommended by many as a great hat for hiking and even climbing. All-around, this is a great product with extremely high reviews, so why is it in the Runner Ups category? Simply, it can be an awkward pairing with a helmet. Because outdoor climbing poses many more risks of injury than indoor climbing, you should wear a helmet for most climbs. And a full brim sun hat, while excellent at protecting your face and neck from the sun, may not always work, or look, the best on the walls. Still, despite the hindrance with helmets, the Sombriolet does a great job of keeping breathable and lightweight, while also providing an ample amount of sun protection. It also has a sweat-absorbent headband to keep sweat out of your eyes while your hands are busy.
What makes the Outdoor Research Sombriolet Sun Hat unique:
The brim helps protect your face and neck better than most other options out there
The combination of features helps it to stand out as a high-quality product
Why you should choose this sun protection:
This hat can be used for more than just climbing – from everyday travel to fishing to hiking, the versatility of it truly makes it a great buy
Like with many of their products, OR ensures durability and quality with the Sobriolet Sun Hat
Last update: 2023-11-30 / Images from Amazon Product Advertising API
---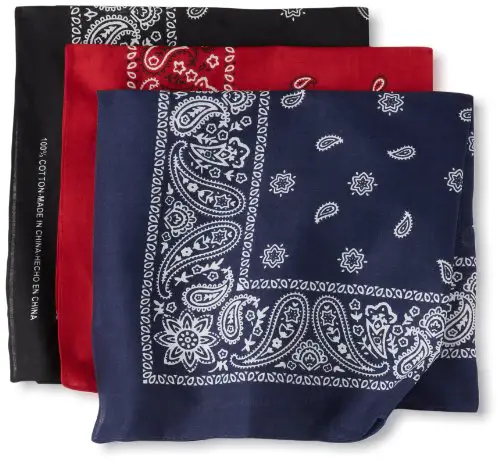 Bandanas have been a staple of versatile head and neck sun protection for decades, but the most popular option on Amazon – Levi's 100% Cotton Bandanas – don't seem to hold up as well to something like the Buff CoolNet. While less expensive, these bandanas seem plagued by low-quality and cheap manufacturing. As one reviewer stated, it's as if "they just repackaged them and slapped the Levi name on them" because the bandanas have a huge "MADE IN CHINA" stamped right on. They are also reported as being stiff and course. Honestly, if you want to buy some decent bandanas, you are better off just going to the dollar store and spending a quarter of the money on ones there, or shopping around a bit further for something more high quality.
What makes Levi's Men's 100% Cotton Bandana Headband unique:
Due to the lower-quality manufacturing, they are quite thin, yet still stiff
They are expensive relative to the many other bandanas on the market but don't stand out in quality when compared to them
Why you should choose this sun protection:
If you want a cheap way to protect your head and neck when climbing and hiking, bandanas are a good option in general
The variety of colors offers some customizability of your bandanas and the overall look which other products lack
Levi's Men's 100% Cotton Multi-purpose Bandana Gift Sets – Headband, Wrap, Protective Coverage, Black/Red/Navy, Pack 3
ASSORTED COLORS: This Levi's bandana is a boxed set of 3 pieces. From the timeless Red, White and Blue, to additional designs in Turquoise, Camo, and more. Our packs give you various options that make it easy for you to mix it up or share with friends.
MULTIFUNCTIONAL: The only limit in styling these unisex bandanas is your creativity. From a face mask, to wrapping it around your wrist, to using it as a headband to style your hair, our Levi's bandanas are as versatile as they are functional.
AUTHENTIC LEVI'S STYLE: Since 1873, Levis has been a pioneer in crafting pure American heritage products. From its iconic jeans, to jackets, and now accessories, the Levi's brand is an iconic flagship of the American fashion industry
Last update: 2023-11-30 / Images from Amazon Product Advertising API
---
Our Value Picks for the Best Climbing Sun Protection for Climbing
Performance-focused clothing can quickly get expensive, and with all the wear and tear that comes with outdoor sports such as climbing, it can be wise to invest in something that won't break the bank – but will also hold its value for a long time. Hanes is well known for its low priced, comfortable clothing, and the Hanes Sport FreshIQ Cool DRI Long Sleeve Tee is no different. This shirt checks all the boxes of what you would want from a long sleeve sun shirt on the walls: fabric with to keep you from overheating; odor protection; a UPF rating of 50+; a loose, but not baggy fit; and a low price! Some buyers have complained about weak stitching, but most customers didn't mind too much; the fit also runs a bit large.
What makes the Hanes Sport FreshIQ Cool DRI Long Sleeve Tee unique:
The low price sets this shirt apart from the $20-30+ performance t-shirts on the market, so you don't have to choose between price and getting overheated
While the durability may not match that of some of the more expensive shirts, many of the features of the fabric and the design are similar to more premium shirts
Why you should choose this sun protection:
If you don't mind the occasional fraying of stitching, this shirt has many of the strengths of a fantastic piece of sun protection
For the low price and high-value Hanes is known for
No products found.
---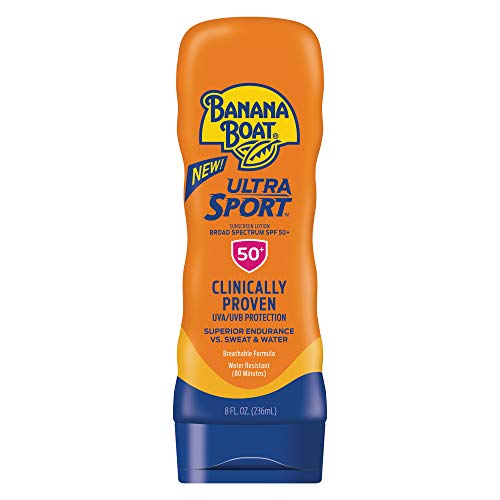 Sunscreen is vital to keeping burn-free while on the walls and under the direct rays from the sun, but some of the more luxury-type products may be hard on the budget. However, you do not need to spend $30 on sunscreen to get quality protection from the sun. Banana Boat's Ultra Sport Sunscreen is made with a lightweight, breathable formula with great endurance at up to 80 minutes. At SPF 50, you can be sure this sunscreen will do its job. Finally, it does its job at a fraction of the price compared to most of the competition, saving you the money you could invest in other areas of your climbing!
What makes the Banana Boat Sports Sunscreen Lotion unique:
The relatively extreme low price of this sunscreen makes it stand out among the other sun protection options
Its wide availability makes keeping stocked up on it no problem
Why you should choose this sun protection:
Sunscreen's versatility makes it a great option for covering areas which other sun protection clothing can't
Sunscreen is ultra-portable, and the aforementioned availability makes having some around always a possibility
On Sale
Last update: 2023-11-30 / Images from Amazon Product Advertising API
---
Why You Should Invest in Good Climbing Sun Protection
While it might not seem like a big deal at first, keeping protected from the sun is going to be a lifesaver if you intend to spend a good deal of time outdoors on the walls. It is more likely than not going to be hot outside when you decide to make a trip to the walls; and even if it is cloudy, you will need protection if you spend hours back-to-back outdoors. Not only will the sun protection reduce the pain from sunburns during your day, but you will also be thankful a few days after climbing when putting on shirts doesn't hurt. Additionally, don't fall into the mindset that sunscreen alone can prevent burns – you will have to apply copious amounts of sunscreen if you spend more than an hour or two outside, and even then, you can get burned if you spend too much time outdoors – even with a rigorous application of sunscreen. So, finding quality clothing, in addition to sunscreen, is optimal for an enjoyable climbing experience.
Climbing protection is not primarily about sunburns; skin cancer, while not as deadly as other forms of cancer, is still a serious issue in the world. Avoiding burns and using proper sun protection is best for keeping healthy and skin cancer-free when spending lots of time on the walls. Through investing in quality climbing sun protection, you are investing in your future health and wellness.
How to Choose the Best Climbing Sun Protection for You
There are many factors to consider when looking at the best sun protection for your individual situation and preferences – wearing a helmet, the weather, your region's climate and the intensity of the sun, the climb itself, the length of the climb, and more. All of these factors are important to consider when picking out the best form of sun protection.
For example, if you only plan a short climb for the day, and there is some overhead, sunscreen may be enough to protect you. But if you are doing a multi-day climb, and especially if it is going to be sunny and hot, you'll need more protection than just sunscreen. However, sunscreen can be an effective method of protecting the exposed parts of your body that clothing is not covering, such as your face.
Clothing does more than just prevent you from getting burnt, and it can also keep the heat off you by stopping the rays from heating up your skin. Staying cool is not just great for the comfort of ideal climbing experience, but it also can limit the dangers of overheating. So, staying burn free and nice and cool through utilizing a combination of sun protection methods is the best way to make sure your climb goes well.
Summary of the Best Climbing Sun Protection for Climbing
Our Top Favorite
Our Top Runner Up
Climbing Sun Protection
Outdoor Research Echo Hoody
Outdoor Research Sombriolet Sun Hat
Our Top Favorite
Climbing Sun Protection
Outdoor Research Echo Hoody
Our Top Runner Up
Climbing Sun Protection
Outdoor Research Sombriolet Sun Hat
Last update: 2023-11-30 / Images from Amazon Product Advertising API
From sun shirts to sunscreen, there are many options to stay burn-free, even under the direct rays of the sun. There are many different potential options for having adequate sun protection, and a combination is usually best. UPF clothing or a simple long-sleeve t-shirt, a hat or a hoodie, sunscreen or a bandana – all can be equally effective if you simply plan ahead. While it may seem unimportant at first, a sunburn can quickly add up into something much more serious, so it is vital that you take sun protection seriously while on the walls! Hope you enjoyed this comprehensive guide to the best climbing sun protection for climbing; if you did, check out our other posts here.