If it happens to be the birthday of your favorite climbing buddy or maybe it's close to the holidays of any sort. Whatever the occasion is bringing to the table, there's always a time to express your gratitude and gift your climbing squad. However, since there is such a wide array of gifts on the market, it's only natural that you would only want to purchase the best gifts for climbers! Coming up with unique gift ideas for climbers may be difficult, but worry no more.
On that note, today we will be embarking on a climb of picking our overall favorite gifts for beginners, indeterminate, as well as advanced climbers – after all, their wants are different as the skill level goes up. Also, we will be picking our runner up and budget picks for those shoppers who happen to need some products a little on the cheaper side. Let's not wait any longer, here is our wide array of picks of our recommended gifts for climbers.
Our Top Gift for Beginner Climbers
Our Top Gift for Intermediate Climbers
Our Top Gift for Advanced Climbers
Our Top Gift for Beginner Climbers
Our Top Gift for Intermediate Climbers
Our Top Gift for Advanced Climbers
Last update: 2023-11-29 / Images from Amazon Product Advertising API
Our Favorites for the Best Gifts for Beginner Climbers
Starting off, we can almost always recommend purchasing a chalk bucket – especially when it comes to new climbers. No other chalk bucket than DMM Edge is as perfect all around. Just imagine buying your friend the first chalk bucket and chalk they will ever have in their climber career, now isn't that a moment to remember? This gift not only will be very affordable but will have a lot of actual impact on whoever it's given to as it's very useful as we're sure you are aware.
What Makes DMM Edge Chalk Bucket Unique:
Chalk will drastically improve the grip you have while on the climb. This is THE perfect gift for a beginner because typically people new to climbing are going to need all the help available. After all, if climbing happens to be quite tough for an individual it may be fairly off-putting for them. You'll maybe even be further your relationship with whoever is receiving this gift, you gotta try it to find out though.
Why Choose DMM Edge Chalk Bucket:
For one, we recommend checking out the DMM Edge Chalk Bucket simply due to its great materials and usage. Its reviews are also great, here's a peek, "I really like this chalk bucket. The double draw sting keeps all of the chalk in. And the storage is great. For now, I just put a carabiner in the loop and I clip my brush on there. Otherwise, the bag is great for the price and nice to use. The handles are heavy-duty, and I like that when it's open it's sturdy enough to stay open."
Last update: 2023-11-29 / Images from Amazon Product Advertising API
---
Let's be real, one of the biggest similarities we humans and animals share is our need for hydration – it's no joke after all. Water keeps us going every day and is definitely a necessity for those beginners who go out climbing. Especially when you consider that newcomers to climber need to learn to get the hang of it which sometimes takes more energy than even the most professional climbers in the game. Getting your friend, spouse, family member, or whoever they happen to be to you, a water bottle is just as important and valuable as it can get. We recommend purchasing a high-quality metallic water bottle that will last even the toughest of falls and bangs.
What Makes YETI Rambler Water Bottle Unique:
The reviews for this water bottle show us its many uses even outside of climbing, it's a multi-purpose gift. People love the durable material that affords you maximum temperature control, and the 18 oz. size is easy to handle for children over 6 years of age. This water bottle can hold solid ice cold for up to 48 hours and liquids for up to 36 hours. Hot temperatures hold for 24 hours and warm for 36 hours.
Why Choose YETI Rambler Water Bottle:
The YETI brand is a universally known one to be high-quality as it offers some really fantastic products. These water bottles will be appealing to teen climbers as well as adult climbers because the looming threat of hydration is always a real one. This rock climbing gift idea will never grow out of fashion, which can't be said for many products out there.
Last update: 2023-11-29 / Images from Amazon Product Advertising API
---
Having a belay device might just be one of the best feelings a beginner climbing can have. However, we recommend only getting this for someone you know close enough to ensure you buy the correct functioning device. It's no wonder a range of belay devices from companies such as Metolius, Trango, and Black Diamond are supported by some of the bigger known people in the climbing community – it just makes a great gift!
What Makes Black Diamond Belay Device Unique:
We can recommend the Black Diamond range of Belay Devices found on their website as well as Amazon. One variation of this product features 2 friction modes that are designed to reduce rope kinking, Black Diamond's brand is known for its durability so you can expect the device to keep its shape over time.
Why Choose Black Diamond Belay Device:
Reviews can sometimes help sway you to a product based on how quality it really is. With that in mind, here is an honest review for Black Diamond Belay Device that loves the product for other reasons, "I bought this package instead of a belay and a beaner separate because it was a little cheaper. I love the teeth on the belay and like that it very easily guides the rope. It's very light and I hardly feel it while it's on my harness walking around. I've been using it for a few weeks now and have no issues so far!"
Last update: 2023-11-30 / Images from Amazon Product Advertising API
---
Our Favorite for the Best Gifts for Intermediate Climbers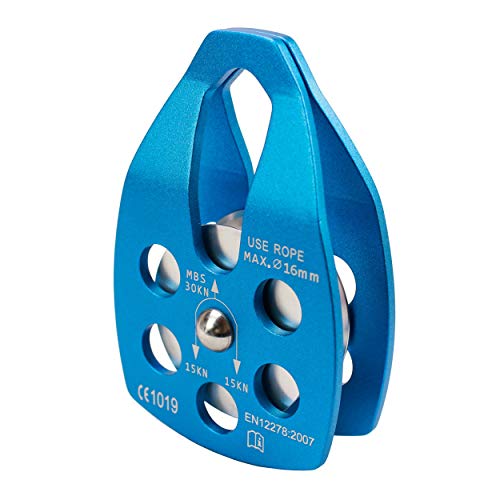 For those who may not be aware of what a climbing pulley happens to be, it's a device that will attach to your climbing set up and help lock you into place while climbing. These can vary from automatic to only working when specifically intended to. But what makes a climbing pulley a wonderful gift for a medium level climber is its affordability and usability. Hey, you could even save the life of your friend with this device.
What Makes Geelife Climbing Pulley Unique:
The Geelife Climbing Pulley has come in as one of our top picks previously, so you can bet we are going to recommend it here again. Just take a look at the description for this device, "Applicable Rope: Compatible with a wide range of ropes up to 16mm (5/8″). Multiple anchors for complex rescue/hauling system setup. Easy to Install: Mounted with ball bearing for higher efficiency and smoothness. Swing side for easy and rapid rope installation and remove Breaking Strength: 30 kN for high durability to satisfied your requirements."
Why Choose Geelife Climbing Pulley:
Depending on where you come to purchase the Geelife Climbing Pulley as a gift, you may be able to get a long time warranty bundled in with it. The person receiving this as a gift will love you even more after that. Getting a solid gift for someone as well as a warranty is sure to be a win-win scenario.
Last update: 2023-11-29 / Images from Amazon Product Advertising API
---
Not only being used for just climbing, but these Petzl Belay Gloves are infinitely multi-purpose and will definitely make a solid gift in our eyes. For example, they can be used to warm yourself in the winter, while doing yard work, climbing (duh), working with mechanics, and much more. They make a perfect choice for intermediate climbers due to how belaying is typically something climbers get into and master after they've first started climbing.
What Makes Petzl Belay Gloves Unique:
Here is an array of info on the product, taken from the manufacturer, "THE RIGHT FIT: The CORDEX's ergonomic cut offers a high level of dexterity without being too tight, letting you belay and rappel without restriction. HIGH-QUALITY: These leather gloves provide the perfect balance between durability and flexibility. BREATHABLE: The abrasion-resistant stretch nylon on the back of the hand keeps the gloves snug and your hands cool."
Why Choose Petzl Belay Gloves:
Here's an excerpt from a review found on Amazon for these Petzl Belay Gloves, just look at how loved they are, "These are some of the nicest gloves, let alone climbing gloves, that I've ever owned. I am on my 3rd pair now. The first pair I had lasted almost 3 full years, and mind you, I used these for climbing and hiking, but then liked them so much started using them for weightlifting, yard work, and just as winter gloves in general. They were crazy resilient, seeming's how I got them wet/moist frequently from sweating."
Petzl CORDEX Gloves - Lightweight, Breathable Leather Belay Gloves for Climbing and Rappelling - Tan - L
DURABLE and BREATHABLE: Sometimes 'durable' gloves are bulky, stiff, and uncomfortable. With the Petzl CORDEX gloves, you don't have to compromise. Soft, premium leather requires no break in period — striking a perfectly balancing between dexterity and durability. Enhanced protection in high-traffic areas (fingertips, between thumb and forefinger) help prolong the CORDEX's lifespan.
COMFORTABLE PERFORMANCE: Only 115g 4 oz. Back of the glove is stretch nylon (for breathability) . The palm of the glove is supple high-quality leather (maintaining performance without sacrificing weight).
EASE OF USE: Simple, yet durable velcrohook-and-loop closure. Carabiner hole for easy storage and/or racking. No break-in period. Easy on and off.
Last update: 2023-11-29 / Images from Amazon Product Advertising API
---
Being a great gift for middle-level climbers this stick clip also happens to feature snap-lock clips that increase clamping force and enable for easy adjustment. Furthermore, this gift idea is actually the highest rated stick clip on the market meaning you're getting guaranteed quality with the gift. We say this because it's also packed with an integrated pole channel that prevents you from spinning while you are climbing up the rocks.
What Makes Trango Beta Stick Clip Unique:
Based on feedback from its buyers, the designers behind the clip enhanced the product's function based on the others on the market. They made the head more durable and the overall product stronger. By buying this stick clip, you know you're getting a heavily refined product. It also contains an adjustable wire arm that accommodates wire gate and solid gate carabiners, this certifies a smooth and simplified setup for whoever is receiving this gift.
Why Choose Trango Beta Stick Clip:
The Trango Beta Stick Clip is designed to benefit you regardless of what the weather might happen to be on your expedition day due to its integrated pole channel and strong grip. These features ensure spinning on the rope will be almost non-existent and that you won't lose your grip when handling the stick clip.
On the other hand, its features are especially useful if you're going out on a windy day or being suspended in the air for long periods of time. With its length, it becomes able to extend to a massive 8 feet, allowing you to attach the clip onto your bolts.
Trango Beta Stick EVO | Climbing Tool, Sitck Clip | Compact
DON'T FEAR THE FIRST BOLT - Your stick-clipping just went up a grade; The redesigned EVO is stronger, more versatile, and even more compact than the previous model.
REACH IT - 3 sizes: Compact (21.5 in. collapsed, 8 ft. extended), Standard (29 in. collapsed, 12 ft. extended), and Ultra (44 in. collapsed, 22 ft. extended)
CLIP IT - The EVO's redesigned head grips your carabiner and holds open the gate with an adjustable wire arm; Designed for both solid and wire gate carabiners
Last update: 2023-11-30 / Images from Amazon Product Advertising API
---
Our Favorites for the Best Gifts for Advanced Climbers
Now that you're aiming to get a gift for the more advanced climbers in the community, we can whole-heartedly recommend getting some climbing themed clothing. These can range from people climbing mountains on shirts as well as designs that can be anything on pants or shirts. However, there are also more functional climbing clothing that's made of thicker materials and designed to be worn while climbing in the vast outdoors. But we still think that having fun with just casual climbing clothing is just as interesting and makes just a great a gift as actual climbing gear.
What Makes Climbing Themed Clothing Unique:
The fact that makes climbing themed clothing unique happens to be how it's an almost endless selection of unique clothing. From pants, shorts, gloves, hats, shirts, sweatshirts, suits, and much more. One of the most flourishing categories in the game is clothing in actuality – which means you can continually expect there to be more gift options by the year and even months. Did we also mention how jazzy you're going to make your gift receiver look when out in public? Representing the climbing community is also welcome and wanted!
Why Choose Climbing Themed Clothing:
Some climbing pants found on Amazon are a great option for a gift, here is a more detailed look into one of these potential gifts, "Material: 95% Polyester, 5% Spandex; Note: There are Thin Pants (Suitable for Spring, Summer, Fall) and Thick Pants(Suitable for Winter). Belt is Included & Elastic Waist: Side Elastic Waist Comes With belt Loops and Removable Belt to Make You Find a Custom Fit. Reinforced Knees: Ripstop Material Used at Knee Area For Protection From Even The Toughest User; Micro Strech Fabrics Allow You to Move Freely."
Last update: 2023-11-29 / Images from Amazon Product Advertising API
---
While AirPods might not be the most obvious gift for climbers that comes to mind, it's certainly one that has a lot of uses and will likely be a surprise for whoever receives it. Not only being used for climbing, but while exercising, hiking, chilling, late nights, and much more. Earbuds can practically be used anywhere and can add tranquility to any moment, especially if a climber wants a little music playing while on the climb.
What Makes AirPods Unique:
Earbuds can help a climber focus on their daily climb or just exercise in general. They eliminate all that distracting background noise and make sure to not only let you listen to whatever audio you want (podcasts, music, videos), but they also help put people at ease and help get people into the mood of getting up and making progress with themselves. Earbuds are a no brainer for most people in the 21st century and make a great gift for climbers and anyone in general.
Why Choose AirPods:
You're likely very aware of the huge success Apple's AirPods have been and being cheaper than they ever have been now – it's a no brainer that these are a great wireless headphones for a gift, "These AirPods are amazing they automatically play audio as soon as you put them in your ears and pause when you take them out. A simple double-tap during music listening will skip forward. Plus, when you're on a call or talking to Siri, an additional accelerometer works with dual beamforming microphones to filter out background noise and ensure that your voice is transmitted with clarity and consistency."
On Sale
Apple AirPods (2nd Generation) Wireless Ear Buds, Bluetooth Headphones with Lightning Charging Case Included, Over 24 Hours of Battery Life, Effortless Setup for iPhone
HIGH-QUALITY SOUND — Powered by the Apple H1 headphone chip, AirPods (2nd generation) deliver rich, vivid sound.
EFFORTLESS SETUP — After a simple one-tap setup, AirPods are automatically on and always connected. They sense when they're in your ears and pause when you take them out. And sound seamlessly switches between your iPhone, Apple Watch, Mac, iPad, and Apple TV.
VOICE CONTROL WITH SIRI — Just say "Hey Siri" for assistance without having to reach for your iPhone.
Last update: 2023-11-29 / Images from Amazon Product Advertising API
---
As for the final advanced climber gift, climbing shoes not only protect your precious feet but also give you some extra style. We believe an advanced climber would fancy a pair of shoes simply because you can never go wrong with a pair of shoes. Typically any given person can own 30 pairs of shoes and not get bored with them, a new one every day perhaps. Climbing shoes are quite a necessity in climbing so even if the person you're purchasing this gift for already has a pair, buying another is almost always welcome.
What Makes Climb X Gear Climbing Shoes Unique:
These shoes make a great fit for all types of climbers in the game, male or female. Their longevity is almost limitless even when used on the daily they still maintain their form and protect you from harsh environments. Wearing Climb X Gear adds so much extra security and comfort whatever style of climbing you're up to doing. All of these qualities make this pair of climbing shoes an almost too good gift in our humble opinion.
Why Choose Climb X Gear Climbing Shoes:
According to the product description for Climb X Gear climbing shoes, "This all-around performance shoe is not limited to any one style of climb, angle or rock. The Red Point comes engineered with a contoured arch, giving a vacuum-tight fit, but also features a padded ankle cuff and odorless hemp footbed to maintain comfort."
Last update: 2023-11-29 / Images from Amazon Product Advertising API
---
Our Runner Ups for the Best Gifts for Climbers
Coming in as our runner up, climbing tape is a great gift for climbers alike. It'll offer support and ease of access pretty much any brand you choose to go with. Whoever you go around talking to in the climbing community we are sure that you'll soon find out how much climbing tape is recommended within this field. It's a no brainer, this gift won't break the bank and will offer so much to anyone it's given to.
What Makes Hampton Adam's Climbing Tape Unique:
Hampton Adam's Climbing Tape is pretty much the best route you can go. Just take a look at what people think about this product, "Recently I have really been into this rock climbing gym near my house and it was recommended to me by the trainers there to tape my fingers because of the constant strain on the tendons. I can immediately tell the difference when using this tape as opposed to not using it. It was a very good price for this 8 pack and will last me a long time!"
Why Choose Hampton Adam's Climbing Tape:
Finding a smooth tape that's just as efficient while climbing is quite an easy task. This makes climbing tape a gift idea that doesn't take much time to execute and is perfect for a last-minute occasion where you may need a gift.
(8 Pack) Pro Finger Tape For Bjj, Bouldering, Crossfit | Ultimate Protection & Fast Recovery | Extreme Quality, No-Fray Climbing Tape | Extended Wear, Super Strong Adhesive | Bjj Tape For Hands
✅DON'T STOP MOVING -- Get the ultimate protection for your hands and fingers so you can keep doing what you love. Our jiu jitsu tape & rock climbing tape is engineered with pro-grade materials and designed specifically for hands. Whether it's getting back to the gym or on the rock face, you need an athletic finger tape that offers proven skin protection.
✅PERFORM LIKE A PRO -- Designed and inspired by a BJJ Black Belt, our finger tape is the one professional athletes prefer. With a slender width, it's made specifically for wrapping fingers and hands, which makes it an ideal hand tape for sports like judo, rock climbing, bouldering, weightlifting, and crossfit. If you're serious about your sport, whatever it is, get the finger tape bjj pros rely on.
✅SPEED UP RECOVERY -- If you're committed to daily training, you can't afford to miss a session, and with the right protective gear, you shouldn't have to. Finger and hand strain can cause pain and limit your movements. Get the jiu jitsu tape that offers maximum compression to bind and immobilize fingers to prevent swelling and assist a faster recovery. Easy to apply, comfortable to wear, and durable.
Last update: 2023-11-29 / Images from Amazon Product Advertising API
---
The never rusting Tounto Carabiner not only makes our runner ups list because it's so affordable but because this gift has so many multi-purposes exceeding the heights of climbing. which makes this gift one that is sure to be a home run. This rock climbing gift idea truly is a very memorable one.
What Makes Tounto Carabiner Unique:
Just by purchasing this carabiner you'll be able to get a year-long warranty for free, here's more info, "Every order is backed by a one-year "NO QUESTION ASKED" warranty. if you are not satisfied, contact us and we'll either replace them or issue you a full refund."
On the other hand, the action of this carabiner's spindle is very strong and smooth. It happens to lock in both directions and provides a moderately stable climbing experience. The Tounto Carabiner is designed to make you fearless while climbing, and it surely achieves that.
Why Choose Tounto Carabiner:
If you prefer others feedback on products, take a look at one review, "I ordered the Blue ones, so I don't know about the Black ones (though they look good and large). I am not a climber and have almost no experience (except a few indoor walls, small outdoor walls, and repelling small faces a few times). But I can say the Blue ones are top-notch; As good as any professional climbing Biner in my opinion. The geometry is solid and innovative. Feels strong. The gate action is smooth and solid."
No products found.
---
Finding a climbing harness that fits comfortably yet securely can be quite a hard task to attempt, especially when you're purchasing a harness for someone else. But with the Weanas Thicken Climbing Harness, it can fit any body type and provide so much security with its high-quality polyester materials. This one makes for a gift that'll be quite a surprise.
What Makes Weanas Thicken Climbing Harness Unique:
This climbing harness is not limited by any stretch of the imagination. IN fact, it has a wide range of uses. It's stated to be perfecting for mountaineering, tree climbing, indoor climbing, rock climbing, outward band, fire rescue, working on the higher level, etc.
Why Choose Weanas Thicken Climbing Harness:
The Weanas company always attempts to give their customers the best satisfaction possible and many benefits, "Durable Bearing Loop: High load bearing, all the connections and webbing are very sturdy with reinforced ends to bear your weight and protect your safety at all times. Comfortable cushioning to ensure safety during rock climbing, 100% Satisfaction Guarantee: We offer a 1-year warranty and full money-back guarantee."
Weanas Thicken Climbing Harness, Protect Waist Safety Harness, Wider Half Body Harness for Mountaineering/Fire Rescuing/Rock Climbing/Rappelling/Tree Climbing (1.16pound)
Beginner's Harness: CE Certified,, but not certified for indoor climbing.Harness weight limited: 300KG,breaking strength-22KN. Half body climbing harness, traditional buckle, harness construction distributes pressure to keep you comfortable while climbing Comfortable wear is a good companion for your outdoor sports
Size: Fits waist strap 20" to 46"(51cm to 118cm), Leg strap 15" to 27" (38cm to 70m), one size fits for person. Well on all ages and can be shared by the whole family. Easy to operate, wear and remove
Durable Bearing Loop: High load bearing, all the connections and webbing are very sturdy with reinforced ends to bear your weight and protect your safety at all times
Last update: 2023-11-29 / Images from Amazon Product Advertising API
---
Our Budget Picks (under $50) for the Best Gifts for Climbers
Now coming into budget rock climbing gifts, books and magazines make a great gift that can span a wide amount of topics and not break the bank in the meantime. These can be a great option for exploring new locations or getting new ideas to spice up the climbing adventures you and your gang can embark upon. With such a huge array of topics that range from safety, bettering yourself, celebrities, or even just for fun, books and magazines will surely be able to appeal to all audiences and offer a lot of new things in you and the person you gift this to.
What Makes Alone on the Wall Climbing Book Unique:
For example, Alone on the Wall by Alex Honnold sheds the interesting tale of the first person who ever was able to free solo. This novel should be able to appeal to those beginner climbers as well as the most advanced ones. Here is an excerpt from the novel, "On June 3rd, 2017, Alex Honnold became the first person to free solo Yosemite's El Capitan―to scale the wall without rope, a partner, or any protective gear―completing what was described as 'the greatest feat of pure rock climbing in the history of the sport' (National Geographic) and 'one of the great athletic feats of any kind, ever' (New York Times)."
Why Choose Alone on the Wall Climbing Book:
As it's quite obvious, books and magazines are everywhere in the world and are always in demand. Whether you decide to gift a paperback book or a virtual product, whoever is getting the gift is going to appreciate the thought and may just get you a gift later down the line.
On Sale
Alone on the Wall
Honnold, Alex (Author)
English (Publication Language)
336 Pages - 10/02/2018 (Publication Date) - W. W. Norton & Company (Publisher)
Last update: 2023-11-30 / Images from Amazon Product Advertising API
---
Cliff and Craig Inc Climbing Mug
There has always been climbing merch such as hots, mugs, figures, posters, and whatnot, but now more than ever climbers are getting the appreciation they deserve. So why not purchase a mug from Cliff and Craig Inc or any form of nicknack to spread the sport of climbing and doubles as a great gift. With an almost endless supply of choices, there's got to be one out there just for you.
What Makes Cliff and Craig Inc Climbing Mug:
The variation in products by many companies actually astounds us. For example, this great mug by Cliff and Craig Inc features a handle that's actually designed to be a hold from a rock climbing gym – how unique! There is so much passion put into a lot of novelty climbing items that no matter what the person you're purchasing a gift for is into, there will be something for them.
Why Choose Cliff and Craig Inc Climbing Mug:
These types of products can even reminisce the past of you and the person the budget rock climbing gift is going to, being a good memory of a climb or special event in their life. Think of it as an item that can preserve a memory for eternity. These benefits go far beyond just the standard gift-giving practices and can really allow you to get creative with which gift you go for, even as far as personalizing it just for the person you want.
No products found.
---
Local Gym Pass
Wherever you and your friend are located, we are sure there are a wide array of fantastic climbing gyms. These gyms aren't just for bettering your well being and getting in shape, but they also offer a community with so many fun activities and events. Typically a day pass can come in the range of $15-25 and can even be bundled with gear if the person you're getting the gift for is a complete newcomer and has never even tried climbing. But more importantly, giving someone a day pass opens up the horizons for many new opportunities you and them can both share together.
What Makes Local Gym Pass Unique:
Gym passes are a great way to exercise together with your friends, meet new people, and even just better yourself all while having some fun. It may depend on the type of person you are getting this gift for, just make sure it won't come off in the wrong way. Because going to gyms with your climbing squad is such a valuable asset when used right and can really make you and your gift receiver's life just that much better.
Why Choose Local Gym Pass:
If you aren't already sold, gym passes can also open the door for many other events. These can include parties, meeting new friends, relationships, and much more. You never know who you're going to meet at the gym, so if your friend needs to get out a little more and meet some people that can change their lives, a gym pass might just be their ticket into heaven.
Check out our climbing gym reviews here
---
How to Pick Which Gift to Get a Climber
Personality
It's always great to make it personal with the guy or gal you're getting a gift for. You likely know their likes and dislikes as well as their skill level. When taking this into consideration, you're very likely to make your friend much happier when you personalize their gift instead of just getting something that could be generic to any climber out there. If they are a more serious climber it's quite important to get them a gift that would be beneficial to their climb as opposed to a more hobby-based climber where they may like a more fun-based gift. It's always great to get creative and show how much care goes into a gift.
Reviews
When looking at reviews, you'll want to aim for at least 80% overall satisfaction to ensure that the product maintains a high standard it's marketed as. Clearly, people heavily value the opinions and satisfaction of fellow buyers on a variety of recommended climber gifts. Reviews help you understand if the vast majority of people are happy with their purchase which typically can help you gauge whether or not you'll be satisfied with your purchase as well.
Price
Lastly, with price, you are paying for the material of the gift, as well as the design intuition. Price also contributes to how long the product will last for the person you happen to be getting the gift for. As with all of your purchases, we're sure you can agree that price is a major factor on whether or not you're actually going to buy the product. Most of the time, the higher the price the better the product, and that couldn't be more true with gifts for climbers actually.
Summary of the Best Gifts for Climbers
Putting everything together, in this guide we reviewed the following:
Our Top Gift for Beginner Climbers
Our Top Gift for Intermediate Climbers
Our Top Gift for Advanced Climbers
Our Top Gift for Beginner Climbers
Our Top Gift for Intermediate Climbers
Our Top Gift for Advanced Climbers
Last update: 2023-11-29 / Images from Amazon Product Advertising API
Out of the plethora of gifts on the market for climbers, we firmly believe that buying a chalk bucket and/or chalk for a beginner to the sport will be a big win on your side. Purchasing a gift that has more than enough value and usage is always a high point of interest for gift lookers. You'll be satisfied just as much as whoever you are gifting this chalk bucket and chalk too.
On the other side, going after any form of climbing pulley for an intermediate level climber. We say this simply because that handling a climbing pulley may be too much for a noob to climbing at first – climbing can already be tough as it is. You can even possibly get a bigger gift with a climbing pulley as well as something else that's fun, just depending on the personality of who you're getting this gift for.
Now, if you and your friends are some of the most advanced climbers in the community, you'll likely want to purchase a gift that's not a tool or accessory. Once someone has climbed for a long time, they likely have had their fair share of additional tools already. So with that in mind, we think getting any piece of personalized climbing themed clothing would be fun, interesting, as well as long-lasting.
Being a runner up, climbing tape has its fair share of uses as well as making life just that much easier. While it may not be the most interesting gift in the game, sometimes gifts serving a purpose are more important than those little novelty ones. This gift idea for climbers is one to pay attention to.
As for budget rock climbing gifts, there's no better option than climbing magazines or even climbing books. Being informative, entertaining, or even being able to spark climbing journeys, any bestseller found on the web will be a great gift for climbers young and old. Reading is practically universal in this day and age and will continue to be important for spreading ideas and important climbing opportunities.
While the best gifts for climbers vary from experience, age, and personality, there is sure to be a perfect gift out there for you to find. Out of today's list of rock climbing gifts, we firmly stand by the fact that one if not more will be able to work for any given climber in the game. With all that said, we wish you luck and truly hope you have a fantastic rest of your day and night!
If you enjoyed this post, you may like our other climbing gear review posts here.
Here are some other gift ideas for climbers and boulderers you may find interesting:
> Best Portaledge for Big Wall Climbs