Whether for a halfway ascent just to camp overnight, or for an overnight, or even multi-day, climb up a big cliff wall, finding the right portaledge can make a severe difference in your experience. They come in a multitude of varieties – with different sizes, construction materials, and setup designs. All in all, there are many options to choose from when you consider scaling your next cliffside, so, all the more reason to see what our detailed review of the most recommended portaledges for climbing are.
Now, let's get started with our top portaledges for climbing.
If you like this post, check out our other climbing gear reviews here.
Our Top Pick
Our #2 Pick
Portaledge
Metolius Bomb Shelter Portaledge
Our Top Pick
Portaledge
Metolius Bomb Shelter Portaledge
Our #2 Pick
Last update: 2023-11-30 / Images from Amazon Product Advertising API
Our Favorites for the Best Portaledges for Climbing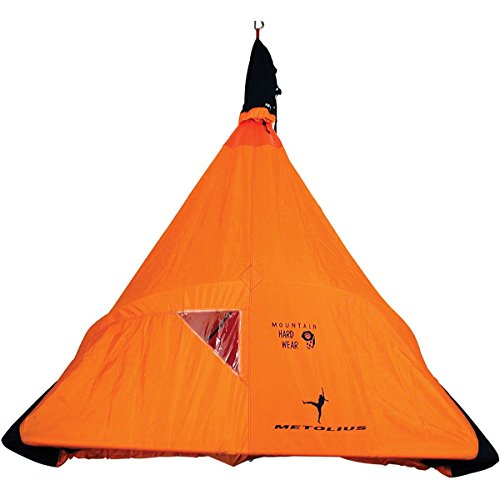 Kicking off the list of our favorite portaledges is the Metolius Bomb Shelter Portaledge. Coming in at seven feet long and in both a single and a double size, this hardy piece of equipment is made up of aircraft-quality 6061-T6 tubing, and CNC milled corner fittings. Many users and reviewers enjoy the durability of the Bomb Shelter. The setup is also easier than ever – with anodized poles and corner fittings, an innovative spreading bar, and cam-lock buckles. The single size is two feet and six inches by seven feet, while the double is three feet and nine inches by seven feet, at 11 lbs. seven oz., and 13 lbs. 12 oz. respectively. The optional fly also boasts its high durability and quality design. At a price that reflects the quality, the Metolius is quite expensive, though it isn't the most costly portaledge on this list.
What makes the Metolius Bomb Shelter Portaledge unique:
The spreader bar, and other features set this portaledge apart for its ease of setup
Metolius's Bomb Shelter's primary claim to fame is the structural strength and durability from the tubing and corner fittings, in addition to all the other pieces of the portaledge, all quite lightly
Why you should choose this portaledge:
If you are worried about setup and want a portaledge that isn't too difficult to set up
For the top-of-the-line quality that Metolius ensures in its products
Metolius Bomb Shelter Double Fly Portaledges
Material: [face fabric] PU-coated 420D oxford, [top cap & corner reinforcements] Durathane, [fly skirt, wallside] Jr. Ballistic nylon, [clip-in point] 6061-T6 aluminum
Claimed Weight: 5lb 7oz
Manufacturer Warranty: 1 year
Last update: 2023-11-30 / Images from Amazon Product Advertising API
---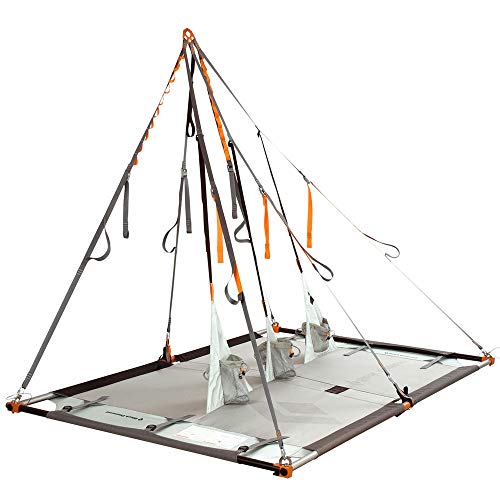 Whether it's the Cliff Cabana Double Portaledge or the Single Portaledge, Black Diamond offers some of the most durable, heavy-duty options for portaledges on our list. It's big, at four feet and three inches by seven feet, the Cliff Cabana Double Portaledge sizes half a foot larger than the Metolius Bomb Shelter in width; however, the Black Diamond Single is roughly the same size at the Metolius. Despite the similar size, the single comes in at nearly fifteen pounds (almost four pounds heavier than the Metolius), the Cliff Cabana, partially due to its larger size, weighs a whopping 19.84 pounds! The Cliff Cabana does come with some added luxuries, such as the six mesh pockets with drawstring closures and six tensioners to give the bed just the right amount of give (the single has four tensioners). Additionally, the frame is made up of a double-butted aluminum allow, with double Ripstop 420d, ballistic reinforced fabric for the platform. All of this comes in cheaper, and arguably stronger, than the Metolius, though sacrificing some bulk, weight, and set up ease in the process.
What makes the Black Diamond Portaledge unique:
Difficult to set up, yet secure and reliable – the double is a mixed bag, but shouldn't be looked over just due to its sheer fortitude
Both portaledges are larger than almost all of the competition, with the double being one of the largest sizes on this list
Why you should choose this portaledge:
For the reliability of a hefty and sturdy product, especially if you often climb in pairs or groups –the setup difficulty will be mitigated by an extra set of hands
If you want to save some money, but don't want to tread into value pick range, the higher end, yet still somewhat midrange, the Black Diamon portaledge may be the way to go
Last update: 2023-11-30 / Images from Amazon Product Advertising API
---
FISH Five Season "Big" Single Portaledge
If you feel like shopping OG, look no further than the FISH 5-Season! This model has been around for decades and has never failed to impress climbers with its reliability and sturdiness. Designed with machined 6061 aluminum corner pieces and 4130 Cro-Moly tubing, it won't be giving out on you. The suspension system even has 12 adjustment buckles, compared to the four of the Black Diamond! The portaledge is three and a half feet wide by six and a half feet long, sacrificing some length of extra width; so, unless you are quite tall, the spare room to the sides is a welcome tradeoff. Additionally, the portaledge weighs only 8.4 pounds, and only 12.5 with the fly – that's nearly the same weight as the Metolius without a fly! Speaking of the fly, all FISH products come with a fly included, which drives up the price, but the fly-portaledge combo is actually cheaper than most of the competition. A few other features include six daisy chains for gear management and quick and easy setup. At one of the lowest weights on this list, with a high-quality, time-tested design to boot, the Five Season "Big" Single Portaledge is a strong contender.
What makes the FISH Five Season "Big" Single Portaledge unique:
The light, yet durable, design makes hauling, set up, and rest a breeze, especially when compared to the more burdensome alternatives on the market
The all-in-one package provides some convenience for climbers who want to ensure their fly and ledge work well together
Why you should choose this portaledge:
This ledge standouts primarily due to its weight, because while it is one of the high-quality ledges on the market, it has the weight of a stripped-down portaledge
The abundance of inexpensive features makes this a well-rounded product
No products found.
---
D4 Portaledge
The D4 Portaledge is one of the more innovative options on the market right now, or at least up for pre-order right now. This ledge features many new design innovations including curved frame corners, special "bullet joiners" to make set up more comfortable and faster, an ambidextrous design, and an elimination of the spreader bar. Of course, not all these things are unique to this portaledge, but there are very few ledges out there that bring all these features together. The D4 comes in at nearly four feet by six feet, ten inches, making it one of the more massive ledges on this list! It is also quite light, at 18.8 lbs with the rainfly and haul bag included, it's one of the brightest as well. However, all these features set it up as one of the more expensive packages on this list, at a few hundred more than the FISH Double Whammy Portaledge. The price can be forgiven because D4 is one of the best manufacturers of portlaledges on the market, making some of the top portaledges out there.
What makes the D4 Portaledge unique:
The full implementation of great design ideas sets this item apart as being cutting edge in the portaledge market
The lightweight and ease of set up work together to make this ledge very user-friendly
Why you should choose this portaledge:
If you are looking for high-quality and innovation, this may be the portaledge for you
If you don't mind the relatively new company behind this product, or even if you are looking to support a new climbing company, then this portaledge maybe even more appealing
No products found.
---
Our Runner Ups for the Best Portaledges for Climbing
FISH Double Whammy Portaledge
The big brother to the Five Season Single, the FISH Double Whammy is the two-person version of the single. Coming in at the same size as the single, the Double Whammy doesn't have a whole lot of features setting it apart from the single. Some of the features unique to the double include the "Dual Dorsal" fins which can create some separating space in the middle, or you can lay them down, there are also some small changes to the fly. Overall, there aren't a whole lot of changes made to the double which justify the one-hundred-dollar price hike, and that's why we put it in the Runner Up section. It is still a great portaledge, don't get us wrong, but the single is just as big, and it is cheaper. Portaledges are typically better designed and of higher quality than most other products, so there are not nearly as many which could fit into the Runner Up category.
What makes the FISH Double Whammy Portaledge unique:
It keeps all that did the single work and avoids the unnecessary weight and additions other large-sized ledges stick with
The lightweight of this 2-body portaledge makes carrying and setup a breeze
Why you should choose this portaledge:
Because the double version is only slightly more expensive than the single, this product serves as reasonably priced, yet still high-end
If you are extra picky about finding the right portaledge, FISH has been around with their ledges for a long time – so you know you can trust their quality
No products found.
---
Our Value Picks for the Best Portaledges for Climbing
FISH Econoledge
Looking for a cheaper ledge that doesn't sacrifice quality and durability? FISH's Econoloedge is a good pick for you. It has all the quality and build of the other FISH portaledges because it is made up of the exact same frame, material, webbing, and more as the smaller, but the more finished, product – The One Night Stand. The reason we decided to include the Econoledge but not the One Night Stand because the latter had a unique and, honestly, less comfortable design. The Econoledge, on the other hand, is more traditional in its full body structure, coming in at two feet and eight inches by six feet and three inches and ten some pounds, all at a substantially lower price than most other ledges.
 What makes the FISH Econoledge unique:
Like other FISH products, the Econoledge doesn't lack in the area of weight and strength, but these features now come in at a lower price
Unlike some other cheaper options, the Cconoledge doesn't sacrifice size or add on extra weight with bulky materials
Why you should choose this portaledge:
If you don't mind sacrificing some of the bells and whistles of a more standard portaledge, the Econoledge is a great option
For the reliability put into every product FISH creates
No products found.
---
K2 KAKOON – Hammock & Tent
When you think of portaledges your mind may automatically go to rigid ledges made from a metal frame, and a sheet stretched across the middle, but there are a few more options out there for camping on a cliff. Single-point hammocks can be quite uncomfortable to sleep in on the cliffside, but hybrid options like the K2 KAKOON may just be the perfect solution to bridge the gap between convenience and comfort. The KAKOON uses an internal hammock design with an external tent; the entire product lacks any poles or tubes which cuts down on the weight tremendously – instead of the standard 10+ lbs, the KAKOON weighs only 2.4 lbs, albeit at a smaller size of four by six feet. The tent is fully enclosed and waterproof, making it the perfect solution for riding out a storm. And since the design lacks and rigid tube structure, setup is quite easy. Overall, the KAKOON is a excellent niche solution, providing convenience and portability with a more comfortable frame, the primary drawback being the smaller size. Additionally, the KAKOON is also very cheap – coming in at a total less expensive than most portaledges are without a fly.
What makes the K2 KAKOON unique:
The KAKOON is the only hammock design on our list, making it a standout option for weight and ease of setup
It is also the cheapest ledge out of all the portaledges we reviewed, winning the best value pick option if you primarily care about the price
Why you should choose this portaledge:
For those of you who don't mind trying a ledge that isn't as rigid, as the hammock lacks the structure of other options
For the very low price and the lightweight – this choice shines in this regard, making it a standout choice among the heavier portaledges in the marketplace
No products found.
---
How to Choose the Best Portaledges for Your Big Wall Climb
There are a few main factors when looking at portaledges: weight, ease of setup, size, and construction. All these factors are essential to investigate when considering which one works best for you.
The first and a more convenient aspect of your portaledge is the weight. The last thing you want to have to do is lug up a heavy and awkward metal structure up to the side of a cliff. Not only will the climb up and hauling of gear be less enjoyable, but the setup will be a pain – especially if you are setting up the portaledge by yourself. So, keeping an eye of the weight of whatever product you pick out is a great way to keep your climb enjoyable next time you decide to camp up on the walls. The primary counterpoint to the importance of weight is if you plan on spending a significant amount of time on the wall (such as a 5+ day climb) then the weight won't matter as much since everything will be heavy, so it is more important to pick up a portaledge that is big enough for you to avoid losing your mind.
As mentioned earlier when discussing weight, ease of setup is not a traditionally listed detail of portaledges when looking at the product information, but it is crucial to keep track of if you don't want to get extremely frustrated the first time you try to set up your portaledge. Things such as spreader bars can really be a pain during setup, an besides the plain comfort of being able to set up quickly, there may be situations where you need to get your portaledge ready to go before a storm hits, or it gets dark and becomes even more of a pain to set up. So, ensuring the ease of setup is relatively straight forward, and simple is going to be something you won't appreciate fully till you are tired after a days climb, hundreds of feet in the air, and still have to set up camp for the night.
Another important thing to consider is the size of the portaledge. They come in one main shape, but the size can vary slightly among models. They typically are around 7 feet long, which works well for most, but if you are quite tall, it can be worthwhile to make sure your portaledge going to be a comfortable length to sleep on and do all your cooking and eating on. Some models that are lighter tend to be smaller, so you want to make sure that the one you're looking at doesn't run that risk. The width also matters because many portaledges are designed for two, but if you intend to only use it by yourself, investing in a larger size can make both setup and lugging it up the cliff wall a pain. Still, since most people tend to do overnight camps on the wall with others, a two-person size is not a bad investment – especially since the extra space is quite nice to have for stretching out.
The construction is definitely the most important part of picking our your portaledge if the construction is poor, your life is at state. So, you want to make sure that you put a lot of emphasis on the strength and build of it. Weight will occasionally be a tradeoff for construction, as more materials and heftier materials will typically weigh heavier than fewer materials. Of course, higher quality materials will also weigh less, and certain designs will just be stronger than others, regardless of weight. So, it is smart to not look at weight and strength as a consistent tradeoff, but rather, as two separate factors.
What Else to Consider When Choosing Your Portaledge
When buying a portaledge, you may have noticed that they either come looking like tents, or just flat platforms. Occasionally, something called a fly is included. A fly is a tent-like piece which sits over the portaledge to protect you from the rain and other elements. We would recommend that you consider bringing one with you most of the time, as weather can change in an instant and your climb is going to feel pretty much ruined if you get rained on. Not to mention the benefits of some extra protection from the elements that the fly provides.
One of the more obvious factors in purchasing a portaledge is the price. If you have considered investing in one at all, your wallet may be hurting just at the thought of it. Portaledges are probably the most expensive single piece of climbing gear you can invest in. What can make it hurt even further is the idea that you may hardly use it. However, unlike a tent, which you may be ready to compare it to, it holds your life in its hands. So, cutting costs irresponsibly may not be the smartest move when considering which is best for you. It is best to stick to some of the top manufacturers when looking for portaledges and consider price last.
Summary of the Best Portaledges for Climbing
To sum up, here are the best portaledges for climbing we looked at today:
Our Top Pick
Our #2 Pick
Portaledge
Metolius Bomb Shelter Portaledge
Our Top Pick
Portaledge
Metolius Bomb Shelter Portaledge
Our #2 Pick
Last update: 2023-11-30 / Images from Amazon Product Advertising API
We looked over some of the best portaledges for climbing for camping on cliffsides. There were a lot of great options from reputable companies with long histories of quality products – so hopefully you found the right one for you. Multi-day climbs are a blast, and our comprehensive list covered the portaledges that can bring your fantasy of waking up to a misty morning with a rising sun casting oranges and reds across the valley floor a reality.
Good luck on your next adventure! Hope you found this extensive guide on the best portaledges for climbing helpful; if you did, be sure to read our other guides for all your climbing needs.
Did you find this article helpful? Check out our article on the best sun protection for climbing here since you're going to be on that portaledge anyways!
Did you find this helpful? You may also enjoy our other climbing gear reviews here.