Carrying a chalk bucket is something that heavily benefits you as a climber in a variety of different ways which makes them an essential product for most climbers. In this post, we'll detail the best bouldering chalk buckets to upgrade your climbing gear.
Although some adventures don't see the value in chalk buckets, they offer extra space, help get you ready faster and much more. While some chalk buckets are designed to be really visually appealing others are designed to be the most optimal and save you more time and money. You'll want your grip on holds when you are out climbing to be the steadiest to ensure safety whether or not you're using block, loose, or fluid chalk. Since there are lots of different uses for these products we have established our overall favorite, the runner ups, and our value picks for today's list.
After you read this post, if you still need other gear, check out our other comprehensive climbing gear guides here.
Our Top Favorite
Our Top Runner Up
Our Top Value Pick
Bouldering Chalk Buckets
Mammut Bouldering Chalk Bag
Our Top Favorite
Our Top Runner Up
Our Top Value Pick
Bouldering Chalk Buckets
Mammut Bouldering Chalk Bag
Last update: 2023-11-30 / Images from Amazon Product Advertising API
Our Favorites for the Best Bouldering Chalk Bucket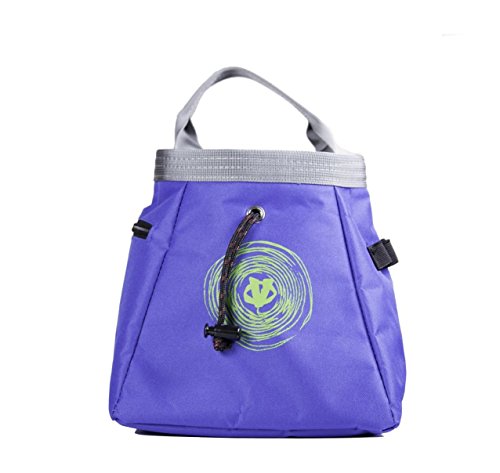 Made from high-quality ballistic nylon, the Evolv Chalk Bucket offers plenty of room for anything you need extra storage for – being 8 in deep, 8 in wide, and 8.5 in wide. As for the visual department, Evolv has a huge range of colors and designs for their chalk buckets, but with this specific entry, they come in blue and orange. One charming yet funny review we found expresses people's gratitude with the product overall, "Durable, works great. My daughter won regionals with this bag. I'm not saying you will too, but maybe" Evolv also offers a plethora of other versions of chalk buckets that are designed to suit certain demographics. But, overall, this Evolv Chalk Bucket is specified to fit beginner and intermediate skilled climbers.
What Makes Evolv Chalk Bucket Unique:
It offers a lot of extra space and pockets with zippers that are great for storing tape and any personal items you want to keep safe and sound. On top of that, the brand Evolv offers many other similar products that go with their chalk buckets such as bouldering brushes which helps get you everything you need all in one place.
Why Choose Evolv Chalk Bucket:
This chalk bucket is relatively undiscovered and new in the market but it really does pack a punch. You should choose the Evolv Chalk Bucket because it's a refined product that's the best of all words in that it's materials are high quality as well as it having plenty of space and smart design for when you're using it.
Last update: 2023-11-30 / Images from Amazon Product Advertising API
---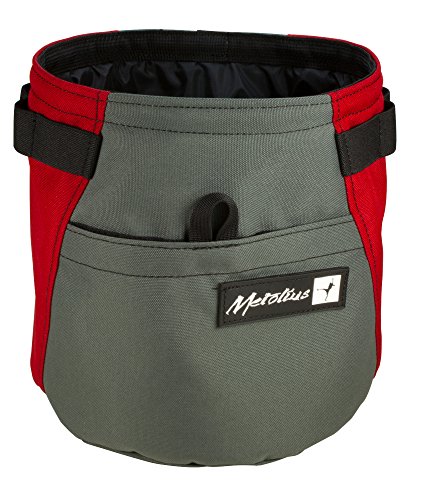 Being an impressive 13 x 12 x 2 inches, the Metolius Dust Bin Bag is the no-spill chalk bucket you're looking for and just so happens to come in five different colors, red, blue, green, black, and teal. It's sure to hold enough chalk for everyone in your bouldering group, as well as having enough storage for items that it's contents can last a fair amount of singular trips. Metolius's Dust Bin Bag also has multiple pockets including a really huge back pocket that is stretchy and able to store practically any tools you will need on your voyages. A short and simple review sums up our view on this product quite nicely, "Perfect chalk bag for any ninja warrior or boulderer. Very inexpensive and great quality. Have been using for quite some time now and would recommend to anyone!" Delving into some of the last specifics, this chalk bucket only weighs 6 ounces and is packed with a high-quality velcro pocket for easy use in the front. It makes the favorites list quite easily due to the fact that it's a chalk bucket for every skill level and has uses beyond just storing chalk which makes it one to act on.
What Makes Metolius Dust Bin Bag Unique:
This chalk bucket contains 8 elastic loops that can be used to hold brushes, while most chalk buckets only have 2 or 4 loops. Based on this element, you can deduct that the Metolius Dust Bin Bag has much more room and slots for your tools while you're out climbing – which in turn lets you have enough materials for your fellow adventurers and enough for several trips.
Why Choose Metolius Dust Bin Bag:
You'd be crazy not to choose this bag because it also possesses a grab handle that was designed so that its grip is very solid and easy to handle, almost making it seem like the bag's contents weigh less than they actually do due to the way the bag spreads out its weight.
Last update: 2023-11-30 / Images from Amazon Product Advertising API
---
Our Runner Ups for the Best Bouldering Chalk Bucket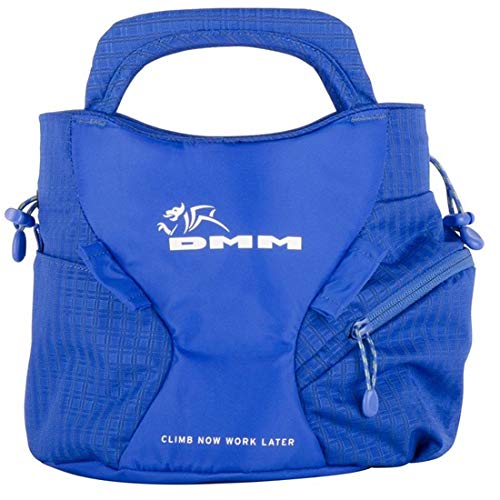 As for the runner ups, the DMM Edge Chalk Bucket comes in three steller colors – those being black, red, and blue. It contains a velcro pocket that's designed to hold it's contents inside to a high degree, as well as being accompanied with 4 brush holders for your needs. One steller aspect about the DMM Edge Chalk Bucket is how high the customer satisfaction is based on the reviews state such as, "Super freakin' cool chalk pot. Makes me feel like a pro. Super soft inside. Outer pockets rock. Only con is the loops for brushes don't fit all sizes of brushes so you have to just settle for using the pocket. Holds a lot of chalk and never leaks." and another reviewer said, "This chalk bucket is great. It's large enough to hold at least 4-5 blocks of chalk, stands upright to enable chalking both hands and has plenty of pockets and brush holders. The best part is the ridged structure of the opening that keeps it from flopping over" Moving on from reviews, one of the last features the DMM Edge Chalk Bucket contains is a stable base that helps to prevent chalk spillage and keeps everything vertical when you want it to be.
What Makes DMM Edge Chalk Bucket Unique:
This chalk bucket features an extraordinarily special feature that almost no other chalk buckets feature, that being a double-seal chalk closure. In simplified words, this means there are two seals that keep the chalk inside, not just one. Double the protection is better than just one seal.
Why Choose DMM Edge Chalk Bucket:
Calling this just a chalk bucket would seriously be a large understatement as it's full of a zip pocket, extra storage, and of course brush slots. This just adds to the list of reasons why the DMM Edge Chalk Bucket makes its customers happy.
Last update: 2023-11-29 / Images from Amazon Product Advertising API
---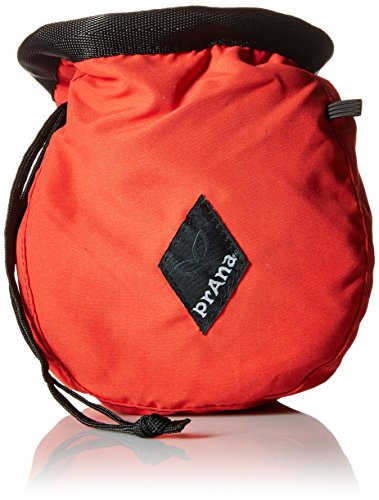 As for the third and last runner up bucket, we have the Prana Bucket Bag which is fleece-lined meaning it's quite a premium product. It certainly gets an A+ in the visual department from us simply because it's quite a stylized yet simplistic/professional looking bag. We think taking a look at a portion of the product's description can give you a better understanding of what the makers of this product are going for, "Fleece-lined chalk compartment protects hands; double-drawcord closure helps prevent spills on the hike up. Brush-holder pockets give you a spot to stash your brushes for cleaning off holds. Prana Bucket Bag rip-and-stick stash pocket holds your keys while you climb" All around, people have great things to say about the Prana Bucket Bag, "This product is awesome! I just used my chalk bucket for Triple Crown this year at Hound Ears and it was great! So easy to use and is able to be shoved into a crash pad if needed. I love how soft the inside of the bucket is and the two draw string system is nice for a clean closure system." If you take anything away from this chalk bucket's reviews it should be that you understand how well built and optimized the Prana Bucket Bag is.
What Makes Prana Bucket Bag Unique:
This chalk bucket comes with an extra big stash pocket which is sure to give you all the room you will literally ever require for a climb. It's also designed to be a unisex product which really means you can't go wrong with it.
Why Choose Prana Bucket Bag:
Due to this bucket's durability, it makes it a must pick for those out there in and out of rough and tough climbing trips.
Last update: 2023-11-30 / Images from Amazon Product Advertising API
---
Our Value Picks for the Best Bouldering Chalk Bucket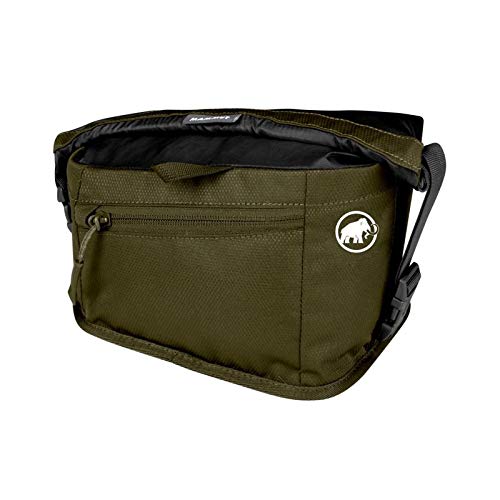 As for the value picks, the Mammut Bouldering Chalk Bag promises to be able to keep your palms dry for at least a week when you're out on your trips. Specifically, this very product is said to have zero leaks which most try to be able to do, but not many actually ensure complete zero leaks like this one. It's topped with a drawstring closure that keeps all your materials safe and sturdy while not in use.  Furthermore, its colors range from bright pink, red, black, to light blue, so it's sure to have the right color for the majority of its buyers. One of its buyers left a nice review which shows its value to the climbing community, "A little bit of everything. Really like this chalk bag. The size is perfect, when in use it stays nice and open and it packs nice and neatly when not in use. It fits the right amount of chalk and the pockets on each side serve a good purpose." In closing remarks, this chalk bucket is sure to stand upright thanks to its large bearing surface which means it can even handle to take care of your most delicate personal items.
What Makes Mammut Bouldering Chalk Bag Unique:
Made from a slick like fabric material, the Mammut Bouldering Chalk Bag actually handles heat in a specialized way that makes it output temperatures lower than the ones actually outside.
Why Choose Mammut Bouldering Chalk Bag:
On top of all its qualities, the manufacturer offers a "lifetime" warranty with this chalk bucket which means they value their product with such high regard, they are even willing to replace and help you with any issues you potentially may have with the Mammut Bouldering Chalk Bag.
Last update: 2023-11-30 / Images from Amazon Product Advertising API
---
These 8BPlus Chalk Buckets are one of a kind as they offer a "stretchy neck" that you reach into when retrieving chalk which makes sure that no chalk can escape. Not only that, but these chalk buckets designs are seriously insane and a creative overload. Every single design of these has their own names, with examples being Donald, Kiki, Felix, and Charlie. Furthermore, these are designed to be one size that fits all being a fairly large chalk bucket to accommodate your needs. But of course, the looks of the product aren't everything, as the function is far more important. Each comes with an adjustable carabiner and clip belt. When the word "unique" comes to mind when looking at the variety of chalk buckets on the market, no one can compete with the 8BPlus Chalk Bucket. Its customer feedback is very great and people seem to pick up on its unique qualities, "Oh how much more fun it is to climb with this thing!!! Not only cute but absolutely functional. Love that it has the belt and a biner." and "Smaller than some other chalk bags, but still plenty of room for a ball and/or loose chalk. Very lightweight, loops for a brush on either side, and a drawstring to keep it closed when not in use. Also friggin adorable."
What Makes 8BPlus Chalk Bucket Unique:
As already stated, the entire product can be summed up with one word – that being unique. But it's also a very special chalk bucket in that it's earned its place on the Amazon Best Sellers list for climbing products which it very much rightfully has earned.
Why Choose 8BPlus Chalk Bucket:
They offer over 20 different variations of these – with each having a little face on it and accompanied with fur to spice up the exterior of these chalk buckets. The guys over at 8BPlus really wanted to create something entirely new, by redefining what a chalk bucket looks like and what people expect their design to be.
Last update: 2023-11-30 / Images from Amazon Product Advertising API
---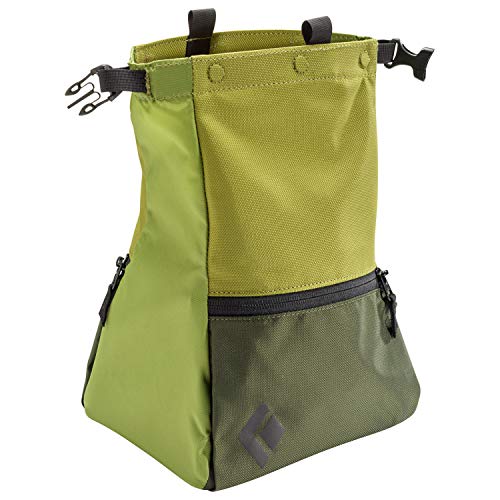 With today's final chalk bucket, the Black Diamond Mondo Chalk Pot contains a tightly zipped pocket great for protecting your valuables while it's got a magnetic closure that holds your chalk inside – only opening when you need it. It earns a spot on our value list simply because it's more affordable than the majority of the other chalk buckets. Overall, it maintains high-quality fabrics being sewn very tightly which allows it to withstand the toughest of situations. The product's magnetic design is a feature many people seem to love as evident by its reviews, "Great idea! I normally don't like to use big chalk pot, as I'm always worried about losing all my chalk. With the magnetic closure, I don't have to worry about that anymore! The magnets close up the bag as soon as I drop it on the ground." One thing the review doesn't mention is how easy this thing is to transport, only being under half a pound. You'll have plenty of room with this one and even be able to compact the chalk bucket into a smaller form for easier transportation.
What Makes Black Diamond Mondo Chalk Pot Unique:
Something not many retailers do is price match, but luckily enough, they offer a price match guarantee that ensures you're going to be getting the cheapest chalk bucket out there.
Why Choose Black Diamond Mondo Chalk Pot:
You should seriously consider choosing this bucket because it's made of completely repurposed materials which almost makes you feel good about purchasing it, you're helping the planet. And lastly, if that's not enough to convince you on the unique qualities of the Black Diamond Mondo Chalk Pot, it ships out within one business day, not two, faster is always better.
Last update: 2023-11-30 / Images from Amazon Product Advertising API
---
How to Choose the Best Bouldering Chalk Bucket for You 
Well, first of all before you look at the chalk bucket products you'll need to establish what you are going to be using your chalk bucket for, how frequent you'll be using it, and the environment it'll be used in. Typically, there are two types of chalk buckets you'll stumble upon on the market – those being ones that are made of hard plastics which are more study and on the flip side, ones that are made of soft materials like cotton with cutesy designs. Since manufacturers can't do much with the actual structure of chalk buckets, some have decided to go the extra mile and create specialized designs that are very visually appealing. So with this in mind, you need to choose if you're looking for a professional approach or a more laid back and fun look that can better suit your style and composure.
Important Things to Consider When Buying a Chalk Bucket for Bouldering
Price
As with all of your purchases, we're sure you can agree that price is a major factor. Most of the time, the higher the price the better the product, and that couldn't be more true with chalk buckets actually. Price also contributes to how long you think you're going to need the product to last – whether it's for a big ol' trip or just to use occasionally for just a bit of fun with your climbing friends. Every aspect is connected.
Reviews
Clearly, people heavily value the opinions and satisfaction of fellow buyers on a variety of products. Reviews help you understand if the vast majority of people are happy with their purchase which typically can help you gauge whether or not you'll be satisfied with your purchase as well. When looking at reviews, you'll want to aim for at least 70% overall satisfaction to ensure that the product maintains a high standard it's marketed as.
Quality
Be sure to check on how good the chalk bucket holds in chalk and ensures no leaks of materials. This not only saves you money on future purchases but makes the overall climbing experience more enjoyable. Based on its materials you'll be able to equate how well it was designed and the strength of the product. In short, quality is always something to look for as quality also helps ensure the last thing to look for – longevity.
Longevity
The last thing to consider is quite simple yet very valuable to remember to look out for, that being longevity – how long you expect the chalk bucket to last. As with most things in life, they don't last forever or even that many years when you think about it. However, most chalk buckets are made of hard materials designed to last for a good amount of time and be able to withstand the harsh environments climbers can be in.
Summary of the Best Bouldering Chalk Buckets
Wrapping everything up, here are the bouldering chalk buckets we went over today:
Our Top Favorite
Our Top Runner Up
Our Top Value Pick
Bouldering Chalk Buckets
Mammut Bouldering Chalk Bag
Our Top Favorite
Our Top Runner Up
Our Top Value Pick
Bouldering Chalk Buckets
Mammut Bouldering Chalk Bag
Last update: 2023-11-30 / Images from Amazon Product Advertising API
With no doubts in our mind, the Evolv Chalk Bucket is our overall favorite bouldering chalk bucket. It works for every skill level imaginable and provides a solid chalk bucket experience. The bucket's extra pockets and zippers also add space and security to this already great product. These chalk buckets offer a large amount of space which will ensure you're the climber with the biggest and best chalk bucket out there.
On the other hand, the clear cut winner of the runner ups title is handed to DMM Edge Chalk Bucket. Due to the large size of this chalk bucket, it's easily applicable to be shared with your climbing friends or anyone for that particular matter. It can single-handedly be put through the beater and still survive and be in a very durable and strong condition. The DMM Edge Chalk Bucket heavily competes with the Evolv Chalk Bucket, but the DMM Edge is meant for a group of slightly higher skill leveled climbers.
Thirdly, the last title of value picks belongs to Mammut Bouldering Chalk Bucket. With this product's lifetime warranty it adds a huge aspect to the title of value picks. It's even designed to be able to carry materials for weeks upon weeks – even if you go out climbing every single day of the week for many hours. You're getting a little bit of everything with this very unique chalk bucket which obviously promises a huge amount of value that's sure to last you many years, just for a one-time price. Overall, it's zippered and mesh pockets are sure to provide more than enough space for all of your endeavors.
In closing remarks, there is a chalk bucket for everyone and there continues to be new ones made each year by climbing companies. We hope that today we have assisted you in narrowing down the perfect chalk bucket for you and have helped explain what makes each and every chalk bucket its own.
Still need a harness or shoes? Read our comprehensive guide to the best beginner shoe and best harness.
Or if you're looking for more general gear reviews like what the best chalks are, go here.