Now that you have gotten into climbing, you're likely very aware that safety is a staple of the sport. Or maybe you're an expert multi-decade climber, but one thing is still certain – safety is our number one priority as it should be yours. However many climbers are wondering what's the best option to add some extra security to your toughest routes? A belay device, but not just any standard one… we only present some of the best belay climbing devices you can possibly find on the market!
Do not fret as today we have complied our overall favorite belay device that is a perfect fit for any demographic, however, we also have our runner ups which hit home as well, and lastly, our value picks which are for climbers who may happen to be on a budget. Let's not delay the party any longer, we present the best belay devices for climbing in all of the world as we know it.
Our Top Favorite
Our Top Runner Up
Our Top Value Pick
Belay Devices
Trango Vergo Belay Device
Last update: 2023-09-30 / Images from Amazon Product Advertising API
Our Favorite for the Best Belay Device for Climbing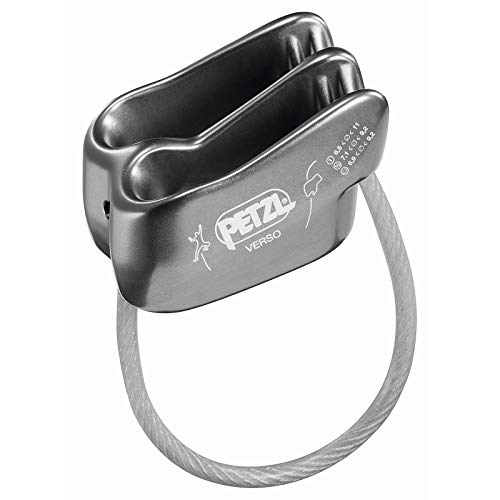 Kicking it off with a banger, the Petzl Belay Device not only adds safety to your climb but it also makes your overall experience just that much more seamless. The size it comes in is designed to fit all types of climbing you may happen to need this device for. Plus, you can even find it for a fairly cheap price. On top of all that, this Petzl is a refined device that's an improvement of a prior product.
Take a look here for more information, "Petzl created the Verso Belay Device for lovers of the Reverso who want to lighten their rack. Not only is the Verso 31% lighter than the Reverso, it's more compact. Whether you're climbing with a single, half, or twin rope, Petzl's Adaptive Rope Control technology adapts by increasing or decreasing the braking friction to suit the diameter and conditions. When you're climbing partner is working the crux, the Verso's asymmetrical grooved sidewalls decrease friction for ease when taking up slack. Use this belay device with asymmetrical biners for max efficiency."
What Makes Petzl Belay Device Unique:
We believe a huge aspect that makes this recommended belay device unique has to be the simplicity of the overall device and the quality it packs. It's even made of what they describe as "hot forged aluminum body" and comes free with a 3-year warranty, just for buying the product. That's a fantastic deal for a fantastic belay device!
Why Choose Petzl Belay Device:
The main factor as to why we chose Petzl Belay Device as our overall favorite is the love and support this brand continually gets especially with this product in particular, "This ATC has been my go-to belay device for the past few months at my local gym. I love how simple, light, yet seamless it feels when I lock the belay rope in for my climbing partner. This device works extremely well and I have had no complaints about it so far. I will say that thicker ropes (> 10.2 mm) are sometimes harder to fit into the device, but for my needs, this device works great!"
And as for another great example, the Petzl Belay Device makes for a great gift in this review, "I gave this to my sister for climbing at the gym. She loves the color of it! Not only is it a great color but it also works great! It has been perfect for what she needs and she has had nothing negative to say about it."
Petzl Verso Belay Device - Compact, Lightweight Belay Device, for One or Two Rope Strands While Climbing or Rappelling - Grey
USER FRIENDLY: Feeding slack and catching falls are accomplished using standard belay techniques, always keeping a hand on the brake side of the rope. V-shaped friction grooves enable controlled braking. Rope glides smoothly through the device.
MULTI-USE COMPATIBLE: Can be used for belay or rappel. Compatible with 8.5 to 11 mm dynamic single ropes, 7.1 to 9.2 mm dynamic half ropes, and 6.9 to 9.2 mm dynamic twin ropes.
EASY TRANSPORT: LIGHTWEIGHT and DURABLE: Compact and lightweight (55 g). Rounded design of the rope slots limits wear and extends the life of the device.
Last update: 2023-09-30 / Images from Amazon Product Advertising API
---
Our Runner Ups for the Best Belay Devices for Climbing
This interesting runner up happens to feature a clear physical and visual indicator on the belay device that alerts you if you are in fact using the product correct or not. We find that quite an interesting advancement of belay devices for climbing – we can all agree that it's quite convenient! If we could sum up this Trango Vergo Belay Device in just one word, we would have to pick safety. It's been tested and perfected so much so that it almost never wears out which makes it an extremely long-lasting product.
What Makes Trango Vergo Belay Device Unique:
An aspect that is quite exclusive to this particular belay device is the fact that many of its customers have switched from a prior belay device and stuck with this Trango Vergo Belay Device.
It's got such a good reputation it's built a following over the years, here is a look, "I used Gri Gris for a long time before moving to the Vergo. It does take a little time to unlearn Gri Gri habits and get used to the Vergo, but once you do (which honestly doesn't take very long) it is an excellent experience. Feeding is just so much better! Now working with a Gri Gri feels downright laborious. The device locks up very quickly during a fall, is not susceptible to override of its action, nor does it tempt you even to try to override its action."
If you want an even more detailed review for Trango Vergo Belay Device you're in luck, "For these reasons, the device inspires confidence for all involved. When the climber begins climbing again after a fall, it takes a little time to learn how to interact with the device to quickly and smoothly begin feeding again, but once you learn, it's second nature. Sets up nicely when belaying a second direct from anchor. The only edge I would give to the Gri Gri over the Vergo is that the lowering is slightly smoother with the Gri Gri. Bottom line: make the switch to the Vergo, you won't regret it"
Why Choose Trango Vergo Belay Device:
Trango Vergo Belay Device has so many perks and great design qualities that lead to us deciding to pick this fantastic belay device for our second runner up, "The world's most ergonomic belay device. Never a need to override the device. Horizontal feeding for more efficient slack management. Smoothest feeding assisted-braking device available. Compact design, fits easily into your hand. Clear physical and visual indicators reaffirm correct usage."
TRANGO Vergo | Rock Climbing Belay Device, Blue
SMOOTH & SIMPLE - The Vergo is the world's most ergonomic belay device; While most devices are meant to grab a rope, the Vergo is designed to catch a climber; Palpable smoothness, ease of use, and unparalleled safety set the Vergo above of other market devices
INTUITIVE USE - Designed with the help of a Ph.D. in ergonomics, the Vergo functions as naturally as possible; Physical and visual indicators reaffirm correct usage, while designated places for your thumb and index finger allow comfortable handling without interfering with the device's breaking action
ERGONOMIC DESIGN - Rather than feeding vertically like other assisted braking devices, the Vergo feeds horizontally with a more natural arm motion, resulting efficient slack management and reduced fatigue
Last update: 2023-09-30 / Images from Amazon Product Advertising API
---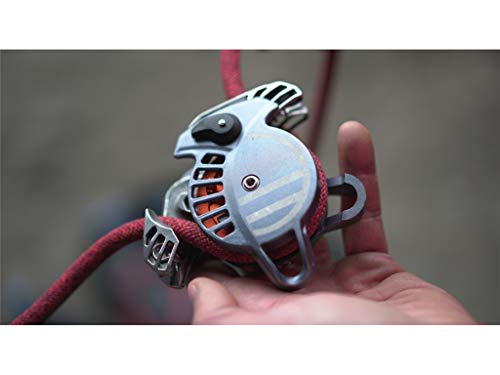 Moving on, the Revo Belay Device offers a premium and strong belay device experience that you just may be missing in your life. It's such an easily accessible device that all you have to do to use it, is apply it – that's all. A unique aspect of this product is that to minimize accidents that may happen from incorrectly loaded belay devices, Revo's Belay Device is designed to be bi-directional, which if you're not aware, means that the device works in both directions which just adds to the overall ease of this device.
Here's a deeper look, "The long-awaited Wild Country Revo Belay Device is finally here, and it lives up to the hype. While it should still be treated as a device without a backup locking feature, and proper attention is required to operate it, the Revo is an assisted braking device with features that contribute to your climber's safety. This also makes it simple for someone who is left-handed to use the device without having to adapt their belaying technique. Additionally, the emergency locking function is panic-proof, and can't be overridden by incorrect handling."
What Makes Revo Belay Device Unique:
The Revo Belay Device not only attracts newcomers in climbing but also people who have been in the industry for decades, here is an example of that latter demographic, "After 21 years of climbing, this is quickly becoming my favorite cragging belay device. Most importantly, it belays with the same technique that is used for an ATC/tuber device. Paying out or taking in slack is exceptionally smooth – more so than any device I have ever used, even with thick ropes. When braking the jaws bite solidly even on skinny ropes. In the event that one does not brake when the climber falls, the assisted lock activates cleanly. Unlocking the device in this case is as simple as putting the brake strand back into locked off position and tugging down a bit. Lowering is easy. Just put both hands on the brake and lower as you would with an ATC/tuber. Again the assisted lock engages if you lose control. Again this can be released by putting the brake strand back to brake position and tugging down a bit. Because the device is used like an ATC/tuber it is not great for a lot of hang dogging – the lock assist does not activate simply by taking, so there is no opportunity for the belayer to relax his or her grip. In this situation, a Grigri is a bit easier. Overall a superb device."
Why Choose Revo Belay Device:
This Revo Belay Device comes packed in with a LIFETIME warranty which just goes to show how confident they are in their product. It's also designed to lower the stress levels of climbers who equip it due to it's "panic-proof locking mechanism" which will lower the chance of error to just about 0%, you can't really beat that now, can you?
On Sale
Wild Country Revo Belay Device - Gunmetal/Tangerine
Has a completely panic-proof locking mechanism. The Revo has no method of over-riding the locking mechanism, during belaying, or when lowering a climber.
Is bi-directional, the locking function works regardless of the rope orientation.
Has an intuitive belaying method, which requires no changes to standard belaying technique.
Last update: 2023-09-30 / Images from Amazon Product Advertising API
---
Our Value Picks for the Best Belay Devices for Climbing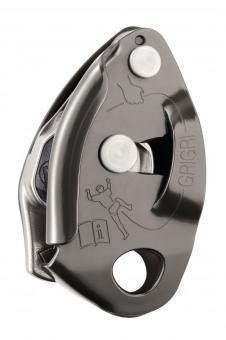 Coming in red, blue, or grey for those darker oriented climbers, the Grigri Belay Device comes with a price match guarantee which is sure to help get you some of the cheapest prices on the market for all recommended belay devices. In particular, this device is designed for the more experienced climbers out there as it's qualities may get slightly overwhelming for those more beginner type climbers. And oh, perhaps the biggest selling point, the price match guarantee we just mentioned.
What Makes Grigri Belay Device Unique:
Out of the five belay devices on today's list, the Grigri Belay Device has the most perks and additional design tidbits by far. It's actually quite surprising to us that they are selling this device for such a low price when you take into account everything you're getting, "Rope installation diagram is engraved on both the interior and exterior of the device. Camming mechanism enables exceptional descent control when lowering. Ergonomic handle and progressive cam action allow you to easily lower a climber with smooth descent control. Durably constructed with aluminum side plates, stainless-steel cam and friction plate and a reinforced nylon handle. Certified to CE EN 15151-1 and UIAA standards."
Why Choose Grigri Belay Device:
This fantastic and recommended belay device has gone through the wringer and been perfected to a really high level. The reviews even seem to reflect that very statement, "The Grigri has been tried and tested by many climbers and when used properly is one of the safest belay devices on the market. If you decide to purchase this make sure you have the proper knowledge on how to use the device and how to load the rope. Always double-check that the rope is loaded properly before allowing your climber to climb and always make sure that anyone you lend the device off to also know how to use the device properly."
Moving on, here is an even deeper look at a review, "This device allows my 9.8mm rope to pass through the device with minimal snagging when letting out slack on lead and allows for a controlled lowering of my climber after a climb. This is not an auto-locking device, it is assisted breaking though so as a climber I have a little bit more peace of mind with a belayer using this device over a classic tube-style device in the off chance that my belay gets knocked out by a falling rock and is no longer able to maintain a hand on the brake strand."
Petzl GRIGRI Belay Device Gray
Belay device with assisted braking for 8.9 to 11 mm rope
Rope compatibility : For use with single ropes between 8.9 and 11 mm in diameter
Material(s) : aluminum side plates, stainless steel cam and friction plate, reinforced nylon handle
Last update: 2023-09-30 / Images from Amazon Product Advertising API
---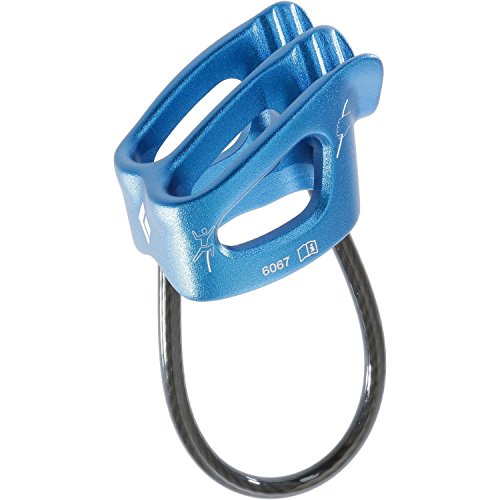 Among some of the best belay devices for climbing and last but not least, the Black Diamond Belay Device works with ropes 7.7 to 11 mm and won't cost you your wallet. This product's durable cable will hold its shape no matter the situation and even will resist getting caught up between ropes which is exactly what most of us want in a belay device.
What Makes Black Diamond Belay Device Unique:
Despite the previous belay device being meant for the advanced climbers, the Black Diamond Belay Device suits those of all skill levels. Here is a further look at its perks from their website, "High-friction mode offers 3 times greater hold and stopping power than regular friction mode. Machined windows through device for weight savings."
Why Choose Black Diamond Belay Device:
As with today's last belay device and our second value pick, you're really getting great value for the money you pay and this company remains a strong first choice for many climbers, as evident by this review, "Black Diamond is a reliable brand I will also use and trust. This is my first personal ATC, but I have used these devices for about 4 years now with my climbing experience. The teeth help to maintain control of the belay without causing too much friction. The carabiner is strong and reliable. I am incredibly satisfied with my purchase and can't wait to get outdoors with it!"
On the other hand, here is an additional review for Black Diamond Belay Device that loves the product for other reasons, "I bought this package instead of a belay and a beaner separate because it was a little cheaper. I love the teeth on the belay and like that it very easily guides the rope. It's very light and I hardly feel it while it's on my harness walking around. I've been using it for a few weeks now and have no issues so far!"
Black Diamond ATC-XP Belay Device (Blue)
High-friction mode offers 3 times greater hold and stopping power than regular friction mode
Machined windows through device for weight savings
Durable cable holds its shape and resists getting caught up between ropes
Last update: 2023-09-29 / Images from Amazon Product Advertising API
---
Why You Should Invest in Quality Belay Devices 
Overall, we've found that using a superb belay device makes anyone's climbing experience a million times safer. Just one fall can put you out of rock climbing for the rest of your years, so being the safest you humanly can be is very meaningful. If you happen to fall, a belay device will typically automatically apply friction and lock you into place to help you from getting into a real tough spot. Imagine it as a life hack that can literally save your life if in a dire situation, which can make it kind of a necessity for some climbers.
On the other hand, investing in quality belay devices not only benefits you but really truly gives back to the community that is such a big and constant part of many of our lives, this community is a home for many and is a safe place for those young and old. Showing your support for climbing manufacturers couldn't be more important because of the many positives it gives to you and everyone else in this community.
Either way, now that it's been explained, we hope you can understand the sheer amount of safety it adds to your climbing experience. We hope we've managed to at least sway you over to thinking about purchasing one of your very own belay devices.
How to Choose the Best Belay Devices for You
Once you've expressed your interest in the belay device field, you might need some advice on where to turn and how. So, first of all, before you look at the huge amount of belay devices and additional products/accessories, you'll need to establish what you are going to be using your belay device for climbing for, how frequent you'll be using it, and the environment it'll be used in (indoor or outdoor). Typically, the quality in belay devices heavily differences from product to product – with some being made of plastic materials or others being made of much higher quality metal.
Since manufacturers can't do much with the actual structure of belay devices since its an accessory that's designed for safety and helping you climb, some have decided to go the extra mile and create specialized designs that are very visually appealing. So with this in mind, you need to choose if you're looking for a professional approach or a more laid back and fun look that can better suit your style and composure.
Personally, we recommend taking a look at reviews, speaking with friends, as well as employees of climbing shops before you make that big decision of purchasing your belay device considering how many of them can be on the pricy side.
Reviews honestly are a big ol' necessity. The community we are all a part of will be able to help you advise which products work best, so basing the best belay device you find on reviews in absolutely an element to consider.
Summary of the Best Belay Devices for Climbing
To sum up, here are the best belay devices for climbing we looked at today:
Our Top Favorite
Our Top Runner Up
Our Top Value Pick
Belay Devices
Trango Vergo Belay Device
Last update: 2023-09-30 / Images from Amazon Product Advertising API
At the end of the day, we wholeheartedly believe the best belay device out of the five different ones discussed here today would be the fantastic and affordable Petzl Belay Device. If one word was necessary to describe this great product, certainly it would be quality. Designed by masters in the sports accessory industry, this belay device for climbing will be sure to make your climbing experience just that much more enjoyable and everlasting.
Secondly, for our best runner up, we really have to choose the stylish Trango Vergo Belay Device. Its simple design will help you when in a rough situation and add that little bit of extra security that all of us climbers seek in our careers. Once you've tried this belay device out you really won't want to go back to any others.
And of course, lastly, the last but not least title for the best value pick is handed over to Grigri Belay Device. One of the reasons we believe this to be the best value pick is the fact that this device is loved throughout the majority of the community and is always praised for its great and affordable prices that simply cannot compete with most other brands out there.
With a lot of things in modern society, people's likes and dislikes vary a lot. Today's discussion about the best belay devices should be able to help guide you on your purchase journey and more importantly the future voyages of your rock climbing adventures. If there's one huge takeaway from today, we hope it's that we've raised your awareness on the differences in each belay devices – aka what makes them unique, & the aspects that make others superior/inferior. But most importantly, just have fun, that's what we are all here for!
Did you enjoy this article? You might also be interested in our other climbing gear reviews here.
> Best Climbing Nuts for Trad Climbing
> Best Belay Gloves for Climbing
> Best Belay Glasses for Climbing