Before you rope up to climb or belay, you need a climbing harness. And, because a harness helps keep you and your climbing partner safe, it's important you put a little thought into which harness to purchase.  With a seemingly infinite amount of climbing harnesses to choose from, selecting the right one can be a daunting task.  That's where we come in.  We have scoured the internet and consulted the online climbing community to find the best climbing harnesses.
There exist a variety of components to look for when choosing a climbing harness.  Below we'll explain the benefits of comfort, weight, durability, gear loops, etc. that you should look for when purchasing your next harness.  Whether you're a beginner, intermediate, or just a new climber looking to get out on the crag, we'll help direct you to the best climbing harnesses for you.  Let's get started.
Still need other climbing gear like the best beginner or best intermediate shoe? Check out our other comprehensive climbing gear guides here.
Our Top Favorite
Our Top Runner Up
Our Top Favorite
Our Top Runner Up
Last update: 2023-09-20 / Images from Amazon Product Advertising API
Our Favorites for the Best Climbing Harnesses

These are the best of the best when it comes to climbing harnesses.  When money is not a factor, and you simply want a harness that is tried and true.  Through first-hand experience and vast research of Reddit, Mountainproject, and various other climbing forums, we have chosen these harnesses as the gold standard for best climbing harnesses.
Topping our selection of the best climbing harnesses is the uber versatile, quiver-killer from Arc'teryx.  From rock climbing, alpine or ice climbing, this harness will suit your every need.
First, this harness does a fantastic job of evenly distributing weight.  This characteristic results in a comfortable fit, no matter if you're hanging or belaying.  Such comfort is a result of what Arc'teryx refers to as Burly Double Weave four-way stretch fabric.  The innovative technology creates the illusion that the climber isn't even wearing a harness.  Additionally, the elasticized leg loops further add to comfort by providing a snug fit.  Whether you're wearing thick ice climbing pants or 'rocking' shorts, the harness offers a worry-free fit around your legs.  Unlike many climbing harnesses, the Arc'teryx FL-365 doesn't feel like a diaper.  It's light, unrestricted, and low-profile.
Not only does the material make this harness super comfortable, but it also makes it lightweight and packable.  You can literally roll it up like a burrito- saving you a little space in your pack on the approach.  Be it climbing in the gym, crag, or ice; you'll be flying up the wall due to how light this thing is.
Finally, we get to the versatility aspect. Anyone who has ever climbed in this harness raves about how they can see themselves using it for any form of rope climbing discipline. Being fast and light makes it great for gym or sport climbing.  The abundance of gear loops makes it an excellent choice for trad and ice climbing. The Arc'teryx FL-365 climbing harness is indeed a jack of all trades.
The only buyer beware on this harness is that it is not cheap.  You get what you pay for with this one.  As far as climbing harnesses are concerned, this is undoubtedly on the higher end of the price spectrum.
What makes the Arc'teryx FL-365 unique:
Warp Strength Technology separates the webbing to distribute weight and improve comfort evenly
It's lightweight, packable, comfortable, and durable
Why you should choose this harness:
Supple comfort and versatility
It is built to last.
Last update: 2023-09-20 / Images from Amazon Product Advertising API
---
Next on our list of the best climbing harnesses is a fantastic option from the fine folks at Black Diamond.  Contrary to the name, the Chaos is that provides comfort and functionality.  Black Diamond touts the Chaos as their most durable, most comfortable harness on the market.  With such lofty praise from the source itself, it's certainly important to take notice.
For starters, this harness is light.  At 14 ounces, there's not much holding you back.  The light construction also provides breathability.  So, when you're out on the crag all day in the midsummer heat, you can be a little more at ease than your buddy wallowing in the shade.  Such breathability and comfort are a result of the even weight distribution.  Black Diamond implements Kinetic Core Construction.  Essentially, a liquid crystal polymer laminate serves to better distribute weight throughout the harness.  End result: happy climber.
Comfort is fun and everything, but if the harness can't haul up your gear, then one might not find it entirely useful.  That's not the case here.  The  features gear loops that provide more than able space for your draws and cams.  Whether you're trad climbing or just working out moves at the gym, this harness will suit your needs.
What makes the Black Diamond Chaos unique:
Kinetic Core Construction provides a breathable and comfortable load distribution
Gear loops sit away from the harness, making it easy to rack your gear
Why you should choose this harness:
It is an affordable option that will satisfy your needs (assuming you are not ice climbing)
It is the best offering from Black Diamond- the most trusted name in climbing
No products found.
---
Our Runner Ups for the Best Climbing Harnesses
These harnesses just missed the cut.  If you somehow only had to choose from the following two harnesses, we can assure you that you'd be more than satisfied.  Whether you're a beginner or intermediate, these are among the best climbing harnesses.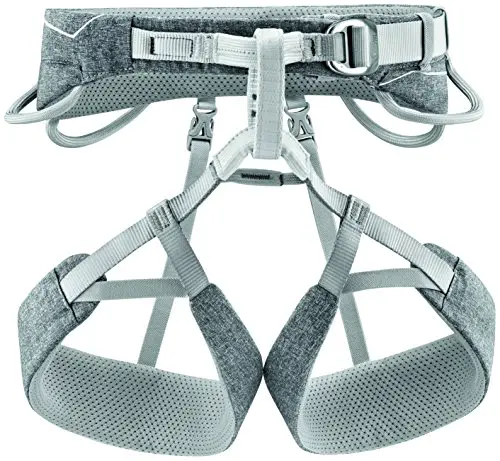 You could absolutely make the argument that this should be in the above category.  Regardless, it's a reliable harness that will suit most of your needs- with exception to ice climbing.
If you haven't noticed yet, comfortability is the name of the game when it comes to climbing harnesses.  There may not be a more comfortable harness than the Sama.  The thin leg loops are perfectly elasticized to avoid ride-up and rubbing.  Additionally, the tapered design lacks bulk, allowing for greater mobility and less restriction.  Climbers often cite this harness as the most comfortable in terms of prolonged hanging and belaying.
The Sama features enough space for gear loops, while maintaining a decent weight.  Combined with the comfort to belay all day, you have a harness that will meet everything a recreational climber can throw at it.
What makes the Petzl Sama unique:
ENDOFRAME technology promotes weight distribution
Flexible straps and elasticized leg loops enhance mobility
Why you should choose this harness:
It comes with a protective carrying bag
You place a premium on comfort
Last update: 2023-09-30 / Images from Amazon Product Advertising API
---
Looking for a sport climbing harness to fulfill your needs on the crag and in the gym?  Look no further.  The Solution is just that.
Three bands of webbing evenly distribute weight across the entire waist belt.  The also features a speed buckle for easy entry and exit into the harness.  Also, weighing only 11 ounces, you can hardly tell your waist in enveloped in a harness.  The elastic risers serve to better dial in the fit and maximize your comfort.
What makes the Black Diamond Solution unique:
At 11 ounces, it's one of the lightest harnesses on the market
Adjustable elastic risers allow you to perfect the fit and also quick release when you have nature calls for another type of business
Why you should choose this harness:
Lightweight and unrivaled comfort
You want something affordable and don't require all the bells and whistles of a trad or ice harness
No products found.
---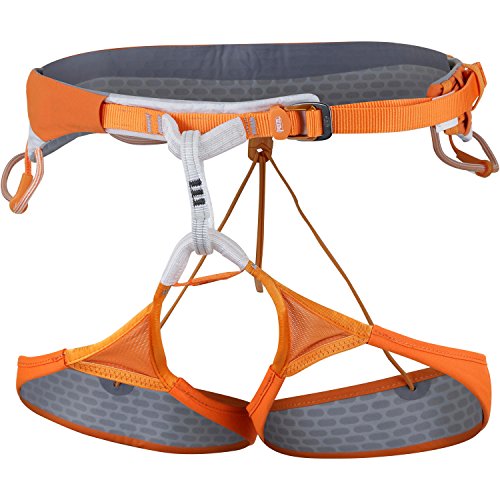 While this harness comes with a hefty high-end price tag, you get what you pay for with it.  The Sitta is a fantastic do-it-all option from Petzl.
Users love this harness for its versatility, features, and comfort and mobility.  The minimalist design leads to a lightweight harness that allows free range of motion.  The elastic on the fixed leg loops fit whatever you have underneath, resulting in an unrestricted feel.  There are even ice clipper slots on each side if you're one of those adventurers that like digging into the ice.  To top it all off, the Sitta packs down so you can easily stuff it in your backpack on longer approaches.
Because of all this, the Sitta is a favorite of ski alpinists, mountaineers, and sport climbers alike.
What makes the Petzl Sitta unique:
WireFrame Technology provides excellent load distribution and comfort
Elastic leg loops enable natural movement
Why you should choose this harness:
It is lightweight and incredibly comfortable
Versatility, versatility, versatility
Petzl Unisex_Adult sitta Strap, Orange, M
Waist circumference: 74-84cm/29.1-33.1 inches; Leg straps: 52-57cm/
Certification(s): CE EN 12277 type C, UIAA/ material: polyamide, polyester, EVA, polyurethane, aluminium, high-strength polyethylene
Weight: 270g
Last update: 2023-09-30 / Images from Amazon Product Advertising API
---
Our Value Picks for the Best Climbing Harnesses
So, you spent all your money on climbing shoes, a rope, draws, and a gym membership.  You still need a reliable harness, but on the cheap.  "Great," you say, "I'm gonna have to ask the gym if they have any harnesses they're about to get rid of."  Not so fast.
Believe it or not, there are some affordable options when it comes to a harness.  So, fear not.  Here are some of the best budget climbing harnesses for climbers.
This is perhaps the most popular budget harness out there.  It is Black Diamond's best-selling climbing harness.  And for good reason.  It's an affordable option that will satisfy the needs of any beginner or intermediate climber.
The Momentum – providing you ample racking options for trad or sport climbing.  Additionally, the haul loop on the back allows the climber to trail an extra rope up for multi-pitch climbs.
Do you have skinny toothpick legs, or are you stomping around on massive tree trunks?  Not a problem.  This harness has adjustable leg loops to accommodate your thigh width.  The adjustable leg loops also come in handy for hot days when you're hanging at the crag and just want a looser fit.
Oftentimes, the  will be available in a package- including the harness, a locking carabiner, a belay device, and a chalk bag.  At a friendly price, this is an awesome entry-level package that fulfills the necessities.
What makes the Black Diamond Momentum unique:
Adjustable leg loops provide a wide range of adjustability
It features the winning combo of being burly and breathable
Why you should choose this harness:
You want an affordable climbing harness that can do a little of everything
You like comfort and adjustability
No products found.
---
This entry-level offering from Mammut offers a lightweight, comfortable fit that won't break the bank.  Whether you're a gym climber looking for something that also suits your needs on the crag, or you're a sport climber looking to dabble in trad, this harness has your covered.
, this harness is comfortable and breathable.  Adjustable leg loops allow a greater range of fit at the convenience of a pull-tab.
Next, offset gear loops provide a better fit and functionality to a wider range of sizes.  This will serve your every need when it comes to beginner and intermediate climber.
And to top it off, will last for years due to the plastic guard that reduces normal wear and tear when you walk.
Bottom line: if you want functionality and durability at a wallet-friendly price, then this harness deserves your serious consideration.
What makes the Mammut Ophir 3 Slide unique:
Webbing on the belay loops indicates if abrasion results in critical damage
Droppable leg loops allow for quick bathroom breaks
Why you should choose this harness:
You need a breathable harness at a reasonable price
You need a do-it-all harness that will last
No products found.
---
How to Choose the Best Climbing Harness for You

We've given our list of the best climbing harnesses.  Now it's time to put it all together.  And to do that, you have to know how to choose the best climbing harness for you.
Depending on the type of climbing you plan on doing, you're going to place some consideration on gear loops.  If you're trad climbing, then you're going to want a harness that has better gear loop offerings than if you are solely using a harness for gym climbing.  Similarly, for multi-pitch and big wall climbing, you will want a harness with a sturdy haul loop.
Do you primarily climb in the gym, and stick to single pitch sport routes when you go to the crag?  If so, consider something on the lighter end of the spectrum.  You don't necessarily require something that is known for its comfort since you won't be spending as much time in it.  Conversely, maybe you spend most of your day on the wall and often find yourself doing hanging belays.  In that case, you will place a premium on comfort and may not necessarily care how light your harness is, so long as it's not pinching you.
Body type also comes into play when considering a harness.  Climbers come in all shapes and sizes.  Adjustable leg loops can provide a better fit for those with large or small thighs.  How a harness fits in the waist is perhaps the most crucial aspect to when determining what is right for you.
Next, are you planning on ice or alpine climbing?  If so, you will most certainly want something that does not soak up water.  More specialized harnesses are available for these disciplines.  These harnesses will come complete ice clipper slots and will often feature quick-drying materials.
Ultimately, the most important factors to consider when choosing the best climbing harness for you are fit and function.  Focus on these two principles above all else, and you will surely find something that works for you.
What to Look for in Price, Comfort, Belaying, and Versatility
As you've probably noticed by now, there are a lot of factors that differentiate climbing harnesses.
There's the matter of price.  While there are definitely some harnesses that approach the realm of $200, you can always find something suitable for less than $100.
Regarding comfort: no harness is going to be as comfortable as not wearing a harness.  However, most options will work just fine.  It is important to consider padding and weight as factors contributing to comfort.  If you have to wear a heavy harness all day, odds are you're probably not going to be that comfortable.
Belaying and comfort go hand in hand.  Any climber would rather climb than belay.  But belaying is a part of climbing, so best to be comfortable while doing it.  Because let's face it, belaying can become very uncomfortable very fast.  This is particularly applicable when it comes to hanging belays.  Avoid any harness that pinches you or irritates certain spots when you're belaying.  Choosing a properly fitting harness can help you avoid this nightmare.
On the subject of proper fit, it should be noted that there are men's and women's specific climbing harnesses.  This is merely a guideline to streamline fit and comfort.  Whatever works best for you should dictate your climbing harness choice above all else.
Eventually, you climb long enough and you delve into different styles of climbing.  You're going to want a harness that allows you to practice multiple disciplines.  Fortunately, there exist plenty of versatile harness options.  Even in this article, we list a handful of harnesses that are great options for a crossover of gym, sport, and trad climbing.  General climbing harnesses exist in droves.
Saftey and Climbing Harnesses
You're probably wondering about safety when choosing a harness.  That is definitely a valid concern, because when you're 100 feet off the deck the last you want to worry about is if whether or not you harness will catch your fall.  Fear not, for every harness available to the climbing public has passed countless safety tests.  Climbing harnesses are engineered to withstand any kind of fall you can throw at them.  Climbing harness must pass a safety load testing.  Safety systems are measured by kiloNewtons (kN).  1 kN is equal to 225 pounds of force.  Standard climbing harnesses typically handle 15 kN at the very minimum- which is to say it they hold up to your everyday whipper.
Assuming you use the belay loop for belaying and the tie-in loops for climbing, you will have nothing to worry about with regards to climbing harness failure.  Taking proper care of your climbing harness will ensure it performs to its maximum safety capacity.  Keeping your climbing harness dry and stored at a friendly temperature will help prolong its lifespan.  Regularly inspecting your climbing harness for wear and tear is essential for functionality and safety.  Any type of abrasion or color change to your climbing harness should be noted and considered for retirement.  Some who climbs every day should consider retiring his/her climbing harness after about a year, whereas casual climbers might be able to wait several years.  Regardless, it is best not to wait too long to retire a climbing harness.
Summary of the Best Climbing Harnesses
Wrapping everything up, here are the climbing harnesses we went over today:
Our Top Favorite
Our Top Runner Up
Our Top Favorite
Our Top Runner Up
Last update: 2023-09-20 / Images from Amazon Product Advertising API
Whether you are new to climbing, or you have been climbing for a few years and are seeing progress across various disciplines, we have provided a comprehensive list of the best climbing harnesses.  There exist a multitude of factors to consider when researching harnesses to purchase.  Follow this guide, and you will be well on your way to finding a climber-harness relationship that will hopefully last years.  The truth is that most harnesses are fantastic.  It mostly depends on finding the harness that works best for your needs.  Happy climbing!
Need the best climbing shoes? Check out our comprehensive guide to the best beginner shoe here.
Or if you're looking for more general gear reviews, go here.