Climbers expend high levels of energy in short periods of activity, especially when climbing at the gym. Every active body needs fuel, and spending a whole day rock climbing means that constant snacking and refueling is necessary. Remember, stay hydrated as well as fed during your climbing day!
You should strive for a balanced diet at all times, as a good intake of carbohydrates, fats, and protein will ensure that your body remains sufficiently fueled at all times. However, even the most disciplined eater will benefit from a snack in the middle of a gym session, or a good recovery meal afterwards. Here we compile a list of the best climbing snacks.
If you find this post helpful, be sure to also check out our other climbing gear reviews here.
Our Top Favorite
Our Top Runner Up
Our Top Value Pick
Climbing Snacks for Rock Climbing
Peanut Butter and Jelly Sandwich
Last update: 2023-09-29 / Images from Amazon Product Advertising API
Our Top Picks for the Best Climbing Snacks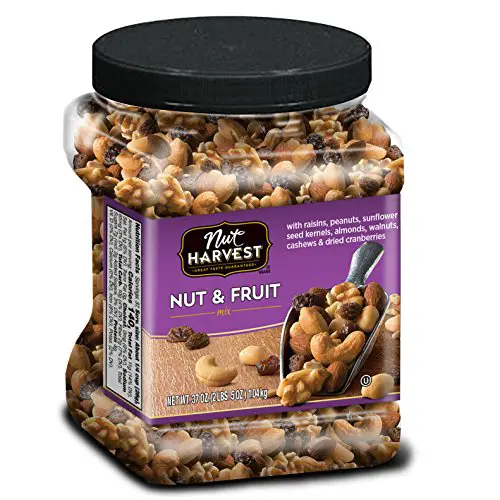 Nuts are calorie dense, delicious, and easily transportable, and thus are a great choice for the best climbing snack. Plus, they're small, and easy to snack on throughout a climbing session. Constant snacking keeps your energy up, allowing peak performance throughout a climbing session. Plus, lots of variety exists, and every climber can choose their favorite nut to eat. Plus, they're incredibly portable, and as one user says "I'm a big fan of pocket almonds. I just throw a few fist fulls of almonds in a few pockets and that will get me through most multipitch climbs."
What Makes Dried Nuts Unique:
Easily Portable
Calorie Dense
Why Choose Dried Nuts:
You like to constantly snack through a climbing session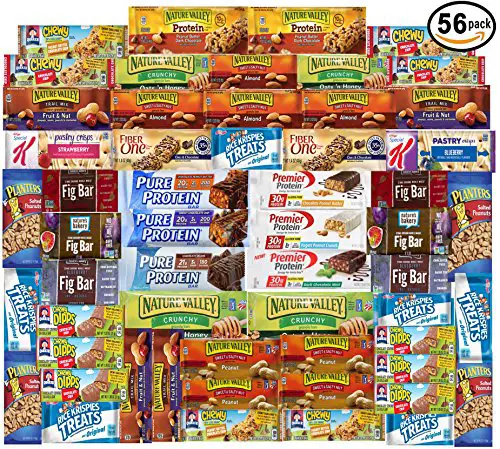 ---
Designed to pack a whole lot of energy and nutrients into a small package, the market is saturated with a multitude of granola bars all designed to refuel your body. This makes them a good choice for the best climbing snack. There is a huge variety within granola bars, so be sure to read the ingredients and try a few out before you settle on your favorite. Most, though, will be grain based and full of easy to use carbohydrates, but also contain enough protein and fats for long term energy release. Plus, the added sugar keeps energy up immediately.
Our favorites include Clif Bars, complete with a (you guessed it) climber on the packaging. Grain based and calorie dense, these are found in nearly every grocery and convenience store nowadays. Lara Bars are fig-based and simply made, containing nothing more than a few ingredients. Users love their simple, all natural preparation. RX bars are another brand of granola bar, and one user reports that "I find they taste better and keep me more full than Clif Bars."
What Makes Granola Bars Unique:
Good combination of carbohydrates, fats, and proteins
Easily transportable
Lots of variety
Why Choose Granola Bars:
You like a filling, portable snack that you eat during a break from climbing
You like the variety available on the market
Our Runner Ups for the Best Climbing Snacks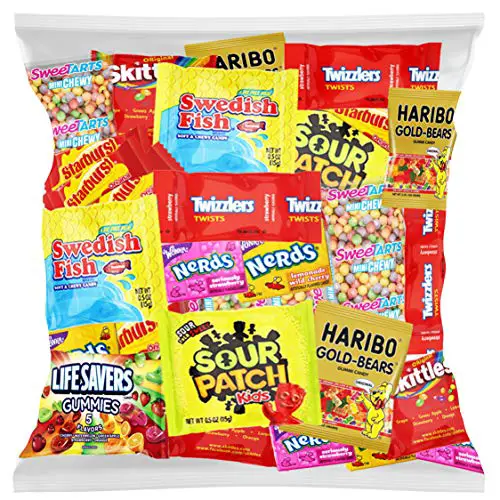 "Candy?" the nutrition-minded you may scream. Yes, candy makes a great climbing snack, especially for short but high output climbing like gym climbing or bouldering. Basically just sugar, candy supplies the body with readily available energy available to use now. Great on a belay ledge, where you need an extra boost before getting on the sharp end, or between burns on a bouldering project, where the body needs instant fuel to supply muscles when climbing at your limit.
Candy was far and away the most commonly recommended climbing snack online, particularly for multi-pitch climbing. Most users gave no reason why, but in addition to getting a boost from the sugar, a delicious, indulgent snack also nourishes the mind, regaining psyche and composure high on the wall. Unfortunately, the health effects of too much sugar relegate this snack to the runner up category, but candy remains a solid choice for the best climbing snack.
What Makes Candy Unique:
High sugar content for instant energy
Indulgent, delicious flavor keeps psyche high
Consuming too much is bad for health and teeth
Why Choose Candy:
You want to refuel between high-output burns
You need a mental boost
---
Fresh Fruit
Fresh fruit has a benefit not many other snacks have: fruit is full of water, simultaneously hydrating the body while also providing nutrition, though mostly in vitamins, nutrients, and sugar. Thus, fresh fruit is our runner up for the best climbing snacks.
Like most things on this list, fresh fruit is a large category, so each climber can choose their favorite option. When stuffing fruit into a backpack, choose something that travels well, like an apple and an orange, but really, anything works in the proper container. Don't underestimate the hydrating power of a juicy orange, as one Mountain Project user recounts: "My partner and I ran out of water late in the day once, but we had a couple oranges. They fired us up for another few climbs. The combination of sugar, carbs, and juice is awesome."
Dried fruit is also a good option, but lacks the water content of fresh fruit. Save the dried fruit for excursions where weight or storage is a problem, such as for alpine routes or long multipitch days.
What Makes Fresh Fruit Unique:
High water content
Lots of vitamins and sugar
Most is easy to transport
Why Choose Fresh Fruit:
You like foods that hydrate as well as nourish
You want sugar but prefer natural foods to candy
Our Cheap Budget Picks for the Best Climbing Snacks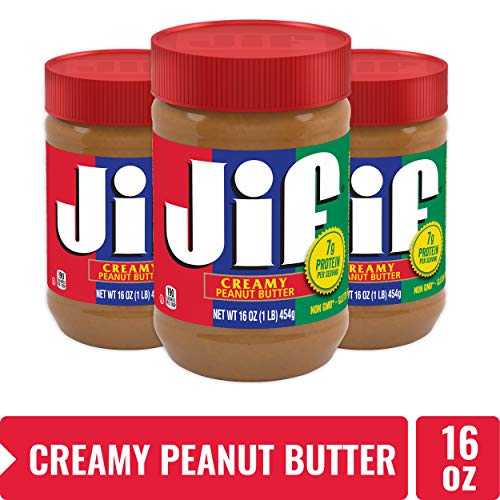 Bread, peanut butter, and jelly. Carbohydrates, fats, proteins, and sugar, all sandwiched between two slices of bread. Is there a better cheap climbing food? I doubt it. This makes a peanut butter and jelly sandwich our top cheap budget pick for the best climbing snack.
Like its cousin dried nuts, peanut butter is calorie dense and, importantly, very cheap. The protein and fat contained in this puree will keep you satisfied for hours after eating, and is a great way to refuel in the middle of a climbing session. The bread adds carbs, which are quickly digestible and allow your body to regain fuel quickly, and the jelly adds a bit of sugar to get that initial, immediate energy boost. Peanut butter and jelly is also easily transportable in a plastic bag, and can fit in a pant pocket or backpack brain for easy access during a climb. Tired of peanut butter and jelly? Try peanut butter and banana, or honey, or a combination of the three. As one user touts, peanut butter and jelly is "easy to eat on the move/fast and give you plenty of energy to continue climbing. Only downside is you're going to need to bring extra water."
What Makes Peanut Butter and Jelly Unique:
Cheap
Good source of carbohydrates, protein, fat and sugar
Available everywhere
Why Choose Peanut Butter and Jelly:
You want a filling, energy rich snack that's also cheap
You like the ease of transport and preparation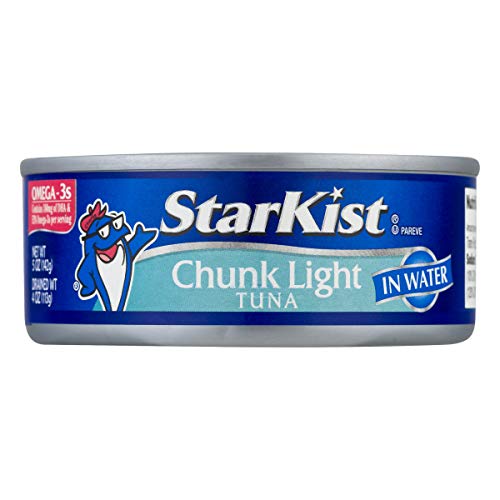 ---
Canned tuna is cheap, protein rich, and transports easily to the crag and beyond. Thus, it is our second budget pick for the best climbing snacks. Canned tuna scooped up with a bite of bread or crackers seems like a gourmet lunch for outdoor climbing days, but is in fact a simple, cheap preparation that gives carbohydrates, protein, and a bit of fat. Have an avocado at home? Layer slices under the tuna for an even more gourmet feeling bite. Add in other veggies like tomato or leafy greens for a bit of variety.
Canned tuna once was a bit of a hassle, as you'd have to pack out the cans once consumed. However, tuna packets have recently hit the market, all but eliminating the peskiness that comes with a can. As one user reports, an "envelope style pack of tuna and some crackers…[is] lightweight, filling, salty, fatty, happy."
Other, less budget options similar to canned tuna are cured meat products like salami and prosciutto. If you're looking for variety, and don't mind spending more, keep these in mind!
What Makes Canned Tuna Unique:
Easy transport
Lots of potential variety
Cheap
Why Choose Canned Tuna:
You can't stand the thought of another peanut butter and jelly, but are still on a budget
You want to feel gourmet during your climbing day
How To Choose What to Pack to Snack On While Rock Climbing
A few factors should play into every climber's decision about what to pack to snack on when rock climbing. Here is a quick guide towards choosing the best climbing snack for you.
How long will I be climbing for?
Are you packing for an all-day affair, or just a quick gym session? Which snack you choose should vary depending on how long you're going to be out.
For a long climbing day, a solid lunch should be supplemented by snacks such as granola bars, fresh fruit, or nuts for constant snacking throughout the day. If just cragging outside, err on the side of too much food, as nobody wants to pack up early just because one person forgot to pack enough snacks.
For a quick session at the gym, or after work bouldering session, you might want to pack something light and quick, knowing that a full meal is not far away. Good options are a granola bar, or candy for quick energy, or a piece of fresh fruit to refuel between burns. Again, the point here is not to fill a starving belly, but to provide the body with an extra boost of energy to get through a short session.
Best Long Day Snacks:
Best Short Day Snacks:
What kind of nutrition do I need?
Understanding what kind of nutrition the body requires is essential to understanding what kind of snacks to pack while climbing. Breaking climbing down into two categories, high output and endurance, lets us choose the best snacks for each.
For high output climbing, like bouldering or project sport climbing, pick snacks that supply immediate energy. Good options include candy, nuts, fresh fruit, or granola bars. All have high amounts of sugar, which translates into immediately usable fuel for your body.
For more endurance based climbing days, such as a moderate mileage day sport climbing, focus on foods that fill your stomach and keep you satisfied for hours. These include peanut butter and jelly, canned tuna, and granola bars.
Best High Output Snacks:
Best Endurance Snacks:
What to Eat Before Indoor Rock Climbing
With indoor rock climbing, your nutrition goal should be to energize your body for a short, intense climbing session. Sugars and carbohydrates are quick, easily digestible nutrients that should keep you fueled for an entire climbing session. Eat something like a peanut butter and jelly sandwich or a granola bar before the session to keep you from getting hungry. Refuel during climbing with snacks such as nuts or candy for immediate bursts of energy. Remember to not eat too much before so as to avoid feeling lethargic and bloated.
Best Indoor Rock Climbing Snacks:
What to Eat Before Outdoor Rock Climbing
Chances are, when climbing outdoors, you're planning on spending a day at the crag. In addition to a hearty breakfast, complete with proteins (eggs), carbohydrates (bread or cereal), and fats (bacon), you should bring a few complimentary snacks to eat throughout the day. Good options include a peanut butter and jelly sandwich or canned tuna for lunch, and granola bars or dried nuts for snacking throughout the day. Fresh fruit hydrates, as well as nourishes the body, making it an excellent choice for outdoor climbing as a water is a scarce resource. Plan your snacks around the type of climbing you plan on doing: high sugar snacks for bouldering and project sport climbing, or more filling snacks for high volume days. Leftovers are a savior for lunch, too!
Best Outdoor Rock Climbing Snacks:
What to Eat After Climbing for Recovery
The general consensus with recovery after high output activity is that the body needs a healthy amount of protein to rebuild tired muscles. Plus, you need to replenish blood sugar lost in high output activity. Many climbers recommend chocolate milk as a recovery beverage, as its high sugar and protein content supplements tired muscles with the nutrients they need to rebuild. Plus, being a liquid, it rehydrates the body in addition to nourishing it, and thus is a multi purpose drink. One climber even claims "there was a scientific study a year or so ago where they evaluated all the best post workout drinks and to everyone's surprise, chocolate milk was THE best recovery drink." Otherwise, a protein centered meal and careful rehydration should help a climber recover from an intense climbing session.
A balanced diet regardless of whether you climb that day or not is essential in getting the most out of your body. Though we are not nutritionists, eating simply prepared foods with a solid protein and carbohydrate base, limiting sugars and bad fats, and consuming the right amount of food each day goes a lot longer than only eating healthy post climbing. Nutrition is a complicated subject, and concentrating on eating well each day sets a body up for success.
Summary of the Best Climbing Snacks
To sum up, here are the best climbing snacks we looked at today:
Our Top Favorite
Our Top Runner Up
Our Top Value Pick
Climbing Snacks for Rock Climbing
Peanut Butter and Jelly Sandwich
Last update: 2023-09-29 / Images from Amazon Product Advertising API
Our top picks for the best climbing snacks are dried nuts and granola bars, because they're nutritious, easily transportable, and offer a lot of variety. Plus, they're quick to eat, making them convenient whether consuming at the gym or crag. Our runner ups for the best climbing snacks are candy and fresh fruit. Both contain high levels of sugar for immediate energy, and fresh fruit has high water content to keep you hydrated throughout the day. Our budget picks are peanut butter and jelly sandwiches and canned tuna, as both are cheap, filling options that should keep you powered throughout your climbing day. Remember to stay hydrated, snack throughout the climbing session, and eat healthy at all times!
Now that you're done with this post, check out our other climbing gear reviews here.