If you happen to be looking to try something new to spice up the climbing side of you, a hangboard might just be right down your alley. For those unfamiliar, hangboards are products designed to train your climbing skills no matter your ability or age. But since there are so many hangboard options on the market, we're lending a helping hand in narrowing down some of the objectively best hangboards out there.
Today we are simply going to be picking out our overall favorite hangboards, then moving swiftly on with our runner ups. Then, on the other hand, we also have value picks designated for climbers needing a cheaper yet effective option. And then lastly, the best hangboard we recommend for training on the go. After all, fingerboard training couldn't be easier than it is now.
If you like this post, check out our other climbing gear reviews here.
Our Top Favorite
Our Top Runner Up
Our Top Value Pick
Our Top Favorite
Our Top Runner Up
Our Top Value Pick
Last update: 2023-11-30 / Images from Amazon Product Advertising API
Our Favorites for the Best Hangboards for Climbing
Coming in first, the Beastmaker 2000 is quite a unique and top-notch hangboard. The designers behind this product have thought about just about everything to perfect this little device. Each hold on the board is different and is meant to throw some difficulty into your life. Being made of wood, this hangboard costs a bit more than most others but you're really just paying for the high-quality wood that allows for some great gripping potential. Just by using the Beastmaker 2000 for your first time, you're bound to already notice the plethora of improvements it will make to your overall form and strength.
What Makes the Beastmaker 2000 Unique:
This overall best hangboard is quite a complex device than you would think from first seeing it. The beastmaker 2000 comprises of many holds which will let you specifically target your weaknesses and get stronger. Being very comfortable, you'll be able to use all of the grip types.
Why Choose the Beastmaker 2000:
First of all, the Beastmaker 2000 is not only a complete hangboard that can help beginners but can help more advanced climbers better themselves in improving their strength.
This hangboard even includes different holds that will test the limits of your finger strength to help you climb V3+ and much more.
Example holds include 45-degree slopers, 35-degree slopers, 20-degree slopers, 3 and 2 finger sockets, pad monos and anything else you could imagine.
On Sale
Beastmaker Hangboards (2000)
2 Jugs, 35 Degree Slopers, 20 Degree Slopers
1 Very Deep 4 Finger Pocket, 2 Deep 4 Finger Pockets, 2 Deep 3 Finger Pockets
2 Deep 2 Finger Pockets, 2 Medium 4 Finger Pocket
Last update: 2023-11-30 / Images from Amazon Product Advertising API
---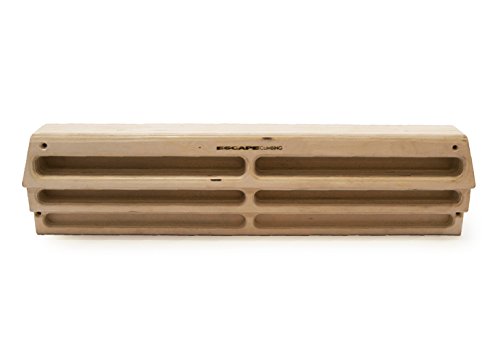 Coming in at quite reasonable prices, the Escape Climbing Unlimited Hangboard is a United States product at heart that is an underdog that deserves a lot more credit. It's primarily designed to improve your grip strength as well as conditioning – which can always be improved upon. Practice makes perfect. As is standard with a great quality hangboard, the Escape Climbing Unlimited is perfect for beginners as well as people who have never embraced their climbing side.
What Makes Escape Climbing Unlimited Unique:
You can absolutely expect high-quality materials that consist of baltic birch wood which is a very strong and unique material for hangboards.
The Escape Climbing Unlimited Hangboard is also very easily manageable and arrangeable thanks to the wide array of angles and widths of the hangboard.
Another perk happens to be that wood is more long-lasting than most materials on the market, so you're not only getting a quality product but one with longevity.
Why Choose Escape Climbing Unlimited:
The Escape Climbing Unlimited hangboard supports a wide range of skill levels from beginner to advanced meaning that it's a universal product. Furthermore, it's also an entirely handcrafted product that allows for the manufacturer to ensure each hangboard has a high level of quality. It's also entirely made and sourced in the United States.
Last update: 2023-11-30 / Images from Amazon Product Advertising API
---
Containing a solid 15 holds, the Moon Fingerboard is great for a variety of different reasons. For starters, it's lightweight and easily transportable which not only makes it a great favorite but a great product on the go as well. Depending on your skill level, you may find the Moon fingerboard slightly difficult because of its curvy and hard to grab holds. But it will also definitely give the beginner climbers a good time as well, after all, getting out of your comfort zone is always a good thing to do for training.
What Makes Moon Fingerboard Unique:
It's a very compact, and simple design that makes for easy use for beginners – but when mastered can even become difficult and a learning experience. If used as intended by its directions, we are very positive that the Moon Fingerboard will prove to be extremely useful and should become much more than just a simple fingerboard training device.
Why Choose Moon Fingerboard:
As you might be aware, the Moon brand of products really tend to consider quality over quantity, only offering the most refined products in the climbing industry.
The Moon Fingerboard is packed full of every single type of hold you could be looking for. Whether you're training for your own personal gain, or preparing for the biggest expedition of your life, this hangboard is perfect for any occasion.
Moving onto specifics, you'll likely be very happy to hear that this hangboard contains half-joint finger edges through to incut finger-jugs.
Last update: 2023-11-30 / Images from Amazon Product Advertising API
---
Our Runner Ups for the Best Hangboards for Climbing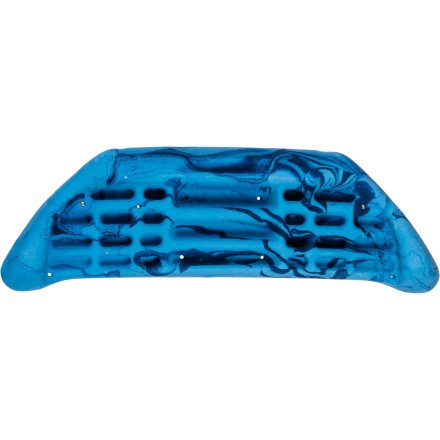 Created with fusion resin, the Metolius Contact is a compact little device that's sure to give you your money's worth. In particular, this hangboard has 11 pockets, 4 edges, 2 slopers, and 2 pinches. It's also one of the most unique looking in the visual department because it comes in assorted, green, as well as black. We recommend that only the more serious climbers go into purchasing the Metolius Contact because it may be too complex and over the top for less serious climbers.
What Makes the Metolius Contact Unique:
Climbers have been known to draw interest to the Metolius Contact due to its challenging nature which can expand your comfort zone even if you happen to be among the best climbers in the game.
It's designed to be a difficult hangboard for every single type of person. Just because you might only be able to reach two holds on your first go doesn't mean you won't be able to improve over time.
The Metolius Contact will be lasting for a very long time, think of it as every time you train with this hangboard your getting just that much better. Your start and endpoints will be one thing to look back on one day.
Why Choose the Metolius Contact:
Looking at the price they sell the Metolius Contact at, you would think it's a standard hangboard. But the price could be raised a lot just based on how much you actually get with this hangboard. It's got enough value and longevity to last for years.
Metolius Contact Training Board - Blue/Blue Swirl
Full-featured training board with an amazing variety of holds and new, ergonomic variable width pinches.
CAD/CAM designed master for perfect symmetry.
Ergonomically curved for less joint stress and reduced injuries. Huge indexed hold section includes: 11 pockets to choose from (2, 3, 4 fingers. tips to 2nd joint), 4 central edges from shallow to deep, and top mounted pull-up jugs, rounded and flat slopers.
Last update: 2023-11-30 / Images from Amazon Product Advertising API
---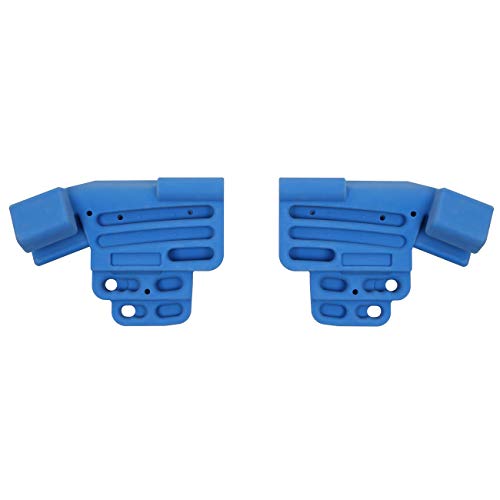 Just because we have placed the Trango Hangboard into the runner ups does not discredit this hangboard at all. It still remains such a stellar and well-rounded device due to its design that allows you to set it at your own pace. Any beginner or advanced climber will be able to make their training as easy or as difficult as they fancy. On top of that, the Trango Rock Prodigy Training Center is both single and double textured which is sure to offer a lot of variety for whatever type of holds and comfort you are looking for.
What Makes Trango Rock Prodigy Training Center Unique:
This recommended hangboard is very easy to set up and you can even adjust the width and angle of the individual holds. Just with this fact alone, the value this product has doubles.
Why Choose Trango Rock Prodigy Training Center:
Being the last runner up, we assure you the Trango Rock Prodigy Training Center is everything you think it is and a bag of chalk – it's that good.
Many buyers of this hangboard happen to absolutely enjoy the fact that you can adjust the width of this device and the fact that the crimping rails actually alter in-depth when you interact with them. This happens to offer something new for each individual who experiences this hangboard.
Adding this device to your training procedure will benefit you more than just any hangboard would be able to. With the depth in mind, you'll be able to use a wide variety of hangs depending on what you're looking for.
TRANGO Rock Prodigy Training Center Hangboard
FINGER STRENGTH MATTERS - One of the most sophisticated hangboards on the market, the Rock Prodigy helps climbers build their finger strength and precision for the moments they need it most; Installation hardware is NOT included
ANY HOLD, ANYTIME - The possibilities are endless; With 2, 3, and 4-finger holds, deep and shallow, plus crimp grips and pinch grips with bumpers, no hand muscle is underworked; Set it up in your garage, living room, office, bedroom; Never stop hanging; Hang while you sleep
ERGONOMIC DESIGN - 2-piece design lets you fine-tune the the board to your shoulder width; Joint-friendly, ergonomic radius on each hold allows for comfortable workouts and reduces the risk of injury
Last update: 2023-11-29 / Images from Amazon Product Advertising API
---
Our Value Picks for the Best Hangboards for Climbing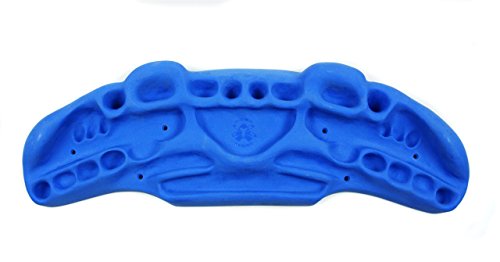 Being created over 20 years ago, the Yaniro Power Hangboard more than holds up to today's standards and offers a level of quality and value that is not found within many other hangboards. From those who have purchased this device, the general census is that its holds have very comfortable finger and hand positions due to the fact it was handcrafted. Fitting best for new climbers and middle leveled climbers, the gentle feel this device has will offer a comforting yet invigorating training experience. And plus, it's on the cheaper side than the majority of hangboards on the market are.
What Makes Yaniro Power Hangboard Unique:
A couple of highlights for the Yaniro Power Hangboard have to be its smooth texture training holds that make for a comfortable experience. Furthermore, it's also a gentle textured hang board. Depending on where you purchase your Yaniro Power Hangboard you should also be able to get the indoor rated bolts and t-nuts that come with the product.
Why Choose Yaniro Power Hangboard:
Out of all the hangboards on today's list, this one happens to be the safest out of them all. We say this because of the smooth texture that is sure to offer a steady hold for most types of people.
Based on the great value the Yarino Power Hangboard has, it's only natural that it's so loved in the review department. It's even got a much higher rating than most boards will offer, being well over 80% satisfaction.
The manufacturer of the Yaniro Power Hangboard is also very swift to reply to any request and is willing to go above and beyond to make their customers happy. They even run this device in a plethora of colors and are always offering new ones. So we recommend staying tuned for much more updated hangboards from the guys over at Yaniro.
Last update: 2023-11-30 / Images from Amazon Product Advertising API
---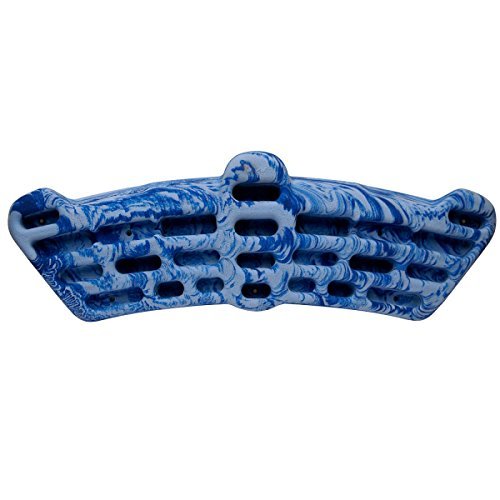 Coming in at 15 pounds in weight, the Metolius Simulator 3D Training Board is created with synthetic and will only cost you in the lower range of hangboards. Furthermore, the variety is more than excellent with a variety of 2, 3, and 4 finger holds. This board's holds range from easy to quite difficult. Metolius also boasts that they own the title of the #1 selling training board in all countries. That is quite a feat that can't be competed with by other companies!
What Makes Metolius Simulator 3D Training Board Unique:
In particular, the Metolius Simulator 3D Training Board was specifically put to all tests of sorts before being unveiled to the public. The biggest professionals in the game put their quality assurance stamp on this board so you know you're getting a heavily tested board.
The hard sloper featured by this device is sure to offer a really tough experience that will be able to improve your ability with slopers in general, which goes far beyond multiple uses.
On another interesting note, this hangboard should in theory be able to improve your contact strength and will put your forearm endurance on a completely different level. This board is a perfect fit for you if you're looking to improve your strength in a humongous way.
Why Choose Metolius Simulator 3D Training Board:
People of all shapes and sizes as well as all ages seem to be flocking towards the Metolius Simulator 3D Training Board thanks to its durability.
This hangboard is so sturdy that it can withstand the heaviest built climbers just as well as the smaller climbers. This is all due to its great structure and solid materials that fill the interior of the hangboard.
Some climbers have found that by using chalk, the tougher holds become quite a large amount easier. So if you're up for some extra challenge, maybe try to do the holds without the help of any type of chalk.
Last update: 2023-11-30 / Images from Amazon Product Advertising API
---
The Best Hangboard for Training On-the-Go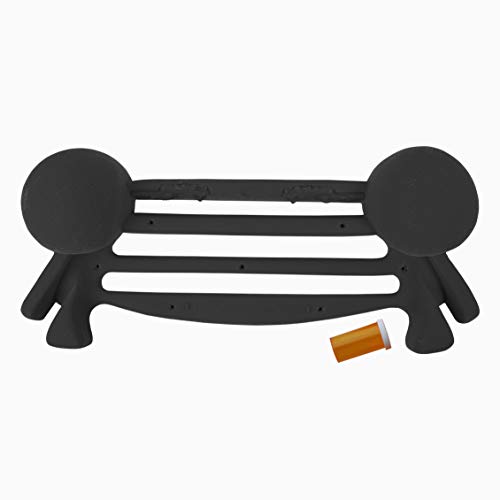 Last but not least, the So Ill Iron Palm makes for an exceptional on-the-go hangboard experience thanks to its 7-pound weight and smart compact design. It's also mentioned that this hangboard has 2 large pinches as well as slopers. Along with its various edges, this makes for a device that fits almost any skill level.
What Makes So ill Iron Palm Unique:
Substantially different than most hangboards on the market with almost endless original ways to hang.
It contains 4 unique rails that are crip, sloped, and two balls. This offers a lot of possibilities per person.
The reviews for this hangboard are so stellar that it's got a perfect 5 stars, now isn't that something?
Why Choose So ill Iron Palm:
The So Ill Iron Palm will not only significantly improve your grip but it will also make training on-the-go so much easier than it typically has been in the past. On another note, if you need a hangboard to be quite compact – then you're in luck because the specific size of this device is 27 in x 11.5 in x 4 in. This device is almost perfect for hangboard training.
Last update: 2023-11-30 / Images from Amazon Product Advertising API
---
Why You Should Invest in Quality Hangboards 
Now, when the inevitable question happens to come up, "Why should I buy a hangboard?" we've got your very detailed answer. In short, 9 out of 10 climbers who own a hangboard are thankful they purchased one and reap the rewards of training with their very own hangboard.
Hangboards are convenient for those who can't always head out to gyms or the potential situation that a person doesn't have any climbing gym within close proximity of them. But more than that, hangboards improve a person's personal strength and can even make a humble beginner an experienced advanced climber just by training with any one of today's hangboards.
On the other hand, the core of hangboarding is obviously building strength – hand and finger strength specifically. These benefits that a quality hangboard can provide you not only will improve your climbing stats but can also make you a healthier and more fit person just in your average day to day life. And on a more wholesome note, you are supporting the climbing accessory companies which keeps the climbing community living for longer.
How to Choose the Best Hangboards for You
Skill Level
Getting out of your comfort zone can cause growth depending on what type of person you happen to be. But on the other hand, you may be one to stick to your skill level and ensure your hangboard is a solid candidate for you. For example, there are beginner boards, intermediate ones, as well as advanced products; However, there are many in-betweens and exceptions, so looking for the exact one you think will suit you is key here. This step is a big one so make sure to pay just a little extra attention to reading up on the specifics about whatever hangboard catches your eye.
Affordability
Based on the brand name, design intuition, and quality of materials, the price is going to heavily alter. By establishing how much you are willing to fork over for a hangboard, you should, in theory, be able to narrow down which hangboard is your pick. After all, it's not like you'd want to be handing over an arm and a leg for one of these devices. We recommend going for around a typical budget of what you're comfortable with or slightly more or less. If you're paying much more than those options we can advise going for another option.
Reviews
Reviews set a standard for all online and physical products. Especially when you're spending on something more expensive like a hangboard, we're sure that you can agree that you only want the best in the game. By establishing a basis of quality such as only buying a hangboard that's got higher than 3.5 stars rating or 70% satisfaction or higher, you'll be getting much better products than you would without this system. But make sure to remember that not every review will sufficiently and honestly give feedback about the product.
Materials
Considering that every hangboard isn't made the same, the materials used in each will vary significantly or not to a high degree depending on what style hangboard you're searching for. In more basic terminology, we heavily recommend testing out the feel and grip your hangboard has if you can before you go for the purchase. It's more about making yourself feel comfortable enough so that you can learn from the experience and virtually become your own personal trainer in tandem with your hangboard.
Purpose
What is going to be the main purpose and situation you will be using your hangboard in? Like we discussed today, you may need your hangboard to be for training on the go or your hangboard to just stay at home in a certain room. Lighter and more easy to transition hangboards suit the more active usage. You might even be within the situation that your hangboard will be used by more than just yourself, so accommodating more than one person can be a difficult task in finding the skill level and material in particular. At the end of the day, once you have considered all these things we have listed you will certainly have found the perfect hangboard for you!
What Sort of Materials, Holds, & Difficulties to Look for in a Hangboard
Materials
Typically most hangboards you're going to find will be made of some type of metal, but there are also very few of them made out of wood which most people prefer once they have compared both of them side by side. However, finding the perfect texture for you may be more complicated than it can first sound.
Holds
When it comes to holds, each person's preferences are going to differentiate a bunch. A lot of hangboards on the market will have minimal holds, but the majority on today's list have more holds than you'll know what to do for. If you can, we recommend comparing the hangboard you're looking for to a gym's holds that you've enjoyed in the past. This way you'll know exactly what you're getting into.
Difficulties
Last but not least, all hangboards range in difficulty. While some of them are designated for a specific skill level, others are applicable to all types of people from newcomers to decades-old climbers. For example, our top pick the Beastmaker 2000 is more up in the neighborhood of intermediate to advanced level climbers due to its difficulty with its grips. However, even if you think a hangboard might be just a little bit out of your skill level, we can still recommend you going that extra mile. Going out of your comfort zone in climbing is always key and can really improve your ability to do just about everything.
Summary of the Best Hangboards for Climbing
Putting everything together, in this guide we reviewed the following:
Our Top Favorite
Our Top Runner Up
Our Top Value Pick
Our Top Favorite
Our Top Runner Up
Our Top Value Pick
Last update: 2023-11-30 / Images from Amazon Product Advertising API
It's certain in our minds, the Beastmaker 2000 just has to be our favorite overall hangboard for climbing. Being not only a very unique training experience but also having the capability of being used by any climber of any skill level if used properly. Additionally, the majority of consumers love this hangboard as evident by the reviews.
On the other hand, Metolius Contact stops in as our top runner up. This particular hangboard has just about everything you could want in one of these devices. There's a lot of design intuition put into this device as well. The Metolius brand also happens to be the best selling hangboard brand out there.
As for those climbers needing an option a little on the cheaper side, the Yarino Power Hangboard should be perfect for you. This device is quite gentle and can be adjusted to work with a variety of skill types. It's even been perfected for over 20 years and is one of the most refined hangboards on the market.
The So Ill Iron Palm earns the title of the best training hangboard on-the-go for various reasons. Fingerboard training has never been much simpler now than it has, with this device being only around 7 pounds and quite easy to take with you. Being able to be taken on-the-go this device doesn't lose any quality that a normal hangboard would.
When everything is said and done, the best hangboards for climbing should be ranged down for you after today. Just be sure that once you've found a hangboard that has caught your attention, that it is more than what you like and will suffice you. However, do not worry if you are wary about purchasing a quality hangboard, there is one out there for you no matter your skill level or age!
Want more tips on how to become a better climber? Check out our 9 tips on becoming better at climbing here.