Climbing rope is probably the most essential pieces of equipment a climber has to rely on; without it, hardly anyone would continue to climb long routes. So, it only makes sense that we keep our climbing rope safe and secure; that's why picking up a quality rope bag is essential. Rope bags keep your climbing rope safe, organized, and compact, making your life much easier when you want to hit the walls. Without them, rope can be difficult not just to control, but to keep protected from the elements. In this post, we'll detail the best rope bags for climbing.
The best rope bags for climbing can range in all sorts of shapes and sizes and functions, we understand this, which is why we have organized some of the top rope bags on the market into a handy list. We have compiled these recommended rope bags for climbing into three categories: Favorites, Runner Ups, and Value Picks, all of them do the job and are good products, but some just tipped the scales a bit more for us than others in their quality and features. If you want to learn more about what you should look for in your rope bags or how to choose the right one for you, check out those sections below the list.
Now, on to some of our favorites for the best rope bags!
If you still need a rope, be sure to check out our post on the best sport climbing rope here.
Our Top Favorite
Our Top Runner Up
Our Top Value Pick
Last update: 2023-09-30 / Images from Amazon Product Advertising API
Our Favorites for the Best Rope Bags for Climbing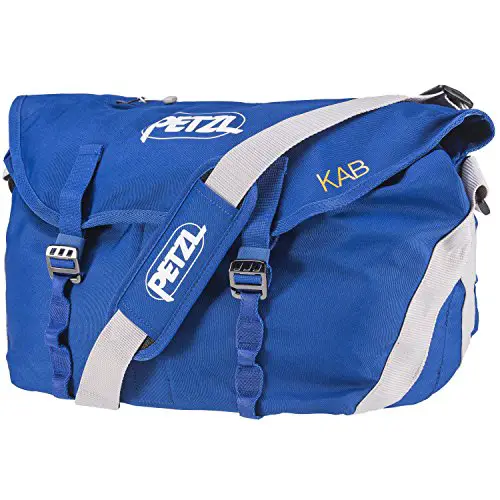 We are starting with one of the more popular bags on the market – the Petzl Kap. This bag is immediately noticeable for its large volume storage room. With one of the larger tarps on this list, the Petzl Kab provides more than enough storage space for all your needs. In addition to the tarp square footage, the Kab also brings in a significant number of extra features, with equipment loops and plenty of pockets for storing keys and other random items. The design is also a excellent standout thing about the Kab, like many of their products, Petzl does a fantastic job of making their equipment look and feel great. Some users may not like the lack of an outer handle for carrying to bag to and from their site, though the waist and shoulder strap does help to make up for the more convenient option of a simple handle. However, the Kab is also one of the more expensive options on this list, which is something to keep in mind when shopping around.
What makes the Petzl Kab unique:
The number one most standout thing about the Kab is the design, not just how it looks more professional and cleaner than many of the other options, but also the well-constructed nature of it
The extra pockets and other features add to the quality and versatility of this bag, with many users even using it as a gym bag due to this
Why you should invest in this rope bag:
If you don't mind the price, this is one of the better options for a high-quality rope bag
The extra features make this bag very versatile and even increase its storage size by being able to fit in more things due to the gear packability
Petzl Kab Rope Bag - Blue
LARGE VOLUME: The KAB rope bag can carry a rope up to 110 meters plus climbing gear.
EASY TO USE: Trapezoidal protective tarp is integrated into the bag, providing a clean area of 140 x 140 x 50 cm for the rope.
STORE: Handles on two corners of the tarp for storing the rope in the bag.
Last update: 2023-09-30 / Images from Amazon Product Advertising API
---
If you want to catch as much rope on your tarp as possible, and then carry it all in the same bag, the Ropemaster HC (high capacity) offers just what you need. As the new and improved version of the Metolius Ropemaster, the HC version expands on a few of the core functions of a great rope bag – the tarp size and carrying capacity. Where the original Ropemaster succeeded, the HC version doesn't try to change up but only improve. The largening of the tarp was a great choice to make this already successful design flourish, the tarp on the Ropemaster HC is larger than average, and offers plenty of surface area for flaking and catching falling rope. Additionally, the carrying capacity allows you to bring a lot more than just your rope and a few items to the wall. While it does lack some features that other, premium rope bags tend to have, the stripped-down, core competency of this bag is clearly evident, and the lower-than-average price tag is a great plus.
What makes the Metolius Ropemaster HC unique:
The original design the HC version was improved off of was already a top seller, but the HC version improves on some areas that, while not lacking, were not the strong suit of the original
While not quite a budget bag, it treads the line close to a lower price range while still maintaining the quality and size of a premium back
Why you should invest in this rope bag:
One of its strengths is the size and flatness of its tarp, with a slightly above average size tarp which also does a great job providing a flat surface, catching and keeping clean your climbing rope is no problem
The larger carrying capacity enables climbers to carry a ton of their gear with them, making it more convenient and efficient to travel with this bag versus some of its competition
Last update: 2023-09-30 / Images from Amazon Product Advertising API
---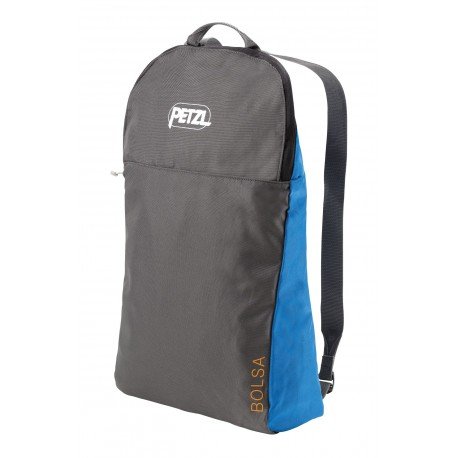 This rope bag features some unique and interesting design choices that are sure to catch your eye as an avid climber. The most noticeable thing about the Bolsa is the fact that it is designed like a backpack. Comfortable on longer hikes, the backpack design pairs well with its other traits – its great amount of storage capacity and its extra-large tarp. Functioning as a smaller crag pack, this rope bag allows you to keep everything in one bag if you are planning a crag day and typically pack light, this bag can serve as a convenient option. Additionally, the larger tarp ensures that your rope stays clean, and with the addition of the larger pack, bringing multiple ropes along is always an option with this extra-large bag. All this is even better when you realize it is priced just above the value price!
What makes the Petzl Bolsa unique:
The backpack design, while not exclusively unique to the Bolsa, does make it stand out among the other, less portable options
The larger carrying capacity and tarp size offers more opportunity for carrying large amounts of rope, which puts it towards the top end of sizes
Why you should invest in this rope bag:
If you find yourself carrying your rope bag by itself, or don't bring much gear to the wall in the first place, then Bolsa is probably the best solution for you
The low price, while not quite a Value Pick, is still very competitive and the bag offers a considerable amount of value for what you are paying
Petzl - Bolsa, Lightweight Rope Bag, Blue
LIGHTWEIGHT: BOLSA weighs 625 grams and can comfortably carry a rope of up to 80 meters, plus climbing gear.
EASY TO USE: Protective tarp is integrated into the bag, providing a clean area of 140 x 140 cm and a place to easily store the rope.
STORE: Handles on four corners of the tarp for storing the rope in the bag.
Last update: 2023-09-30 / Images from Amazon Product Advertising API
---
Our Runner Ups for the Best Climbing Rope Bags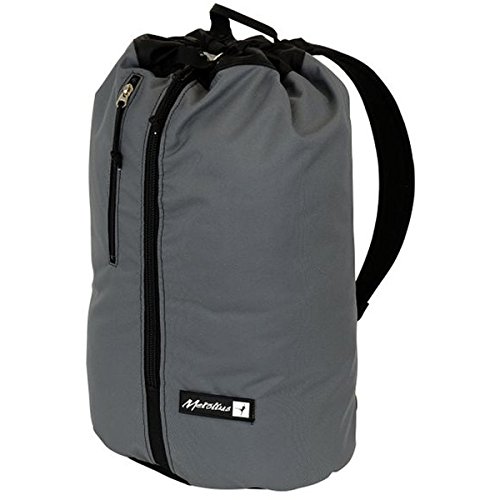 Like the Petzl Bolsa, the Speedster is a backpack-style, more extensive in its containable volume, and has a larger tarp. In these areas, it excels. Some of its other strengths include some pockets not seen on the Bolsa and the clean design. Additionally, it seems as if it can hold a bit more than the Bolsa, which gives is a slight edge in some regard. However, it does lack in some areas where the Bolsa succeeds, such as the tarp size and the ease of packing rope. Overall, the reason it is placed in the Runner Ups category is simple – it offers mainly all of the things the Bolsa does, but at a higher price tag.
What makes the Metolius Speedster unique:
The Speedster has a comfortable and convenient backpack design, great for carrying the bag for longer distances
Its more unique strength of a larger carrying capacity enables it to be perfect for day trips and being an all-in-one bag
Why you should invest in this rope bag:
If you want a cragging pack as well as a rope bag, the Speedster does as good of a job as the Bolsa
Metolius is a reliable and reputable climbing gear company, so you can be sure investing in their product is not a waste
On Sale
Metolius Speedster Rope Bag - Storm
An innovative, two-strap, pack-style rope bag with center zipper for easy access to rope and climbing gear
Big enough for 70m cords with heaps of room for shoes, harness, draws, chalk bag
Massive easy-load tarp 52" x 58" (132 cm x 147 cm)
Last update: 2023-09-29 / Images from Amazon Product Advertising API
---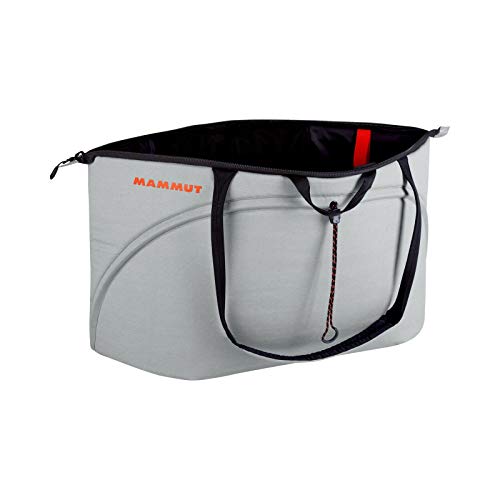 The Mammut Magic Rope Bag is unlike many others, rather than providing a flat tarp surface to throw the rope on to, but rather to turn into a freestanding bucket which climbers can flake a rope into. The bag can still break down into a flat surface, but the mat is much smaller than the tarps of other rope bags; however, it is padded with foam, which can be useful for bouldering or relaxing on. Still, the application of this bag is a little narrower because of the restrictions of a lack of a large tarp. In addition to the base design, there are some internal zippered mesh pockets, a zip-top closure, a handle and straps for carrying, and interior straps for gear – which contrasts with the straightforward and plain outer design. Overall, the bag itself isn't bad, and most reviewers seem to enjoy its versatility as a resting pad. But the main shortcoming of this bag is not just the lack of a tarp but is the price. The Mammut Magic is priced around the Petzl Kab, and even more expensive when the Kab is on sale as it usually is. The bottom line is that it's priced just too high for what you're getting.
What makes the Mammut Magic Rope Bag unique:
The bucket design stands out from the usual array of rope bags that employ tarps as their rope-holding system
The design is the same as other rope bags, lacking the traditional duffel or backpack-inspired look, an opting for a less structured and aesthetic design
Why you should invest in this rope bag:
If you prefer a bucket style bag to that of a larger rollout tarp, this bag is a solid investment
The versatility of the pad, in addition to all the pockets, provides some flexibility to its use which some climbers may appreciate
MAMMUT(マムート) Backpacks, Granit
Height 13.8 inches (35 cm) x Width (Top 30.7 inches (78 cm) x Bottom 15.4 inches (39 cm) x
Number of Pockets: 1 (0 exterior, 1 interior)
Weight: 22.3 oz (650
Last update: 2023-09-30 / Images from Amazon Product Advertising API
---
Our Value Picks for the Best Rope Bags for Climbing
Many of the rope bags are around the same price, so to avoid confusion about what makes a rope bag a "Value Pick" we have selected the price of $30 to be the line to cross for a rope bag to become a Value Pick. If the product is typically above $30, then it cannot be placed in this category.
Metolius Dirt Bag II
When it comes to a solid budget bag buy, the Metolius Dirt Bag II is regarded as one of the better options. This is the improved version of an earlier model, which was more expensive and a more difficult closure system. With a large tarp to catch falling rope, the Dirt Bag II offers a slightly-greater-than-average tarp size, which is great for a budget bag. While the price and tarp size is pretty top tier, it is not without its downsides – for one, it lacks many of the features some other, more expensive, bags have. The lack of features is an obvious thing to expect in a cheaper option and usually signifies that extra features, rather than quality, was sacrificed to lower costs. Additionally, the bag lacks anything more than a single shoulder strap for carrying, again, this may not be bothersome, but longer hikes up to the wall may be less comfortable than if the Dirt Bag II had multiple handle options.
What makes the Metolius Dirt Bag II unique:
At one of the lowest prices of all rope bags, the Dirt Bag II is the perfect step up from a plain old bag that you may have used to carry rope in the past
The stripped-down nature of this bag doesn't set it apart too much from the other budget bags but does make it appear unique to the regular bags full of features
Why you should invest in this rope bag:
The low price in itself is an obvious selling point, as saving money is always nice
Because there are not many bells and whistles on this budget bag, you can be sure that no quality was sacrificed in its design and construction
No products found.
---
Black Diamond picked an interesting strategy with this rope bag; they decided to find a niche need for rope bags and double down on it. An excellent minimalist bag, the Black Diamond Full Rope Burrito is great for a few things, namely: packing the rope easily and quickly, being light-weight, and packing into other bags. By utilizing a stretchy cord, the bag expands easily to allow for the tarp to be pushed inside, and the rope secured. Additionally, this bag is quite minimalist, having little more in terms of features or space for anything other than some climbing rope. This may be a plus who need a rope bag for nothing more than hauling rope, as it focuses on the core competencies of a rope bag, rather than do a lot else. Finally, this bag lacks any outer straps, only having a few handles, and the slick nature of the outer fabric makes it perfect to be packed inside another bag. If you don't plan on packing in your rope bag into another bag, it may be very annoying and inconvenient to have to carry it by hand everywhere. At a price matching Metolius's Dirt Bag II, this light-weight, simple bag excels at its niche: providing a slim, packable rope bag without many other features.
What makes the Black Diamond Full Rope Burrito unique:
Built for being carried in another bag, the Black Diamond Full Rope Burrito is not that great of an option to be carried on its own but is excellent when carried in another bag
The low price makes it one of the cheapest options on this list
Why you should invest in this rope bag:
If you typically like to carry a larger bag of gear to put your rope bag into, then the Full Rope Burrito is the choice for you
It is also a quality light-weight option for those who don't want many features and would rather have a bag focused solely on packing up and holding rope
Last update: 2023-09-30 / Images from Amazon Product Advertising API
---
What to Look for in Tarp Size, Storage Capacity, Weight and Versatility
Many rope bags may look the same when you first scan through a list of them, but upon further inspection, you will notice all the differences, and that is how we determine which are the best. Some of the most important distinctions include tarp size, storage capacity, weight, and versatility.
Tarp Size
­­If you have seen a rope bag before, you would know that, unlike most other bags out there, the main function of this bag is to fold out onto the ground to provide a surface for your rope to sit on. Different rope bags will unfold in different ways, but the end product is a tarp-like surface that lays flat on the ground and provides some protection for your ropes from the dirt and rocks below that can shorten the lifespan of your climbing rope.
Now, the main way to determine which rope bag keeps their ropes the cleanest is by determining which tarp is the largest, because the larger space for the rope to sit on, the less likely it is for the ropes to get dirty. So, tarp size is an important factor in determining how effective rope bags are at their job.
Storage Capacity
Almost directly influenced by tarp size, is storage capacity. The more rope you can store in your bag – the better. Additionally, climbers don't need rope capacity just for storing more rope, having some extra space for packing in other things like shoes and a drink really add to the utility of the bag. So, a higher storage capacity earns the bag a better place on our list, because it offers more to you, the climber.
Weight
A good chunk of the time, you use your rope bag to carry your rope and other items only a short distance from your car to the wall. But sometimes, or more for some for you, you will need to carry your gear quite away till you get to the wall, in this scenario, extra weight can be a real nuisance. The weight typically comes with a tradeoff for storage capacity or extra features, so keep this in mind when buying.
Versatility
As mentioned earlier, the ability to carry more is a useful and important aspect of a rope bag, not just for more rope, but for bringing other items. However, there is more to versatility than just the ability to bring more items along with your climbing rope; extra features such as zippered pockets, gear loops, padded straps, and more. All these features offer you extra utility and opportunity for expanding the use of your rope bag. No rope bag is likely going to be able to carry everything you need, especially if you plan to do more than sport climb.
There are many more traits and features of an ideal rope bag that we cover in our review, but these are a few of the main ones that completely shape how the bag is used.
How to Choose the Best Rope Bags for You
All these features and factors are great, but how do they fit into what you need specifically, after all, we aren't all shopping for the same rope bag, we need them for different reasons. It only makes sense that we then try to figure out what we want most out of a quality rope bag and shop along with those guiding factors. By understanding what you will use your rope bag for, and how you pack in general for climbing, you can get a better idea for what type of rope bag you need.
Looking through the above section on what to look for in a rope bag, you can get a decent idea of some of the factors that separate each bag, and if you've read each product review, you should have a sense of what each bag excels at.
Summary of the Best Rope Bags for Climbing
Our Top Favorite
Our Top Runner Up
Our Top Value Pick
Last update: 2023-09-30 / Images from Amazon Product Advertising API
Whether it's for a light crag day or for a longer trip to the mountains, a rope bag will do wonders for keeping your rope organized, clean, and portable. The options we have looked through on our list have ranged from full of many features to stripped down and value-priced, each niche of what climbers want hopefully being covered. We hope you found a great rope bag to invest in with our list of the best rope bags, and if you know of a rope bag we haven't covered, feel free to let us know!
Need more climbing gear? Maybe you need a harness or shoes. If so, check out our other comprehensive climbing gear reviews here.