Do you seem to shred your hands crack climbing constantly? Or are you looking to get started crack climbing but don't know what to buy to get started? Regardless, thinking about picking up a pair of crack climbing gloves is not a bad move – they prevent your hands from getting as torn up, can save you money on tape, and are way more convenient. But with some reliable options on the market and some very loud opinions on the subject, you might not know what hand protection to go with. That's why we decided to make this list, because crack climbing is a blast, and everyone should enjoy it the best way they can. However, it takes quite of a bit of climbing experience until your hands toughen up enough to handle the cracks without any form of a glove, so, until then, here are some of the best crack climbing gloves for climbing cracks you can buy right now.
If you find this valuable, be sure to check out our other climbing gear reviews here.
Our Top Favorite
Our Top Runner Up
Our Top Value Pick
Crack Climbing Gloves
Armadillo Skin Finger Tape
Singing Rock Chocky Jamming Glove
Last update: 2023-11-29 / Images from Amazon Product Advertising API
Our Favorites for the Best Crack Climbing Gloves for Climbing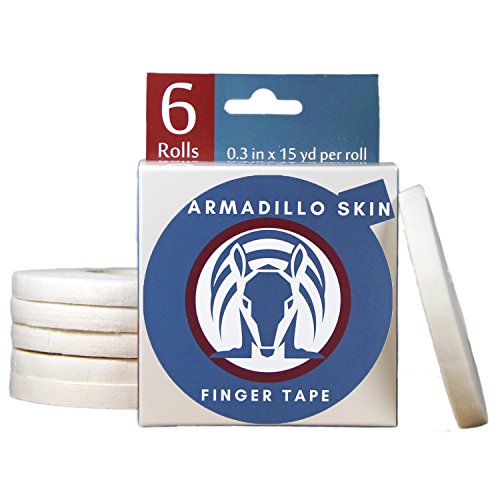 By far the most popular form of hand protection, tape has been around in many different forms for climbing purposes for nearly as long as crack climbing has been popular. While not necessarily a glove in its current form, tape is by far the most popular form of hand-protection for climbing cracks. You could shop for general athletic tape to the climbing-specific variety, and you can then wrap your hands to create a custom fitting glove, to the desired thickness, which can last multiple climbs if appropriately used. You can get around four or so uses if you cut off and then re-tape the tape glove after and then before use. There are many resources out there on the web for wrapping your hands properly and doing so can save you both time and money. Tape is very much the opposite of gloves as far as their strengths and weaknesses; tape is extremely form-fitting and customizable so it won't add unnecessary bulk onto your hands, but it also can get expensive if you often climb and run through rolls of tape by the season. Some also like the look of tape, while others may prefer the gloves, because as we all know – climbing is 50% looks. Overall, tape is an excellent staple of crack climbing, and its prominence as the most popular form of hand protection when crack climbing is well-deserved; the versatility and performance of tape are its strong suits, and many crack climbers value tape for those reasons.
What makes tape unique:
It is not a glove and can be applied to the user's taste, perfect for adjusting thickness and wrap style
By far the best fit compared to the other gloves, but are not nearly as reusable and take some time to wrap up and adjust
Why you should choose this glove for crack climbing:
If you don't climb too often, buying tape can save you a decent amount of money
Experience level is important if you are more experienced and are climbing a more extensive variety of cracks, notably narrower ones like finger cracks, then you'll need more a more adjustable and custom glove provided by utilizing climbing tape
Armadillo Skin Finger Tape, Strong Cotton Athletic Tape for Grappling, Brazilian Jiu Jitsu (BJJ), Judo, Rock Climbing and MMA 0.3 in x 45 feet, 6 or 8 Rolls per Pack … (Pack of 6)
Protect your fingers with this high stick, latex free, finger tape
Specifically cut for easy wrapping around fingers. This tape will help reduce finger soreness by the ligaments in place around your knuckles.
45 feet (15 yards of tape) 0.3" in width. Best used for Jiu Jitsu, Judo, MMA, Climbing, Crossfit, and any activity where your fingers could be compromised.
Last update: 2023-11-29 / Images from Amazon Product Advertising API
---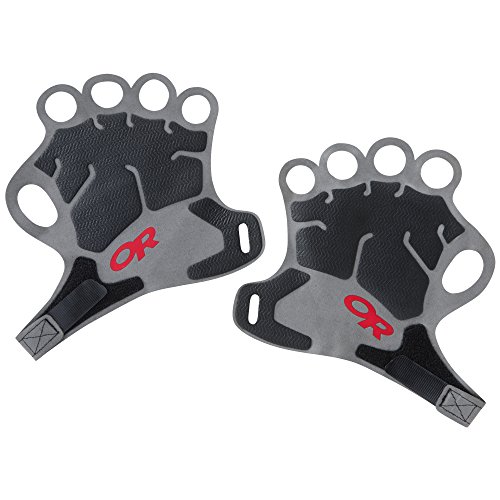 If you find yourself wanting lightweight, thin, performance-focused gloves – the OR Splitters are for you. They are of the thinner and lighter variety of gloves; this gives them the performance-focused strength of fitting in tighter cracks where you might have had trouble with using thicker gloves. The primary downside to this design is that the glove is more susceptible to tears and damage just from general use. Typically, the rips will occur around the finger loops, in addition to the occasional opening of the wrist strap, some have remedied the second issue with reinforcing with tape; however, reviews do seem to somewhat conflict on the durability of these gloves. They also do tend to wear most like tape gloves out of most other gloves on the market. Overall, these are still some of the best gloves for crack climbing on the market.
What makes the OR Splitters unique:
The thinner profile of these crack gloves sets these apart from the typically thicker design
Breathable design, but still has a right amount of grippy rubber to help you stick in the crack
Why you should choose this glove for crack climbing:
If you want a lower-profile glove for thinner cracks – these will work well
If you want one of the best crack gloves on the market, the Splitters are up there with the Ocuns on quality and popularity
Last update: 2023-11-30 / Images from Amazon Product Advertising API
---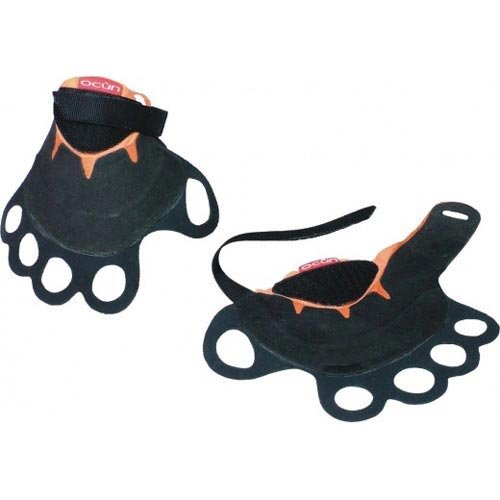 On the other end of the spectrum, we have the Ocuns – another top-recommended crack climbing glove. The stretchy microfiber suede and their unique rubber are engineered to provide a high level of feedback when climbing. They also made the smart move of hiding the Velcro strap under the rubber to prevent unfastening or tearing. They finger loops are also slightly thicker than other models, which may make them slightly more resistant to damage and rips. The major downside to the Ocuns is their thickness, with the additional protection from the thicker suede, comes a larger profile that may give these crack climbing gloves a very different feel from tape wraps. Some users have found the thickness to be too much for thinner cracks, but they also will last longer before tearing due to the width and heavier construction. Ocuns are a great choice and are highly recommended by many climbers in the community; they accompany the Splitters and tape as the top climbing gloves on the market.
What makes the Ocun Crack Climbing Gloves unique:
The thicker design sets these apart from, the more damageable thin gloves on the market
Ocuns have a longer-lifetime from their durability and thicker structure
Why you should choose this glove for crack climbing:
If you are looking for a pair of gloves that will last a long time and give you your money's worth, the Ocun's thicker design may make these more appealing
If you don't mind the feel of the slightly larger glove, these will give you a good amount of value
On Sale
Ocun Crack Gloves for Crack Climbing I Rock Climbing Gloves, Small
MATERIAL: Made with microfiber stretch suede and adhesive rubber CAT 1.1 for the perfect balance of performance and protection.
DESIGN: Specially designed gloves engineered for maximal comfort while crack climbing, with a Velcro closure that tucks away so they stay secure while climbing.
CLIMBING ADHESION TECHNOLOGY: Features CAT Rubber 1.1 a "super sticky" compound developed with an emphasis on high adhesion that significantly increases friction.
Last update: 2023-11-30 / Images from Amazon Product Advertising API
---
Our Runner Up for the Best Crack Climbing Gloves for Climbing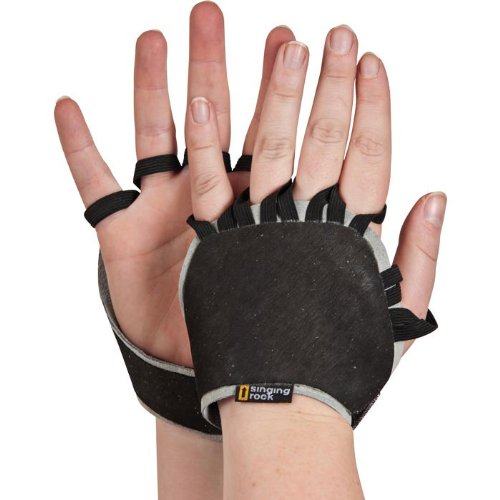 These crack climbing gloves, while less popular than the previous two, do not lack quality. They are built with high friction rubber for excellent grip and decent hand protection; they also have the standard elastic finger bands and an extra-thick Velcro wrist strap. Some users have reported issues with the wrist strap coming undone or having difficulty attaching it, but no new or unique problems when compared to other crack gloves. These gloves may also be a little on the thicker side, so keep that in mind when buying. The Singing Rock Chocky Jamming Gloves also are slightly more expensive than the average crack climbing glove. The price is also somewhat volatile as their availability fluctuates because of their lack of popularity amidst the other, more popular crack gloves. While robust gloves, they are not up there with the Splitters or the Ocuns just due to their lack of a strong user base to testify to their reliability and quality, so they remain in our runner ups list for the best crack climbing gloves.
What makes the Singing Rock Chocky Jamming Glove unique:
They have a slightly narrower design when on the hand and may cover less area than other varieties, but in general, the design is similar to other brands
The wrist strap is more resistant to tearing due to its width
Why you should choose this glove for crack climbing:
For the solid construction and reliability of a thicker glove
If you don't mind the fluctuating price and availability, these gloves deliver on their promise for a sturdy crack climbing glove
Last update: 2023-11-30 / Images from Amazon Product Advertising API
---
Our Value Picks for the Best Crack Climbing Gloves for Climbing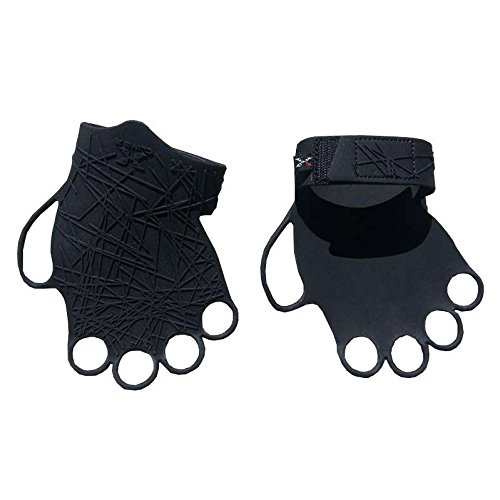 The ClimbX Super Crack Gloves provide a great lower-priced option for hand protection when climbing cracks. These gloves feature a solid rubber backside which works great for sticking to crack walls, but according to some users, can heat up your hands and lead to sweaty hands. ClimbX also states these have more durable finger loops and will be more resistant to tearing compared to the other crack glove varieties. Like all other crack climbing gloves, these will have their flaws and their strengths, but they are a decent low-priced option for hesitant buyers out there. Like most other ClimbX products, their shoes may tradeoff a level of quality for a lower price, so just be aware of that when considering purchasing.
What makes the ClimbX Super Crack Glove unique:
The full rubber face may provide extra gripping potential compared to other crack cloves
The lower price point makes these gloves stand out from the rest
Why you should choose this glove for crack climbing:
The lower price can attract those climbers who are looking for a more cost-effective solution compared to tape
CLIMBX Super Crack Gloves (Medium)
X-Factor Climbing Rubber, The only crack climbing glove using real climbing shoe rubber
Durable Finger and thumb loops, no cheap elastic finger loops like other crack gloves
Will mould over time to fit your hand
Last update: 2023-11-30 / Images from Amazon Product Advertising API
---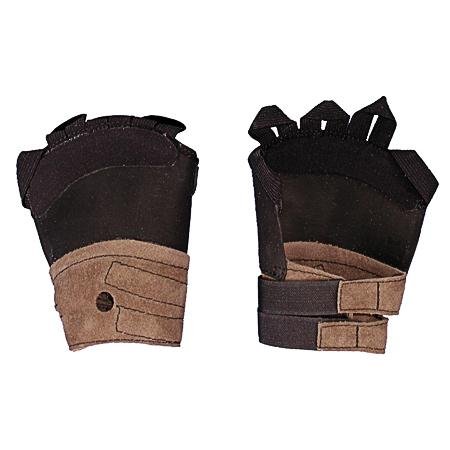 Found at various price ranges on a multitude of sites, the Green Gear Hand Jammies certainly isn't the most mainstream of crack climbing gloves, but they shouldn't be left out of the picture. They are built like most other hand jammies; they have sticky rubber exterior for added grip, elastic finger loops, and a Velcro strap at the wrist. Reviewers, however, do not seem to be impressed with these gloves – reports of an overly-thick rubber will leave you without much of a feel for the rock. But the primary complaint concerned the weak stitching, as the gloves tore after a few uses for some of the users. Overall, you are getting what you paid for with these lower-priced gloves.
What makes the Green Gear Hand Jammies unique:
These gloves are some of the cheapest on the market
They have a large profile and a decent amount of thickness of extra hand protection
Why you should choose this glove for crack climbing:
If you are just getting started these gloves may be a cheap way of testing the water before you dive into crack climbing
Alternatively, if you are on a budget or just trying out crack gloves instead of tape for the first time, these may also be a decent investment
Hand Jammies Medium
Liberty Mountain Adventure
Thin, sticky rubber exterior will instantly improve your crack climbing with added grip
Jammies also feature wide elastic finger loops and extra padding across the knuckles for added crack comfort
Last update: 2023-11-30 / Images from Amazon Product Advertising API
---
Why Invest in Crack Climbing Gloves?
Climbing cracks can be very tough on your hands, that's why some turn to tape and others turn to gloves – they both provide a high level of protection to save your skin when taking on the rock walls. Tape gloves are great, don't get me wrong, but crack climbing gloves provide the extra level of comfort, ease of use, and reusability desired by many climbers.
One of the primary considerations for picking up a pair of gloves is the fact that the best crack climbing gloves will last longer and save you money in the cost of rolls of tape. While some crack gloves can tend to rip and tear, they will generally save you money in the long run if you already buy tape for your hands. Wrapping your hands in a fresh coat of tape every time (or every few times) you go climbing can add up the dollar signs quickly – that's one of the main reasons so many switch to gloves.
Crack climbing gloves also are much easier to put on and use when compared to crack climbing tape gloves. Because it takes time to wrap your hands with tape, the mere seconds it takes to put on a pair of gloves can add to the climbing experience. I know, I know, a few minutes of tape wrapping isn't going to hurt anyone. But the time spent on the research and practice put into finding the right pattern to wrap your hands plus the actual wrapping itself can just be too much of an inconvenience for some people.
When compared to going bare-handed, the main benefit is your gloves' ability to reduce the amount of pain and damage to your skin. However, most glove varieties won't do much against crystals or seriously sharp cuts, but they still do more than nothing. There is some contention on the ability of gloves to increase your grip and performance – but there is enough agreement so that many call it aid.
Whatever your reasons to invest in a pair of crack climbing gloves, feel free to reference our list at any time to build a foundation of research from. From there, you can dig a bit deeper into a pair before you invest. Because, after all, you are putting your life in its hands (pun intended).
How to Choose the Best Crack Climbing Gloves for You
In general, the styles of gloves you are going to be choosing will be uniquely identifiable. The best crack climbing gloves are nearly fingerless but go slightly past your knuckles. They also have a securable wrist strap, or some sort of tightening tool, to prevent glove slippage. The glove should also be light and as thin as possible without sacrificing durability and protection. Because while you don't want gloves inhibiting your climbing too much, you also bought them for the protection they would offer while climbing. The level of thickness does vary to personal preference, if you need the extra density to keep your hands pain-free, then you may have better luck with something like the Ocuns, but if you find yourself on the other end of the spectrum, and prefer performance and tend to frequent finger cracks, the Splitters would be an excellent investment.
Luckily, with so few crack gloves on the market, the options of which to buy are quite limited. While there are differences in quality and thickness and price and some features, in general, most of the crack climbing gloves are similar; the primary debate which occurs around this topic is using tape or using gloves. The bottom line in the tape versus gloves debate for crack climbing boils down to this: it depends on the climb and the climber. Some cracks require a tight fit, and any extra bulk will inhibit your ability to get a good grip.
You may also just have your own preferences once you try out both style and find that one just feels better to you. For some, their hand size makes it so that crack gloves don't fit properly, and they see better results in wrapping their hands. It just takes experimentation, and the price won't break the bank; so, you have no excuse to try out both techniques and figure out which works best for you. Unless you decide to go bare-handed, that is.
Speaking of crack climbing bare-handed – no one is forcing you to wear gloves or use tape! Many climbers choose to crack climb with nothing protecting their hands other than thick skin and callouses. If you have years of experience climbing experience and have built up some thick skin, you will have a lot more luck crack climbing bare-handed.  For most climbers, tape or gloves will probably be necessary.
The decision to use gloves, tape, or go bare-handed is complicated when considering indoor training. Some climbers find that gloves work better indoors while tape works better outdoors. Either way, it will take a bit of personal experimentation to figure out your personal preferences.
Background of Crack Climbing
If you don't already know, crack climbing the process of utilizing naturally formed cracks in the rock to scale rock-walls. There are various types of cracks, from finger cracks to off-width cracks; they primarily vary in size. Cracks also can vary by the rock type itself, with different types of smoothness and hardness. Knowing the differences and details of cracks and the rock you are climbing on can not just be essential for a successful and safe climb, but useful for determining what kind of hand protection you need. For sharper crack climbs, you may need to a denser glove or more tape, whereas with a smoother crack a bare-handed approach may work just fine for the more advanced climbers.
For as long as climbers have been scaling rock walls, they have been following crack lines because of the natural advantages they posed. Smaller cracks could be scaled more safely by utilizing cramming devices, but it was not until the 80s when larger ones became available for common use. Crack climbing reached something of a peak in the 80s when the outdoor climbing fad was at its strongest, but when sport climbing rose to popularity, crack climbing fell somewhat behind. It was only until recently that crack climbing again became more popular with the advent of the popularity of outdoor climbing feats which featured crack climbing.
Summary of the Best Crack Climbing Gloves
Wrapping everything up, here are the crack climbing gloves we went over today:
Our Top Favorite
Our Top Runner Up
Our Top Value Pick
Crack Climbing Gloves
Armadillo Skin Finger Tape
Singing Rock Chocky Jamming Glove
Last update: 2023-11-29 / Images from Amazon Product Advertising API
This concludes our list of some of the best crack climbing gloves you can find on the market. The options span from the widely available and popular ORs and Ocuns, to the do-it-yourself crack climbing tape gloves, to the less mainstream Singing Rocks and more. In our opinion, the OR Splitters and the Ocuns stand out above the rest with their well-deserved favoritism among the climbing community. The quality, durability, and feel of these gloves truly set them apart from the rest of the competition. We would recommend you look into them if you are not considering using tape as an alternative.
But whatever your preferences are, keeping your hands healthy until you can handle the cracks without protection is important for keeping the climbing experience both enjoyable and safe. We hope you found our list helpful and insightful on your search for the best crack climbing gloves. Crack climbing is best enjoyed without a beat-up pair of hands, and by reaching the top.
Did you find this helpful? You may also want to check out our other climbing gear reviews here.